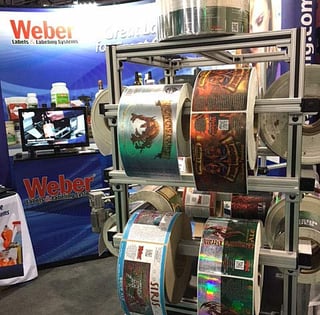 The Craft Brewers Conference's BrewExpo was an exciting and informative event for Weber. We talked to brewers from all over the world about their craft beer packaging problems. And we learned quite a bit about their challenges as they're just starting out or beginning to grow out of their current processes. The show itself included 10,000 brewers and more than 800 exhibitors.
It's clear that craft beer is a fast-growing industry. While beer overall has been trending down, craft beer has continued to rise nearly 13% last year. This show encompassed not just the major players in craft beer but also the brewery-in-planning people who are just starting out. BrewExpo gave them a great opportunity to learn about the business and also talk to the experts of everything from brewing equipment to the final packaging details.
So what challenges are craft brewers facing today?
4,400 Brewers in US = Growing Competition for Your Brand

Craft beer is growing at an unprecedented rate and there are now more breweries in the US than ever before. With over 4,400 breweries (and growing!), brewers are facing even more competition for the hearts of beer lovers. As you start to grow your brewery, consider how your final package stands up to the competition on the store shelves.
There are 4,400 breweries in the U.S. Today: more than ever. #CBC16

— DRAFT Magazine (@draftmag) May 4, 2016
.@BrewersAssoc "1,500-2,000 new breweries possible in next yr or 2"
-Bart Watson #CBC16

— Beverage World (@Beverage_World) May 5, 2016
Getting your beer to sell outside of your taproom or local area is key for your distribution growth. To get customers interested, you have to take the time to tell your brand's story through your craft beer label design. It has to be unique and memorable. The most popular labels in our booth at CBC were the metallic material labels especially ones that had the reflective qualities built into the design. We got a lot of comments about those because the artwork really pops off the label.
Limited Release Beer in Demand
Many breweries were looking for packaging options for their limited release barrel-aged brews. This is a unique opportunity for many brewers. Since the labels are not the same size as the regular year-round versions and smaller quantities are needed, digital label printing can fill in the gap.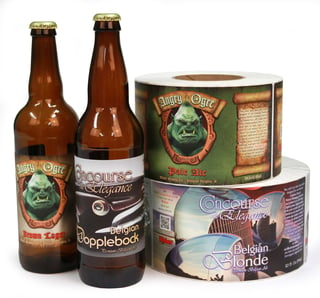 For example, breweries who package millions of cans a year will likely choose a 22oz bomber bottle for their limited release or seasonal small run beer. Some breweries have chosen cut-and-stack paper labels for their 12oz bottles but when selecting the packaging for the 22oz, they typically choose pressure-sensitive.
The pressure sensitive labels can be printed in smaller quantities and the film-based or laminated labels hold up much better in wet environments. For a more exclusive appearance, the Estate Paper label material is a great option for limited-release high-end beer labeling because of the similarity to bourbon and wine bottle labeling.
To learn more about craft beer label materials, request a sample of metallic, clear and paper materials to test on your bottle or can.
Beer Cans Growing in Popularity
The aluminum can vs. glass bottle debate continues but it's clear that cans are becoming popular for craft beer. Buying blank cans is a great option for brewers who want to enter into that packaging type without the high investment of pre-printed cans. Pressure-sensitive label materials combined with digital press capabilities give brewers the power to have outstanding packaging without a big investment or needing tons of space for can inventory.
Finally, we noticed what seemed to be a continuing trend for this industry -- quick-growth. Breweries that were just small start-ups a year or so ago are now investing in bigger spaces and more equipment because they're able to distribute beyond their taproom. This show provided them ample opportunity to learn about the products available at each step of that growth. The challenge now is, do you invest in a product for today or the equipment you'll need tomorrow?