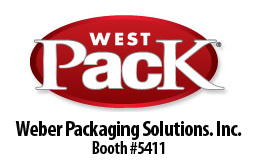 We're packaging up and getting ready to head out to sunny Anaheim, CA for WestPack 2013.
This will be an exciting show for us because WestPack is a great opportunity to meet with our West Coast customers and meet regional businesses in the food and wine industries.
We also will be debuting our new 10' booth and introducing the New Model 4300e Pro-Apply All-Electric printer-applicator.
Here's what else you'll find in booth 5411:
Alpha Compact label applicator
Tronics Series 3 wrap-around label applicator
HERMA wipe-on label applicator
Model 5300 twin-tamp printer-applicator
Bottle-Matic tabletop label applicator
Zebra stand-alone printer
We also will be live tweeting from the booth @WeberPackaging, demoing equipment and handing out label samples.
SHOW SPECIAL: We will be offering a special show discount code for our eStore Go-Label. Stop by our booth for more information.
Tools for the show
A fantastic tool for attendees and exhibitors is the official show app. The app includes everything you need to make the most of your trip to WestPack. Not only does the app provide a full list of exhibitors, but it also lets you add some to your Favorites. This allows you to plan out your day at the show and keep a schedule, all from your smart phone. There is also a map of the convention, social features, general info and a QR Code reader included.
Visit their site for app options.
If you want a personal tour of the labeling systems in our booth, simply scan the QR Code on the signs above the equipment in the booth. If you won't be at the show, visit our YouTube page for several personal tour videos.
Here's a preview of what you will see in our booth. This is a personal tour of the HERMA H400 Label Applicator from our global headquarters in Arlington Heights, IL.
How to join us...
To get a free pass to WestPack 2013, visit www.westpackshow.com and use the promo code BZ. Your pass will be available at the convention center.
If you have questions, email info@weberpackaging.com or contact us through our website.
The show goes from February 12-14th at the Anaheim Convention Center in Anaheim, CA.
Hope to see you there!