Here are the Top Tweets in Labels and Packaging. Plus, news from Weber.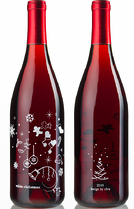 Festive Labels
Do you buy wine that's labeled for the holidays/season? Here's an example we shared on Packaging Pick of the Day http://ow.ly/g3kIu
I'm sure we have all purchased a bottle of wine for it's fun label. Maybe you even select a wine for the season, holiday or themed party you're attending. We found this festive wine label and added to Packaging Pick of the Day Pinterest board.
Do you have any other holiday packaging examples?
RFID Solutions
RFID Technology: See how it helps an IKEA furniture maker eliminate shipping errors http://ow.ly/g2QN6 Is this the solution for you?
One of our many packaging solutions we offer is RFID labels. This solution can be a great fit for companies that need to track a lot of inventory. We've had customers use our RFID labels to save money on warehouse items that simply went missing and had to be reordered. If you think this could cut costs for your business, give us a call.
Green Manufacturing
Did you know @FritoLay reuses heat at their Beloit plant? Check out this great article that highlights their green mfg ow.ly/g55QC
The November issue of Greener Manufacturer includes an article about the Beloit Wisconsin Frito facility's green manufacturing practices. The heat at this plant comes from heat first produced during food processing and then is recovered and redistributed.
The article breaks down the five ways Frito Lay reuses heat. Is this something your plant could do?
WestPack
Tweeted from @ubmcanonpkg: The #WestPackShow is your gateway to the West Coast's #Packaging marketplace http://bit.ly/VLwJt6
Our next trade show is WestPack in Anaheim California on February 11-14th. We are looking forward to seeing our west coast customers and meeting with new businesses.
We'll give a full preview of the our booth in January. Hope to see you there!
Weber News
We just celebrated another Weber service anniversary this week.
Chuck Pullich, Prime Media Manager, has been with Weber for 30 years. He has worked at our Arlington Heights, IL, headquarters as well as our Tape & Label Engineering company down in Florida. His label media expertise is one of the cornerstones in our label manufacturing.
Thanks for all the hard work and dedication, Chuck!