Before we ring in the new year, let's review the trends and stories of 2013 in labels! And get a peek at what are we expecting to see in 2014.
Top Labeling Stories of 2013
The US begins the process of GHS labeling for chemical containers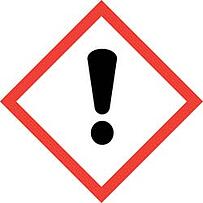 This year's biggest story in chemical labeling was the change in the Hazard Communication Standard to align with the Globally Harmonized System of Classification and Labeling of Chemicals (GHS). This regulation affects chemical manufacturers and companies that use chemicals.
OSHA believes the new labeling will create a safer workplace because the labels are easier to understand. This also will help US compete globally because many foreign countries already require this form of labeling.
While the deadline for compliance isn't until 2015, many companies are already preparing to redesign their labels or research new printing solutions.
To learn more about GHS labeling, read our blog post from earlier this year. We've created helpful images and charts to show the new requirement. If you have any questions, leave us a comment!
In 2014 we'll share our solutions and tips for relabeling chemical containers.
The Ruling on Unique Device Identifiers for Medical Devices
This September the FDA issued its final ruling requiring medical device manufacturers to assign Unique Device Identifiers (UDI) directly to their devices and packaging. This ruling also will establish a Global UDI Database for manufacturers and healthcare providers to access.
Benefits of this regulation:
Healthcare providers will only need to access one database to identify a device
Clarity in safety alerts, recalls and other corrective actions
Ensured identification of a device even when it's separated from its original package
Next month we'll provide even more information on these labels and the various solutions that Weber provides.
Seafood industry reviews traceability labeling
Remember the controversy with seafood labeling earlier this year? A study had found that almost 40% of fish tested in restaurants was mislabeled. We researched why there are traceability challenges and what solutions this industry has to improve to make traceability more reliable in the seafood industry. To learn more about seafood traceability options, visit our blog post.
Traceability is also a challenge for the produce industry. This year we participated in the United Fresh trade show to learn about produce traceability and share our labeling solutions for the that industry.
If you're looking for produce traceability info, contact our Vertical Markets manager, Paul Johnson.
Top Labels To Watch for in 2014
Here are a few label trends that we expect to continue to grow in 2014.
Craft beer labels
This year we were excited to see so many craft brewers are starting to use pressure-sensitive labels. While the majority of the beer industry use traditional cut and stack labels, the craft beer industry is finding pressure-sensitive labels to be the best solution for their bottles.
Here's a list of benefits
Easy to apply by hand, Bottle-Matic or Tronics labeling systems
Flexible order quantities with our HP Indigo Digital Press
A clean application process without glue!
More facesheet options including clear & metallic materials
Increased design and print quality
Pressure-sensitive labels resist moisture & abrasion better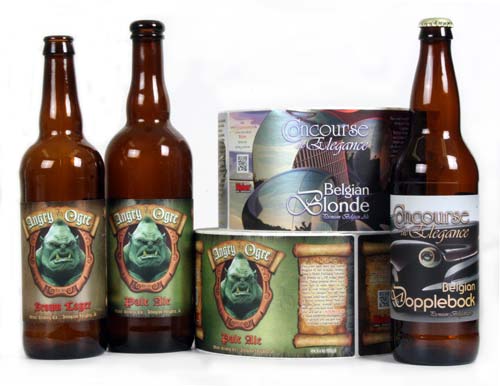 We were inspired to feature several craft beer labels in our 2013 Pack Expo booth this year in Las Vegas that were designed by our Graphics Manager, Joe Lovano. They were a huge hit!
If you'd like samples of our Weber designed and printed beer labels, contact us through our website.

Clear labeling grows in popularity
Clear labels continue to be a popular choice for Weber customers and we expect this trend to continue. So many of our food and beverage customers have been looking for new ways to stick out on the shelf and give their packaging a fresh new look.
A clear label is a perfect way to show off your beautiful product in a clear container while still utilizing a label to brand and market that product. Whether it's a new artisan food item, a healthy blended beverage or custom hot sauce, your package looks better and cleaner when using a clear label.
Label designers love to use clear labels to make their artwork stand out with custom shapes that look die-cut but are actually a square or rectangular label! Visit our Pinterest board full of great examples of clear label packaging.
Increased collaboration on label design projects between brand owners and label manufacturers
For the third 2014 trend, I had a conversation with Weber's Marketing director, Tom Michalsen. He predicts a growing number of businesses will be working with their label printer to not only produce a high-quality label but also assist in the design or redesign process.
"We've been approached by several Consumer Packaged Goods (CPG) companies in the last 6 months who are looking for ideas on how to differentiate their brand. There appears to be a realization by these companies that the label printer could bring new decorative printing techniques that their traditional creative agency may not know exist."
He continued, "Digital printing and finishing provides a method of quickly showing a myriad of possibilities and options. The ability to mix and match white, clear or metalized label materials with spot foils, metallic colors, tactile finishes, or even combination rotary screen printing can all be used to improve shelf appeal.
When CPG's directly engage the label printer from the onset, their cycle of idea generation to product launch can be shortened dramatically." - Tom Michalsen.
See you in 2014!