Follow our Tweets at @WeberPackaging for news in labels, packaging, manufacturing. Here are a few recent Tweets about labels.

Adhesives
How to choose the right label adhesive http://ow.ly/jYfaD #LabelingTips
This article presents information to consider when selecting adhesives for your labels. Choosing the right adhesives is important because labels are used in every industry. Label adhesives meant for the medical industry might not be correct for your food label. And only certain adhesives work in cold, wet or refrigerated conditions.
We'll help you select the best label material and adhesive based on your application.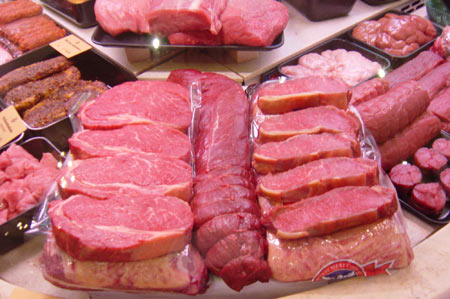 Meat Labels
Meat Labels Get An Upgrade To Help Consumers & Reboot Sales http://ow.ly/jTQPK
Label changes are coming for the American meat industry!
Soon you will see new names to describe the cuts of meat at the grocery store. The original Uniform Retail Meat Identification Standards that are currently being used to identify the different cuts of meat were meant for butchers and not every-day customers.
After nearly two years of consumer research, the National Pork Board, the Beef Checkoff Program and federal agriculture officials have agreed on an updated labeling system that should hit stores just in time for prime grilling season.
More than 350 cuts of pork and beef will carry new labels that will include new names, characteristics of the meat and cooking guidelines. The new labels will eliminate confusion for the consumer and should increase sales.
Craft Beer
Great labels help you discover great craft beer http://ow.ly/jVF6c
The craft beer industry is booming! Will Coldwell explains how beer packaging helps unknown beer brands stick out on the shelves with creative label art. We expect to see more innovative label designs as this industry grows.
Because these labels contain information about the company as well as the beer, these labels not only serve as a brand identifier but also give the consumer a chance to learn about their story and the personality of the brewery.
Share with us your favorite craft beer label! Tweet us at @WeberPackaging or leave a link in the comments of the blog.
Weber News
Weber Visits Germany
Weber Labels Around the World http://ow.ly/jYgtF #Germany
Last week our Labeling Systems Product manager Mike Soloway visited Weber's G
ermany facility -- Weber Marking Systems GmbH.
We are happy to share this picture of Mike (right) and Robert Ungureanu (left) from Weber Canada in front of the Weber Bluhm car near the plant in Germany.
Looking forward to hearing about the new equipment that Mike and Robert checked out during their trip.
HIRING
Now Hiring: Several job openings are listed on our website http://ow.ly/jYK7J #Labels #Manufacturing #Printing #Engineer
Our Arlington Heights, IL headquarters is hiring! Positions include: Project Engineer, Machinist, Assembler, Labeling Systems Engineer, and Label Press Operator. Visit our website for more details.