It's sometimes confusing when you are shopping for a new tabletop thermal-transfer label printer for your business. There are so many questions to ask yourself!
What fits my needs best?

Will the new printer last?

Can it handle my old labeling supplies?

What about maintenance??

And prices... what is a good deal anymore?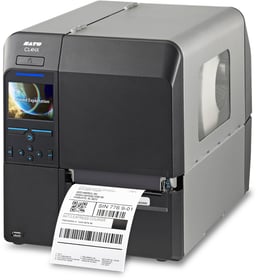 Well, here is one printer you should be looking at when it comes time for a new labeling system. Sato's new CLNX Series thermal-transfer label printers offer a wide array of standard features that set them apart from the competition. These printers feature a durable industrial design that can stand up to the rigors of manufacturing environments. They are easy to set-up and the user-friendly interface makes it simple to load and print your labels.
SATO's CLNX™ Series industrial thermal printer, available in a 4" or 6" models, are problem solvers engineered for the most demanding printing applications. The NX Series represents SATO's next generation of thermal printers with advanced support for barcode symbologies, character sets and RFID encoding.
Let's take a look at the top five reasons you might consider purchasing a Sato CLNX Series printer.
1. What am I looking for in a new printer?
First and foremost, you should sit down and decide what are the basic functions that you need for your labeling operation. Are you just adding an address label in a shipping department? Or are you printing batches of labels that will need to be rewound and applied with another system somewhere else? Or do you need RFID encoding capabilities or wireless communication? Do you print thermal-transfer labels using ribbons or direct thermal labels?
The Sato CLNX Series comes in a wide variety of configurations that includes standard features such as:
Print thermal-transfer or direct thermal labels
Intuitive Key and Menu Design – Universal icons for easy to understand key operation. Two soft keys and multiple selections on the screen allow users swifter navigation and a easier selection process.
3.5" Full Color LCD – Clear and crisp images provide quality and real time messaging on the printer's status, viewing of help videos and 30 localized languages that foster global acceptance.
Large LED Indicator – The LED indicator bar illuminates blue and red to provide operators easy status notification from a distance reducing missed error messages.
Print Accuracy – Single belt drive mechanism provides precise print registration, for applications requiring tight imaging tolerances.
Label Tension Damper System (LTDS) - Applies a controlled back-feed tension for improved label tracking, allowing for wider range of media.
Install in Tighter Space – The Bi-Fold cover reduces the overall area required for printer operation by 54% as compared to competitive models.
Cold Temperature Location – New high energy setting allows printing in colder environments and at higher print speeds.
And the Sato CLNX printer options include:
203, 300, or 600 dpi print resolution (8-24 dots/mm)
Print speed of 6 ips to 10 ips depending on resolution of printer

Rewinder

RTC (real-time clock)

Label Cutter

Label Dispenser

RFID encoder

Wi-Fi®, Wi-Fi Direct® and CCX (Cisco®) Version 4 Certified, IEEE 802.11 a/b/g/n, Dual Band (2.4 GHz, 5 GHz) Connectability

As you can see, you can configure your printer in just the way you want for your production line.
2. What type of construction should I look for in a label printer?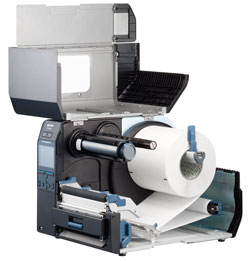 The Sato CLNX Series offer superior durability. Built with rigid cast aluminum frames, a strong corrosion resistant material that provides a strong foundation for tough environments. The extruded aluminum media holder can support a large 10" OD roll that resists damage or bending. A cast aluminum housing protects the printhead and pressure adjustments from excess exposure to harsh environments. This type of rugged construction means the printer can withstand harsh environments, reduce potential breakdowns, and lower the total cost of ownership and operation. The printers are built to last!
A space saving design features bi-fold cover design makes it easy to install in tight spaces. The overall area required is reduced 54% in width and 27% in height compared to competitive industrial models.
The printhead and platen are easy to replace because of a tool-free design, making maintenance fast and simple. And robust gold user touch points indicate key adjustments.
3. Will I be able to print the same labels and use my current supplies and set-up?
Sato CLNX series printers are available in 3 different densities (203, 300 or 600 DPI) so you can print the type of label you need from simple address labels to complex bar code labels. They print from 6 to 10 inches per second depending on the DPI so you should be able to find a printer to handle your line speed.
Sato CLNX printers can use ribbons that are wound EITHER coated side in or coated side out so you never have to throw away wrongly matched ribbons. And depending on which model you chose, you can print labels up to 6.5" wide and up to 98" long!
You should be able to communicate easily with the Sato CLNX Series because of the Auto Detection of competitive print languages using SATO's SBPL®, SZPL®, STCL®, SDPL® and SIPL® emulations. Auto Detect function allow users to plug and play operation when switching from SATO legacy models or another brand of printer.
4. Is maintenance easy for the CLNX series printers?
These printers have made it really simple for users to track down problems and solve them on their own.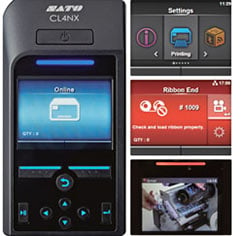 The printer's innovative color display provides access to on-board video tutorials that guide operators through media loading, parts replacements and help operators quickly address error conditions. These videos provide instantaneous self-help for operators right on the shop floor, while reducing time and expense required for training and retraining. CLNX printers are superior for operational ease and product reliablilty that allow your business to keep running at maximum capacity.
The CLNX series is designed to reduce the number of potential printer errors or print-run failures, and to speed up the process of routine maintenance.
60 degree wide open print head opening for better access and faster maintenance: translates to reduced down time and easy access to the media sensor and other components
Easy setup

Redesigned head unit mechanism

New synchronized ribbon and platen roller
New head pressure adjusters
New head right-left balance screw: a balance screw offers additional adjustment for head pressure when printing on specialty label media if required
Common maintenance issues are eliminated with a design that features durable construction, wide-angle print head access, tool-free print head and platen adjustment/replacement procedures and reliable print quality.
5. What pricing can be expected and do the printers offer savings?
The CLNX series are exceptional industrial thermal transfer printers at economical price points. Pricing starts as low as $1,695.00 for the Sato CL408NX 203 dpi printer and goes up from there depending on make/model/dpi, etc.
The printers durability and reliability reduces maintenance costs. From a media stand-point, if you go with a 10" OD media capacity coupled with a 600 meter ribbon option, labor costs are decreased by as much as 41% with less change over of labels and ribbons.
Check out all the great CLNX series printers on Go-Label to select the optimal printer for your application requirements.