---
Digitally-printed labels save time & money on short label runs.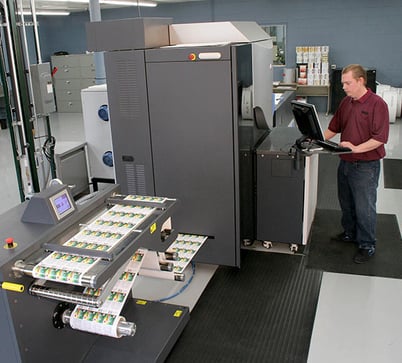 HP Indigo presses are used for printing labels, commercial literature, direct mail, photos, publications, flexible packaging, folding cartons and all kinds of specialty printing. The ability to print without films and plates enables digital production to create personalized short runs, changing text, images and jobs without having to stop the press. This print technology can produce products for a wide variety of applications with extreme precision and productivity. Weber Packaging Solutions has a couple of the HP Indigo label presses that have been consistently producing high-resolution labels for years.
In digital printing, an image is sent directly to the press using digital files such as PDFs and those from graphics software such as Illustrator and InDesign. These artwork files are created either by the customer, their agency, or an in-house Graphics Team like at Weber Packaging Solutions.
This eliminates the need for a typical offset printing plate. The digital technology has a higher cost per page than the more traditional offset printing methods. However, digital pricing is counterbalanced by the cost-saving that occurs in avoiding all the technical steps and time needed to make film , printing plates, and press set-up time. This print method allows for on-demand printing, short turn around times, and even modifications on-the-fly of variable data on a label.
The Indigo technology is based on HP ElectroInk which uses small color particles suspended in imaging oil. The ink forms a very thin and smooth plastic layer on the media surface. The fact that these particles are so small ensures that the printed image does not mask the underlying surface roughness/gloss of the media, as can be possible with some toner-based processes, bringing Indigo printing closer in appearance to conventional offset lithography, whereby ink is actually absorbed into the paper.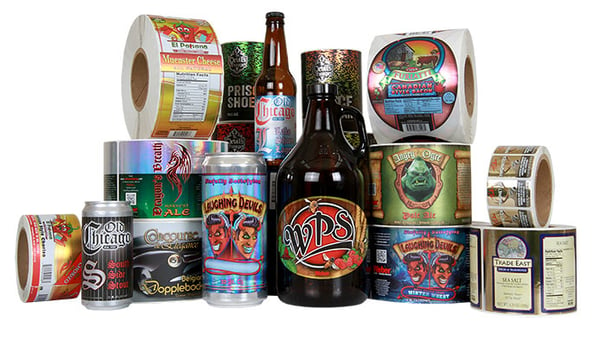 A wide-variety of media can be utilized to produce excellent results from the combination of label material/inks/label finish selected. For example, astonishing effects are created printing on metallic substrates like those shown above.
With digital printing, you can tailor messages with up-to-the-minute content that is ready to print when you need it. It is a good fit for large multi-version or just static print projects, providing a perfect solution for finished labels with vibrant colors and offset-quality results for both short and long runs.
We have found many markets use a combination of short digital label runs with unique label materials for impressive results. These include craft breweries and distilleries, food packaging and health & beauty companies.
Some benefits of short-run digital label printing include:
Regional, Event & Experimental/Test Marketing
Seasonal Promotions and Products
Private Labeling
Limited Editions and Small Batch Runs (seasonal craft beer labels & seasonal wine labels)
Multiple SKUs
Versioning & Personalization of Products (bakery labels, spice jar labels, etc.)
Reduced Inventory & Obsolescence
Improved Supply Chain Management
Accelerated Time to Market
Last Minute Changes
Press Proofing on actual label substrate
Some of the advantages of digital printing include:
• No Quality Compromise: Digitally printed graphics and text are more vibrant and vivid. Produces high-resolution images that look great on your product and jump off the shelves.
• Greater Flexibility: You can improve and tweak your label designs as frequently as you wish without worrying about the expense to do so which gives a competitive edge in the market. Short run labels are no problem.
• Eco-Friendly Printing: Digital short-run printing significantly reduces waste compared to large set-up material scrap incurred with other technologies.
Digital offers a unique print solution that marketing professionals need to power their programs from concept through fulfillment, exceeding expectations but not the budget. You can get to the heart of your project with a solid solution. HP presses ensure a quality product with a high level of service under tight deadlines for all aspects of your job. Preflight files, schedule a project, approve the results and do it at the pace of an on-demand digital printer!
---

CONCLUSION:
Digital label printing using HP Indigo label presses make it possible to economically print small high-quality label runs as low as 500 labels. Increased flexibility of the digital process allows customers to use variable data on their labels and make changes without the cost of printing plates and film.
Weber can help you print your short label runs on one of our HP Indigo presses. Contact us for a label quote on your next labeling project!
---