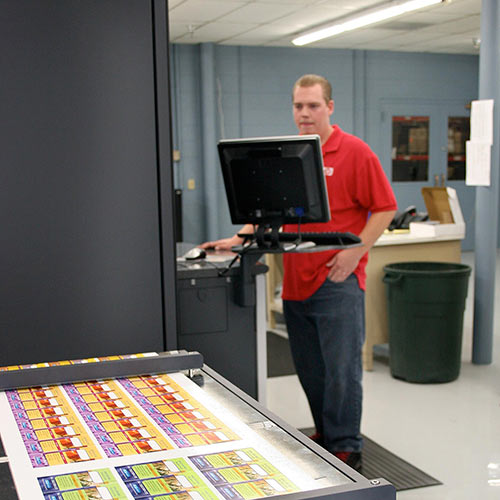 ---
Digitally-printed labels save time & money on short label runs.

HP Indigo presses are used for printing labels, commercial literature, direct mail, photos, publications, flexible packaging, folding cartons and all kinds of specialty printing. The ability to print without films and plates enables digital production to create personalized short runs, changing text, images and jobs without having to stop the press. This print technology can produce products for a wide variety of applications with extreme precision and productivity. Weber Packaging Solutions has a couple of the HP Indigo label presses that have been consistently producing high-resolution labels for years.
In digital printing, an image is sent directly to the press using digital files such as PDFs and those from graphics software such as Illustrator and InDesign. These artwork files are created either by the customer, their agency, or an in-house Graphics Team like at Weber Packaging Solutions.
This eliminates the need for a typical offset printing plate. The digital technology has a higher cost per page than the more traditional offset printing methods. However, digital pricing is counterbalanced by the cost-saving that occurs in avoiding all the technical steps and time needed to make film , printing plates, and press set-up time. This print method allows for on-demand printing, short turn around times, and even modifications on-the-fly of variable data on a label.
The Indigo technology is based on HP ElectroInk which uses small color particles suspended in imaging oil. The ink forms a very thin and smooth plastic layer on the media surface. The fact that these particles are so small ensures that the printed image does not mask the underlying surface roughness/gloss of the media, as can be possible with some toner-based processes, bringing Indigo printing closer in appearance to conventional offset lithography, whereby ink is actually absorbed into the paper.