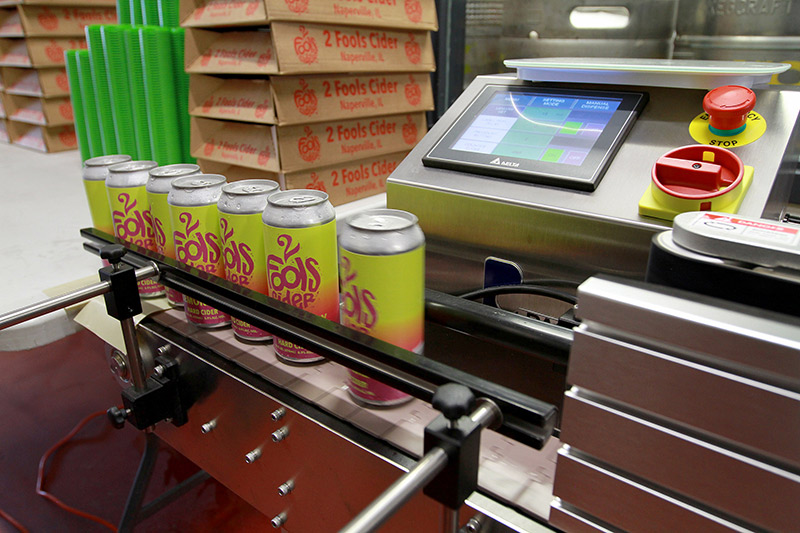 It all started when Monte Summers and his business partner tried to decide between brewing beer or making cider. After working both ends of the question for a while with their brew club, they decided to make cider. And it was so good that friends encouraged them to start a business selling it.
2 Fools Cider was born.
Located in Naperville, Illinois, 2 Fools is a small but mighty craft cider company that has been pleasing the Northern Illinois area since 2016. Monte studied the science of cider making at the Oregon State University and created recipes that don't taste like mass-produced cider. Rather, he goes for a subtle sweetness and crisp, balanced flavor in his beverages. Their taproom/cidery is a fun destination that has been growing in popularity, even with the challenges of the Covid pandemic.
One of the things they did in the early days of the pandemic was to pivot quickly and get an outdoor tent set up so they could remain open. Their outdoor space allowed them to keep serving customers when inside service closed up again in the late Summer of 2020. 2 Fools was lucky to enjoy a lot of local support with both their outdoor taproom and local deliveries of packaged cider that helped them actually grow their business during hard times.
"People really supported us. I had people ordering every week, cases at a time, dropping them off on their stairs and porches. It was great." said Monte.
Inspiration Every Day
"First and foremost, I have two-year old twins that get me up every morning," said Monte when asked what motivates him. "But I really enjoy growing businesses," he said, "and it's fun for me to see how this business has grown through the years."
He likes having the ability to come up with new flavors and seeing people enjoying his products. 2 Fools started with about five or six flavors, including dry English-style cider, a tart cherry cider, a dry-hopped cider, and a sweet cider that wasn't too sweet and eventually morphed into their very popular Rosé cider.
The Rosé actually started as a blueberry cider that he considers one of his biggest mistakes. He had some blueberry concentrate and decided to try making a blueberry cider. As he was formulating the first batch, he would add more blueberries, take a sample to the taproom to have people test it, then return to tweak it some more. After adding a lot more blueberries, everyone said to stop! That's it!