In honor of Earth Day, we'd like to share a part of our business and the packaging industry that we feel quite passionate about.
Sustainable packaging and manufacturing is no longer seen as a trend but as a requirement for many businesses. A recent study by DuPont revealed that in 10 years sustainable packaging will be a number one priority for companies over cost.
At Weber we have made several changes around our plant in the last couple of years to make our facility greener, our manufacturing process more sustainable, and have sought out a product line that meets the environmental requirements of our customers.
The biggest impact we've made is in our label manufacturing process.
Green Label Manufacturing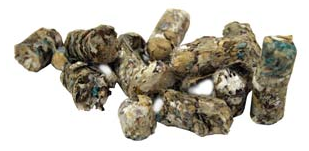 There is a lot of waste involved in printing labels, from the set-up label material generated during the printing set up process to the scrap trim material that's thrown out in the end. The biggest progress the print industry has made in sustainability is the re-purposing of label production scrap for fuel pellets.
In 2012 Weber started collecting this paper waste for Pellet America, a recycling company, to turn into fuel pellets. These fuel pellets are then burned at electrical generation plants. They are a cleaner source of fuel than coal and less costly, especially to the environment. This has been a huge success as we have kept 99% of our waste out of the landfills.
Sustainable Label Material Options
Thin Material
Thin label materials use less raw materials but still have the same packaging effect as thicker ones. Less material also means less packaging materials and lighter containers for shipping. Additionally, you're getting more labels per roll so you won't have down time from switching rolls on your label application equipment.
Using a thinner label material is both a green option and a more efficient option for your labeling process.

Labels That Wash Off
Not all labels are recycle-friendly. The plastic clamshell or bottle that you use is probably recyclable, but once a label is applied to it, the container may be spoiled. This doesn't mean it can't be recycled, it just means the plastic that is recovered will not meet the standards of food grade packaging. If a label can be easily washed off of a food package, then the plastic can be recycled for food packaging again. If the label doesn't wash off cleanly, residue from the label degrades the plastic and it cannot be used for food packaging.
Select a material that has met the standards of the Association of Postconsumer Plastic Recyclers (APR). These labels have been tested and cleanly wash off the plastic material in the recycling process leaving the plastic pure enough to be used again.
Post Consumer Waste Materials
This material option is meant for packaging that does not get recycled. If the container is meant to be composted, this label material will break down in a land fill along with the container. This material cannot be recycled so make sure if you select this type of material that you also select a container that is compostable and that your consumers know this.
If you're looking for more information on Earth Day tips, check out this blog post or contact a Weber Green Label Expert to talk about sustainable labeling options for your product.