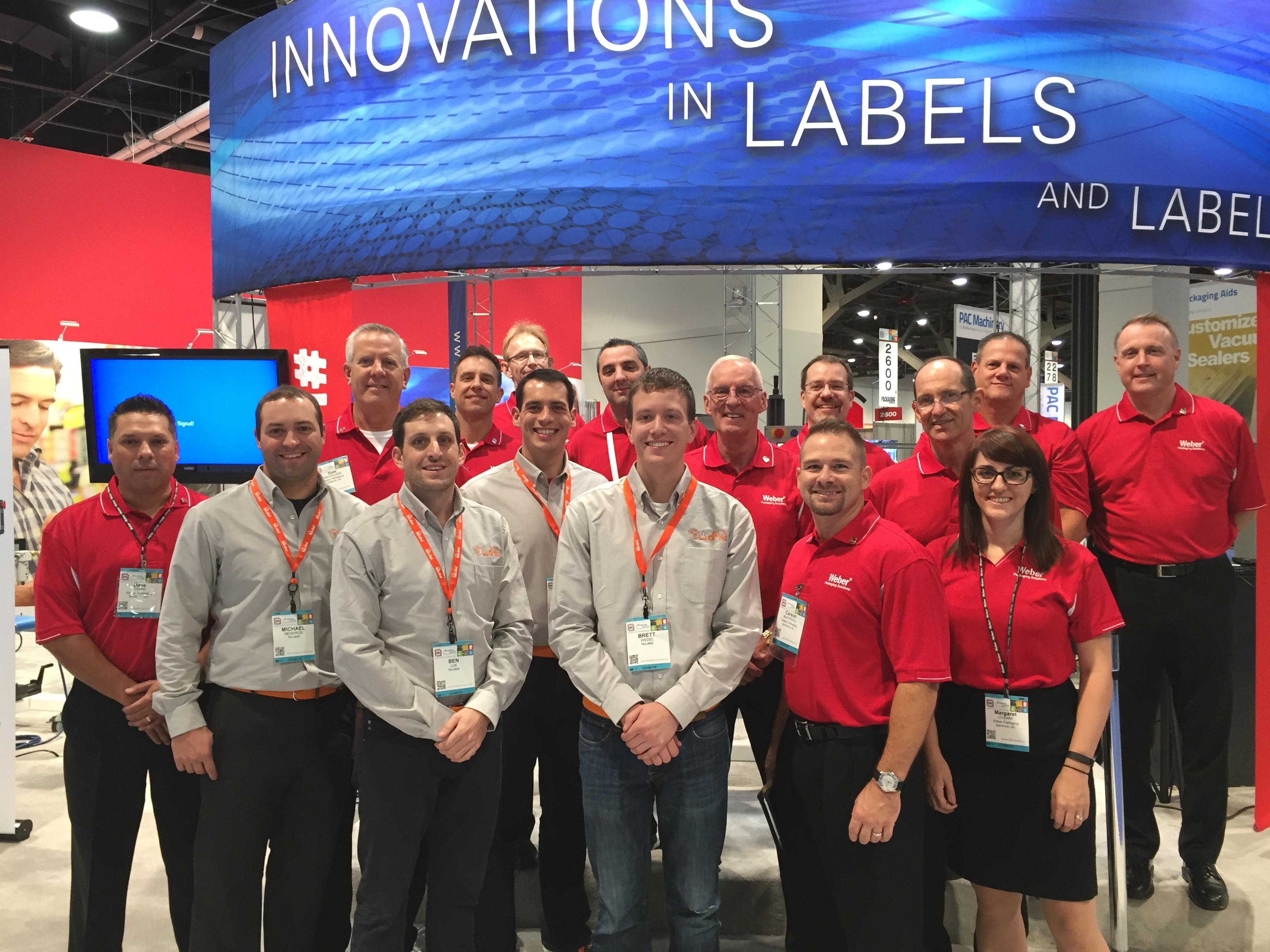 We're back from an exciting Pack Expo Las Vegas. This year PMMI celebrated 20 years of Pack Expo in Las Vegas and it was a record breaker! For this show, attendance reached 28,699 visitors with 844,510 square feet of exhibitor space.
Did we see you there? If not, don't worry, we have a full recap of the top trends and most talked about labeling topics in our booth.
Groundbreaking Labeling Innovation


This year we launched a truly revolutionary product at Pack Expo Las Vegas. The Model 5500LF is our first linerfree print and apply labeling system. With our partners, NuLabel Technologies, we developed a system that will reduce liner waste and save our customers time and money.
During one of our many demos, booth visitors were able to get close to the liner free machine and see it in action. We also gave out samples of the label applied to corrugated material.
New Businesses Looking for the Complete Labeling Package
If you are planning on launching a new product that will require packaging, attending Pack Expo is one of the best first steps you can take. Not only will you get information on every part of the container but you'll also see where you could be headed if you're product really takes off. Pack Expo is a great place to meet multiple vendors all on the same day to compare features, quality and price.
We talked to small business owners who had fantastic ideas and had come to us to talk about their labels and, perhaps one day, an automatic labeling system. Seeing all the examples of our customers labeled products in our booth also helped inspire many on what they could do with the right packaging and labels.
Keeping Up-To-Date with Labeling Regulations
The top two regulations we discussed in our booth were GHS chemical labeling and UDI labeling. These are both regulations that are in effect now but many have been slow to adopt. Part of the challenge with GHS labeling, is finding the best solution that will work long-term. Most companies seem to be working with a temporary print solution but are seeing the problems with their software or print technology.
Weber had some printers in our booth that could print color ink jet labels that are chemical resistant and can help customers comply with new GHS regulations.
UDI medical device labeling was featured and demonstrated in our Pharma Expo booth. We had a Model 5300 Split-Tamp label printer-applicator that was applying UDI labels to medical device packaging, and wrapping the labels automatically around the corner of the box as a closure.
Bottle Labeling Demands
One of the most requested demos in the booth was for bottle wrap labeling. For this show, we had the Model 121 Bottle Wrap labeling system applying craft beer labels to bottles. What makes this system so great is how simple it is to run and how much time and money it saves your growing business. We're offering a show special on two of our bottle labeling systems. Get special pricing for the Model 121 Label Wrap System and the Model 114 One- or Two-Sided Labeling System.
We also featured some of our standard labeling systems including the Model 5300 Twin-Tamp label printer-applicator, the Model 4300 label printer-applicator, the HERMA tamp-blow label applicator and other unique systems designed and manufactured by Weber Packaging Solutions.
If you attended Pack Expo, tell us what you thought about the show. Did you find what you were looking for? See more pictures from our booth on our Facebook page.
Thanks again to everyone who was a part of such a fun show in Las Vegas!