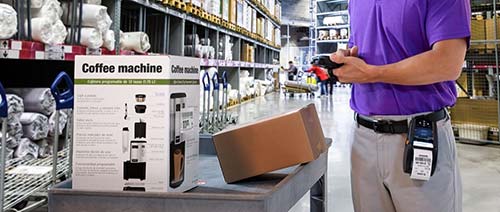 Choosing the right label printer depends on how you'll be using it, including your specific industry and application.
In this quick overview, our label printing experts at Weber Packaging Solutions break down the best Zebra label printers by industry, to help you make the right choice and get the best results.
Manufacturing
Label printing in manufacturing is often fast and high-volume, with a need for extremely durable printers that can withstand extreme temperatures, dust, dirt, or other tough environmental factors. Sometimes you also need higher print quality to support smaller labels, improve scannability, and meet compliance requirements.
In these cases, the best options are Zebra's ZT600 or ZT400 Series industrial printers, which print at higher speeds with greater quality than desktop printers. They achieve speeds of up to 14 inches per second with print resolution of up to 600 dots per inch (dpi). Zebra also offers models with optional RFID labeling functionality.
Zebra's ZT printers are manufactured with all-metal components and built-in thermal management, so they also withstand the harshest environments, including extreme heat and cold, dust, dirt, and humidity.
If you need a print-and-apply system that labels as products, materials, or shipments move through production processes, a Zebra ZE500 print engine is also an option. Zebra's print engines can print labels with up to 300 dpi resolution at up to 12 inches per second, including labels of 4.09 or 6.6 inches in width.
Transportation and Logistics
In transportation and logistics, workflows can involve everything from warehousing to yard and terminal operations, fleet management, and delivery services. In these cases, it's often best to use a combination of different Zebra printer types depending on each area and workflow.
For example, in the busiest warehouses, Zebra ZT Series industrial printers may be the best option for fast, reliable printing in an extremely durable device. They integrate and connect easily with mobile devices and apps, making it easy to print from virtually anywhere.
Smaller desktop printers, such as Zebra's ZD620 and ZD420 Series devices, may also be a good fit, especially when you need a printer that fits into smaller workspaces such as a desk area or rolling workstation.
However, if you need truly mobile printing, Zebra's ZQ600 and ZQ500 Series mobile printers are the industry standard. They offer exceptional durability with a rugged military-grade design, and they deliver fast, reliable printing in a lightweight, wearable, or handheld device. You can print labels and receipts inside or outside the four walls, with Bluetooth, Wi-Fi, and other connectivity options.