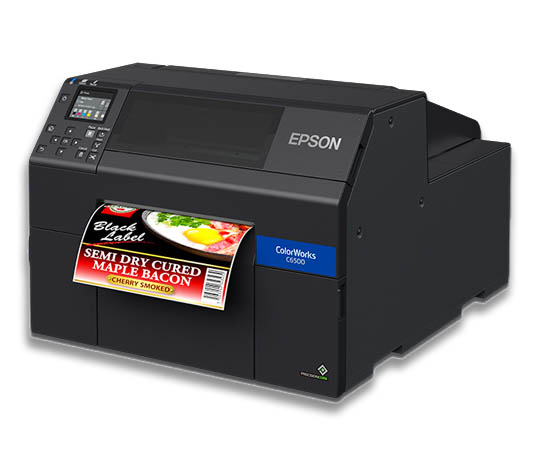 Wouldn't it be great to be able to push a button and get just the right amount of high-quality color labels instantly?
Sometimes you need large of amounts of color labels for your products, whether for the product itself or the packaging. This requires getting them from a label printer (like Weber Packaging Solutions) to get the best quality and cost for a large run, say over 10,000 labels.
But some companies have requirements for color labels in small batches or need large (up to 8" x 13") labels for chemical drums and pails. What do you do if you only need 10 total labels and each a unique design? Even digital printing would be cost prohibitive.
But now you have three reasons to bring your small-run label printing in-house at a cost-effective price.
The Epson C6000 Series color inkjet label printers are specifically designed for industrial customers that need high-quality, full-color labels up to 8.34" wide. The printers come in a narrow and wide-web version but share the same consumables. Let's look at the models.
ONE: The Epson C6000A (label cutter) and the C6000P (peeler bar) are the narrow-web version of the series. These printers are engineered for demanding applications deliver dependable commercial inkjet printing that you can count on. The printers can print from 1.0" (25mm) up to 4.25" (108mm) and can print up to 24" (610mm) long. The printers can print in a wide range of quality settings from Maximum Speed (300 x 600) to Maximum Quality (1200 x 1200). Print speeds up to 5" per second on max speed settings.
The printers use separate CMYK high-quality Epson ink cartridges so you only replace the color needed. Using ESC/Label and ZPL II Interface languages, you can print without reprogramming existing systems. And the Remote Printer Management allows you to manage large fleet
s of printers over a network.
The 4" wide C6000 printers are perfect for using color labels on small medical vials and med devices, small GHS label applications on chemicals, and food and beverage applications for small batches of high-quality labels.
TWO: The Epson C6500A (label cutter) and C6500P (label peeler) are the wide-web version of the series with label widths up to 8.34" (212mm) wide and up to 24" (610mm) long. With the same high-resolution printing capabilities as the C6000 printers, the wider label ability makes the C6500 printers ideal for large chemical drum and pail labeling. When only a minimum quantity of labels is required per day, but they need to be sharp, chemical resistant, and in full color, then the Epson C6500 inkjet printer is the perfect solution for the application.
These printers can operate in a wide variety of Operating System Environments including most Windows versions, Mac OS and Linux. A general purpose I/O port is designed to mission-critical applications that need to seamlessly integrate a color printer into their automated workflow.
The Epson C6000 Series color inkjet label printers allow you to unlock the power of color on your labels, adding color-coded fields, product pictures, logos and marketing messages to improve your overall business processes and branding.
These printers are available at Weber's online store, www.go-label.com.