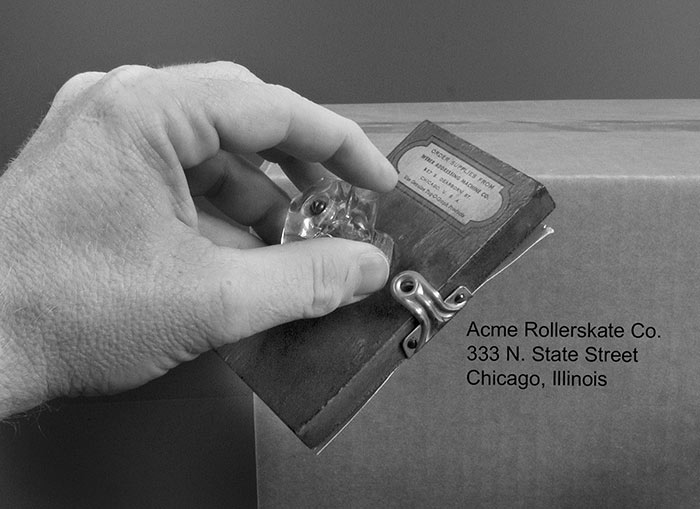 As we celebrate 90 years since opening our doors at Weber, it's a great time to look back at where we've come from! A lot has changed since 1932, and our product offerings are no exception. From handprinters 90 years ago, to label printer applicators today, Weber is constantly evolving with the world around it.
Read on to explore some of the highlights of Weber's product offerings through the years!
1938
In 1938, Joseph Weber Sr. introduced the first handprinter, the Tag-O-Graph Jr. This handprinter was a small curved block of wood to which Joseph affixed a glass handle, a cheesecloth ink pad and a framed mimeograph stencil. It's amazing to look back at the original design and see how far printing has come since!
1947
As the mid-point of the 20th century approached, Weber launched its first mechanical addressing machine, a hand-operated device developed by James Thomas that printed an address from a paper "ad-roll" rather than a stencil. This machine was used to print hang tags that identified products, prices, or address information on packages.
1964
The Stenmark stencil preparation system is introduced to make stencils for handprinters and labelers. This allowed for printing larger type in variety of fonts for easier product identification. It was basically a stencil typewriter!
1972
Model 40 label printer introduced, which was marketed as a small and economical label printer that could print 105 labels per minute. Also known as "Green Machines", this system used a stencil or interchangeable type slugs to print onto dry-adhesive rolls of paper that, when slit into individual labels, could be put on products.
1984
As technology began to rapidly advance, the Legitronic 1700 electronic labeling system featuring a computer terminal and dot matrix printer was introduced. Variable label information was printed onto pressure-sensitive labels after being formatted by the computer program.
1998
The Model 5100, Weber's first label printer applicator designed and built in-house, went on the market. This built-in-the-USA print-apply system was designed to use Zebra print engines. A wide-range of label application arms allowed it to apply one or two labels to the sides of passing cartons or products.
2022
Weber keeps innovating with a range of high-speed labeling systems. The new high-speed modular Model 4050 label printer applicator is introduced along with the Legi-Flex high-speed vision-alignment labeling system for distribution centers. These systems, along with the high-speed Alpha HSM label applicator, show Weber's dedication to the ever-changing requirements of the packaging industry.
And we're just getting started!
Want to learn more about Weber's history and what we can do for you? Subscribe to follow us on social media and sign up for our newsletter! (top right) You won't want to miss joining in the fun of our 90th anniversary celebration!