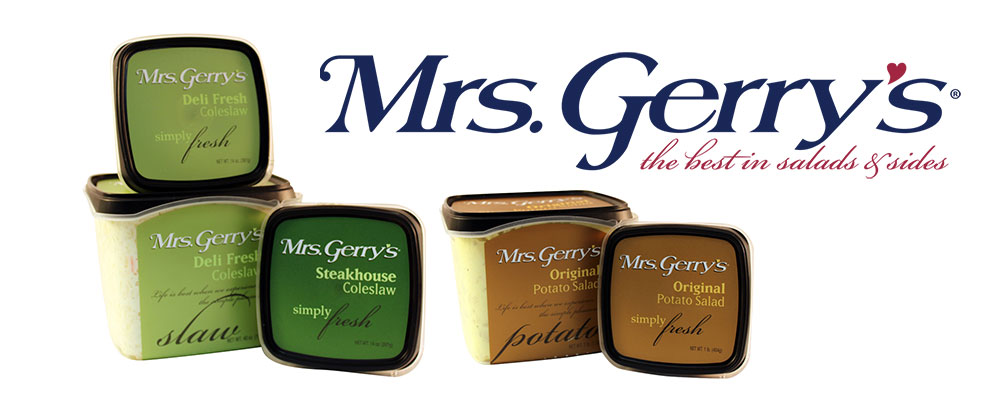 One of the biggest challenges for companies that manufacture and sell products to large supermarket and retail chains is meeting the mandated labeling requirements. If you are shipping your products to their giant distribution centers, you need to have all your product labeling in step or they might not accept your shipment.
This was the case for one of Minnesota's largest salad and side dish purveyors, Mrs. Gerry's. They were requested to start applying adjacent corner labels to their cartons of prepared salads, side dishes, desserts, and coleslaws. These labels had to contain the GS1 information for the product including use by date, product information, and bar codes for tracking.
Steady growth has been the trademark for Mrs. Gerry's which had a humble start back in 1973 when Gerry and Jerry Vogt founded the company in support of Jerry's sales position selling meats to grocery stores. Jerry wanted to offer more food-related products so he could provide a full menu to his clients. They bought a small building of just 1,100 square feet in Albert Lea, Minnesota, adding two stoves, a sink, and a cooler, and they were in business.
Gerry's family became the first employees and they used Mrs. Gerry's family recipe for potato salad as the first product. The company began to grow and, using fresh local ingredients, turned out 70,000 pounds of salad by hand in 1974. New recipes were added and building additions were added to accommodate the expanding product lines.
Fast forward to 2018 and Mrs. Gerry's now sells over 35 millions pounds of product a year in their 215,000 square-foot facility. The company sells over 120 different products including pasta salads, cole slaws, salad kits, desserts, Premium Mashed Potatoes and much more. Sourcing their ingredients locally as much as possible, about 90% of their potatoes are grown within 15 miles of the Albert Lea plant. They buy massive truckloads of potatoes which are off-loaded in seconds using a whole truck tilt unloading system.