When you sell a product that is a unique shape, there are many packaging challenges. One such company is Swanson Tool, a Chicagoland-based manufacturer of measuring tools, and the inventor of Speed Squares®. Ironically, framing squares are in the shape of a triangle.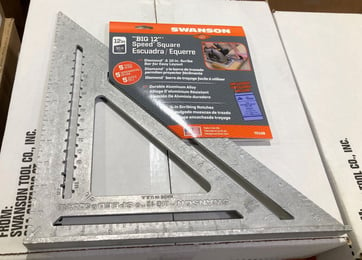 Swanson was approached by one of their customers about a new packaging configuration for two of their largest framing square sizes. Typically, the labeling for these items include a large glossy tagstock material that is stapled or glued together, sometimes with an instructional "blue book" contained within. Because of the odd shape, this is all prepared by hand.
The new packaging would require more products per case, but the existing labeling solution adds a lot of bulk. They needed to streamline their labeling, and noticed that some of their competition uses pressure sensitive labels.
That's when Swanson decided to call on Weber Packaging. In their search, they also noted they could use Weber to capitalize on this opportunity to streamline the labeling process as well.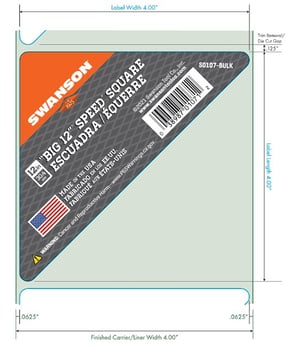 The primary requirement for this label was that it needed to be removable without leaving any residue behind on the high-quality CNC-machined aluminum framing squares that would frustrate the end user. After all, the preferred location of this new label was directly on top of etched distance and angle markings, essential for the use of the product.
We gave them a semigloss removable paper label to start off, but that ended up tearing too much, leaving behind shreds of the label. We then sent a durable label option of our Flexlyte 2.3-510-40. The white polypropylene film material has excellent opacity with a high gloss background. The adhesive is a specially formulated acrylic adhesive designed for ease of removability from packaging. These were actual tradeshow samples using a matte overlaminate. Functionally, this combination did the trick. But they also preferred the aesthetic of the matte overlam used on these samples compared to their glossy tagstocks they had been using. Based on the screens and gradients provided in the artwork, Weber's Graphics department recommended that this be run only on our digital presses.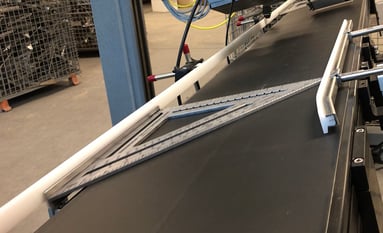 Next, they asked Weber to find a way to automate the labeling process. The idea was to place a triangle-shaped label on the corner of the framing squares, or a triangle-on-a-triangle. The framing squares have an extended base, or bevel, which allows them to nicely rest along side the length of a piece of lumber and be slid up and down to trace lines for cutting.
However, placing that on a conveyor makes for an awkward resting position, and leaves the tools prone to shifting and inconsistent placement. Our engineers were quick to find a solution.