We're packing up and getting ready to head out to Anaheim, CA for WestPack 2018.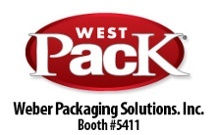 WestPack offers serious professionals three days of immersion to explore the region's largest industry expo delivering the latest in packaging design, flexible packaging, and more.
Trade shows are still one of the most valuable ways for you to network and discover solutions that help your business. Even though most of us do our initial research online, these traditional events still provide a lot that a website or videos can't accomplish.
Here is what you will find in booth 5411: