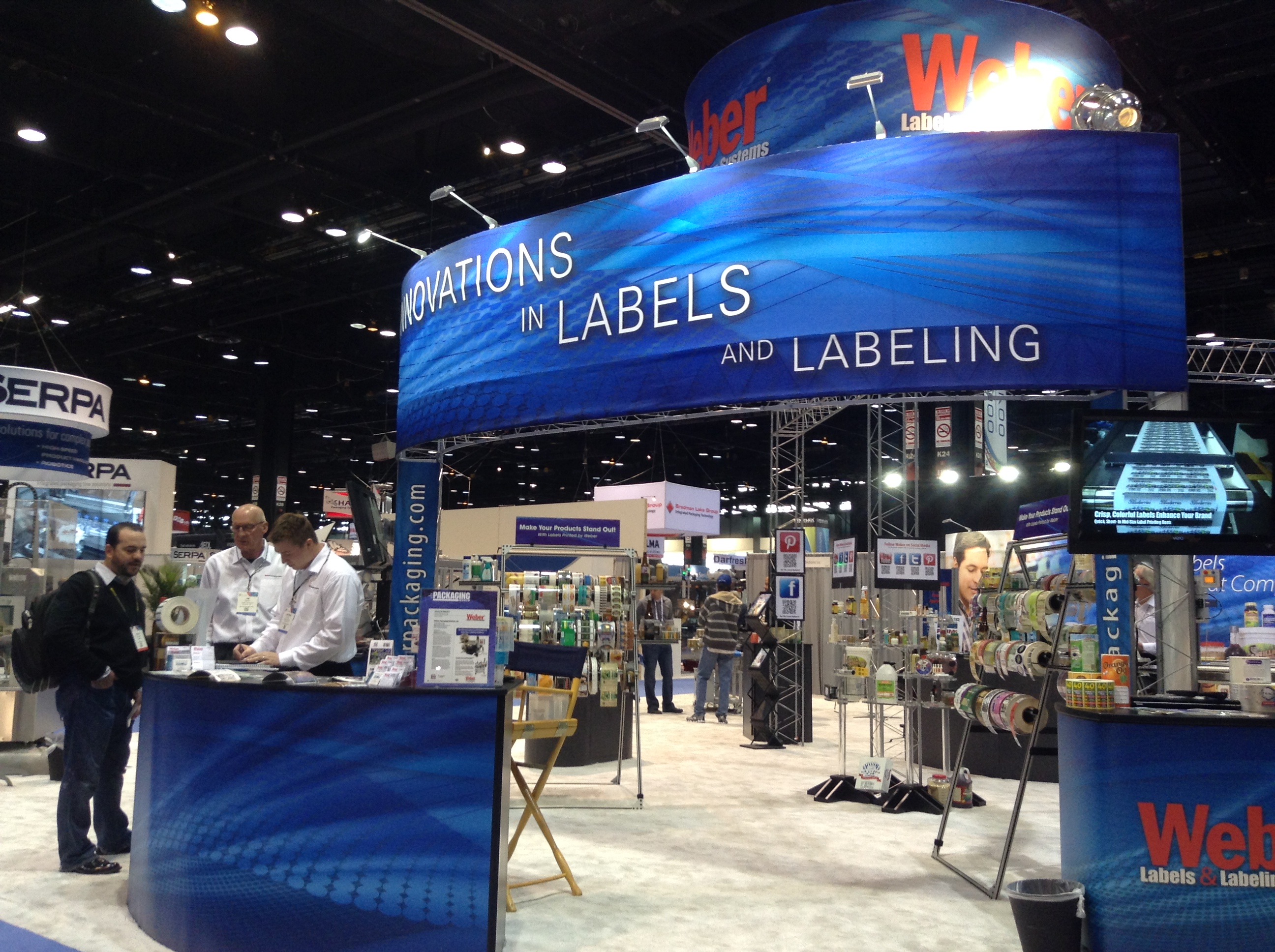 Pack Expo 2014 at Chicago's McCormick Place was a huge success! Not only was this the biggest packaging trade show in terms of space with 1.2 million square feet of exhibits, but it was also record breaking in attendance as over 50,000 attended.
At Weber's booth, we talked to many new businesses and companies that were looking for ideas and solutions for their future labeling projects.
Since labeling covers just about every demographic and category, we helped customers with everything from labeling small cosmetic containers to craft beer bottles to high speed carton labeling at distribution centers.
Check out some of the trends we noticed from Pack Expo 2014.
Top 5 Label Trends
1) Pouch Labeling
Pouch packaging is in! For food products like granola, nuts and coffee beans, a stand-up pouch makes a big impact on the shelf and can be an affordable packaging option. The biggest issue for a lot of these businesses is the high minimums for pre-printed flexible pouch packaging.
A quick fix to this is to purchase blank or clear pouches and apply labels to handle the variable information. You can order a standard size label with your logo and variably print nutriitonal information or anything that changes among flavors. A popular solution to handle this of labeling a label printer-applicator or the Alpha Compact label applicator system.
2) Craft Beverage Labeling
This year, more than ever, we received a lot of interest from craft breweries, small-batch distilleries and winery start ups.
The most common question among all three was how could they get low volume labels with an artisan look that give off a high-end image. To show how we can solve this problem, we handed out lots of beverage digital label samples that were a hit among the brewers and distillers.
Our uniquely-designed craft beer labels were our most popular samples for attendees to take!
3) Sustainable Labels

Each year we notice more and more people requesting information on sustainable materials for their labels. Requests included labels that were biodegradable, recyclable or even made with post-consumer waste.
A wide variety of materials are available to fulfill this need. Talk to your label expert for details. Expect to see more demand for green labels!
4) Small Business Product Labeling
There were many small business owners who visited us at Pack Expo. Like the craft beverage industry, label volumes tend to be low and price is a major consideration.
Many of them are looking to get into promotional or personalized packaging. Both the HP Indigo digitally printed labels and the on-demand label printer, the QuadraColor, were popular among small businesses looking to improve their image.
5) Labeling Systems for Clamshells
A labeling challenge we hear a lot about involves clamshells. Standard wipe-on label applicators have trouble applying labels to these clamshells, especially at high speed.
This year many people were interested in our HERMA Tamp-Blow labeling system which accurately applies a label to the recessed area of the clamshell lid. Because this is a non-contact labeling system, the HERMA Tamp-Blow can accurately apply labels to the recessed lid consistently and quickly.
If you couldn't make it to the show we have you covered! We can send you label samples from our booth. If you want to talk about an upcoming label project, talk to one of our labeling experts.
We're also sharing our Pack Expo show discount! Use the code PE14 to receive 10% off a Go-Label.com order. This offer expires 12-31-14!
See you next year in Las Vegas for Pack Expo 2015!