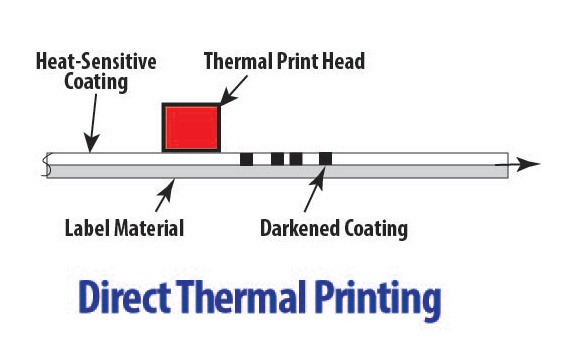 Across the labeling industry, customers are looking for more sustainable options. We are excited to announce a NEW label material that can solve the issue. Weber's Thermathin 375 is a down-gauged, uncoated direct-thermal paper for basic applications requiring a wide temperature range.
Thinner than traditional facesheet and liners, Thermathin 375 delivers efficiencies to manufacturing, converting, shipping, transportation and warehousing through less raw material usage, increased labels/footage per roll, reduced packaging waste, reduced freight, and more. The label construction provides economic, environmental and productivity benefits.
The material features a permanent rubber-based hot melt adhesive. The adhesive has excellent tack and ultimate adhesion to a variety of surfaces including polystyrene, polypropylene, polyethylene, paper and corrugate.
Thermathin 375 direct thermal labels do not require a printing ribbon so, by using these labels, there is a cost savings right away. This type of label has a special heat-activated layer where a black print image is formed when heat from the print head is applied. Thermal labels are more accurate due to the fact that the ink is embedded in the paper instead of coming from a ribbon in the printer.
If you are printing millions of variable information labels like shipping labels, this is the way to go. Your printer will cost less to operate. Eliminating a printing ribbon makes for easier media loading and a lower cost per printed label.
Instead of purchasing ink, toner or ribbons, in addition to the print materials themselves, only labels are needed in order to print. Thus, for short-term, high-volume printing, such as addressing boxes for shipping and fulfillment, direct thermal labels are the economically perfect answer!
Advantages of direct thermal printing include:
First and foremost, direct thermal labels are much more environmentally friendly

As they have a lower shipping weight, your carbon footprint will be greatly reduced

Without the need of a ribbon, a lot of time will be saved especially when you are reloading your printer

Direct thermal printers are simple to operate compared to most other print technologies because there is no ink, toner or ribbon to monitor or replenish
Direct thermal printing produces sharp print quality with good scannability
Direct thermal enables batch or single label printing with virtually no waste
These affordable direct thermal paper labels are appropriate for general-purpose labeling applications.