Big changes are coming for chemical manufacturers and workplaces that use chemicals. We've been talking about ways to comply with the Globally Harmonized System of labeling chemicals since the final ruling was announced by OSHA in 2012. As we're getting closer to one of the biggest deadlines, let's go over some questions that we're often asked by our customers. If you have a question that wasn't answered below, contact our GHS labeling expert.
Here are some of Weber's Frequently Asked Questions about GHS labeling
When are the deadlines for compliance?
The deadline for GHS label compliance is June 1, 2015. However, there are some exceptions to this deadline. If you're making an effort to comply but you're still waiting to obtain the SDS, you won't be fined. Also, if you still have products labeled with the old label, you can still sell these products until December 1 2015. The absolute final deadline for compliance is June 1, 2016.
What are the main components of a GHS label?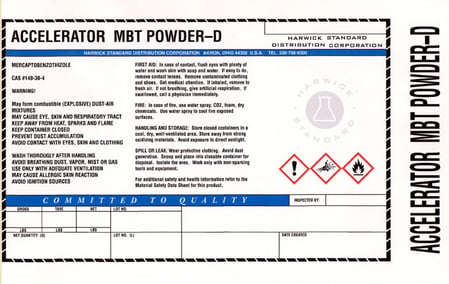 There are six things you must include on your label.
Product Identifier - The product identifier is the title on the top of the label. This should match the product identifier on the SDS.
Signal Word - All GHS labels must include the words "DANGER" or "WARNING." The signal word "DANGER" identifies chemicals and products that present, relatively speaking, a greater or more immediate hazard to the worker. The word "WARNING" identifies chemicals and products that present a lesser (although still potentially harmful) degree of hazard.
Hazard Statements - Under the signal word a hazard statement must be included. This is where people can find the risks involved with handing the chemical.
Precautionary Statements - This describes the recommended measures to minimize or prevent adverse effects resulting from exposure
Supplier Identification - All GHS compliant labels must include the name, address and telephone number of the manufacturer or supplier of the company that made the product
Pictograms - There are nine different symbols you might use to convey the specific hazard information visually. These include Explosion, Corrosion, Oxidizing Flame, Gas Cylinder, Environmental Hazard, Skull & Crossbones (fatal), Exclamation Mark, Health Hazard and Flammable.
Where do I get the required information for my label?
There are requirements that you must include on your label such as pictograms, warning statements, etc. All of that information comes from your chemical's Safety Data Sheet (SDS). Typically, a third-party organization is used to determine the content of the chemicals and provide you with an SDS.
Review Appendix C of OSHA's ruling for more information on the specific details you'll need to include.
Is there a specific GHS label material that I will be required to use?
If your container is being used in the US only, you do not need to comply with a specific material requirement. The only requirement is that the label is legible for users for the lifetime of the label. If you're exporting the chemical, the GHS label must be BS5609 certified.
We recommend a durable label material and ink that will stay legible and in tact during harsh conditions.
Can I leave the red pictogram diamonds blank?
No. You either need to use a label template with the exact number of pictogram diamonds you'll need or you'll need to completely black out the unnecessary pictogram with black ink. If you're printing your labels on-demand with an Epson color printer, this will not be an issue.
What is the minimum size label we can use for HazCom?
There is no minimum or maximum size requirement for GHS labeling. You'll need a label large enough to print all of your HazCom information. If you cannot fit everything that is required, you should look into extended content labels. This method may be more expensive, but OSHA will not accept increased packaging costs as a valid reason for not complying.
What information do I need before designing my GHS labels?
When you're preparing to change your chemical label, consider what information you want to keep from your old design (HCS information) and the new content you need to add (pictograms). If this label is for consumers, you'll need to consider the branding information and aesthetic design of your label with this new content. OSHA does not mandate a specific style, font size or font style.
What is the difference between an employee used chemical label and a distributor label?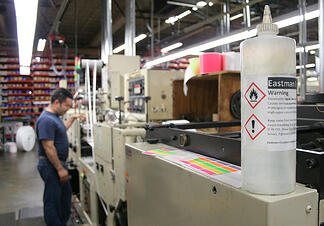 The required information is exactly the same whether you're labeling a drum or bottle. There is no difference between the user labels and the manufacturers. The only difference you might encounter is the size of the label and the extra information such as instructions and branding.
A label printed in the work place by the chemical user might not carry as much information because it only needs to meet the safety requirements. Larger chemical labels on drums will include branding info and more details from the chemical manufacturer.
Are pictograms required on prime labels?
If your product is something that could be used for commercial use, then you will include GHS information and Consumer Product Safety Commission required info.
My container is very small, what is the minimum required information for small bottle GHS labeling?
There has been some debate on the minimum required information for small bottles. Initially, OSHA stated that labels must include all the required information. If the container is too small to print everything legibly on the label, then an extended content label would be necessary. Added cost would not be an acceptable excuse for noncompliance. However, there have been recent discussions that the following is the minimum you're required to print on the small labels.
Product identifier
Appropriate pictograms
Manufacturer's name and phone number
Signal word
A statement indicating the full label information for the chemical
This might mean you can avoid the added cost of an extended content label.
Is there a GHS labeling question that we missed? Leave a question in the comments or contact our GHS label expert to talk about your specific labeling challenges.