By Chuck Pullich
Weber Prime Media Manager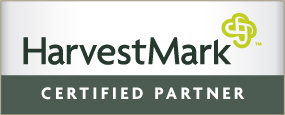 If you're a grower, packer or shipper of fresh produce, you already know about the PTI, the industry-led effort that will enhance produce traceability throughout the supply chain. That means special labels on cases, packs and sometimes even individual pieces of produce.
We think the best – and easiest – way for you to comply with the PTI guidelines is through the use of special HarvestMark® Codes on your labels. And that's where we can help, because Weber is a HarvestMark Certified Partner.
Using HarvestMark's proprietary system, we've been trained in all the ins and outs of the PTI compliance. We know the right way to print compliant UPC labels, PLU (price look-up) labels, case labels and master case labels. And we're using the latest flexo, digital and on-press inkjet technologies to print those labels, including the numeric and bar code data required.
If you want to know more about HarvestMark, here's a link to their website. And for details on Weber's easy solutions as a HarvestMark Certified Partner, link here .
Or feel free to email me with any questions about PTI and Weber's HarvestMark solution. I can help you get started right away.