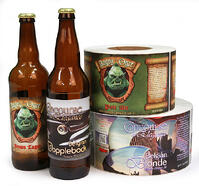 If you've chosen pressure-sensitive labels for your beer bottles then you already know these will be easy to apply. Just remove the liner and stick the label to the bottle, right? Easy enough, but what about when you have hundreds or even thousands of bottles to label? And you want them on straight?
If you want to increase your pack line productivity and ensure accurate labeling you should invest in some form of labeling automation.
Here is a list of three different automatic labeling systems perfect for the beer industry.
1. Bottle-Matic

If you're working on small batch bottling you probably only need a semi-automatic table top labeler. The table-top Bottle-matic is affordable and compact. Our Labeling Systems Product manager, Mike Soloway, put together a video demo to show you how easy this system is for craft beer labeling. With some practice, you can label up to 20-30 bottles a minute. And the labels are applied flat and straight every time.
2. Geset 121
The next step up for microbrewers is the Geset 121 label applicator. This system is ideal for labeling bottles and other round, straight-walled containers. This system would be a great addition to a pack line where you connect directly to the conveyor from the filling line. If you aren't totally automated yet but still need to apply lots of labels quickly, you can hand-load this labeler by sending the bottle in one end and having your helper grab it as it exits the other side. A small, movable labeling system that can label up to 25-30 bottles per minute.

3. Tronics Series 3
The largest bottle labeling system we offer is the Tronics Series 3. This wrap system can wrap a single label or more complex labeling like front, back and neck. This system is a great fit for operations that are 100% automated and have a very high volume out put. The Tronics can handle up to 2400 inches of labels per minute and the built-in conveyor easily integrates into your packaging operation.

Not sure which labeling system is the right fit for your operation? Talk to one of our labeling systems experts about your options.