This month we celebrated a significant employee anniversary. Our label manufacturing director, Joe Ibrahim, was awarded a service award for 35 years at Weber Packaging Solutions.
I recently sat down with Joe to get to know more about him and his experience working at Weber for 35 years.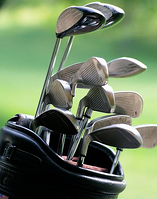 I noticed you have a large collection of golf trinkets on your desk. I take it you enjoy golfing?
I love to play golf and one of the biggest things that happened to me while golfing was my hole in one in 2005. The funny thing about that was that usually people play their whole life without getting one, so it's exciting but when I called my wife to tell her, she said, "So?"
What's your favorite golf course to play at?

Highland Woods in Hoffman Estates. It's pretty open so you have to make a pretty bad shot to not do well there. I played my best game there a few months ago. I shot a 75.
How did you get your start here? And what positions have you held?

At 20, I came to America in 1975 as a refugee from Baghdad, Iraq, and started working in Detroit, Michigan at a radiator factory. In 1977, my brother had been working at Weber in Arlington Heights IL and called me about a job opening. I drove down here for an interview, got the job and started that night as a packer.
From 1977 to 1990 I held several positions including packer, press operator, group leader and supervisor. In 1990, I had the opportunity to move to Canada to lead our manufacturing facility near Toronto in Mississauga, Canada. After a few years, I returned to run night shift label production. When we upgraded our computer system to Oracle's ERP system, I had the opportunity to head up a new department called Label Engineering where we coordinated our customers label specifications through the production process.
Then another opportunity came along where I relocated to Florida as the plant manager. I found myself back at Arlington Heights after the decision was made to consolidate our two US manufacturing facilities.
Since coming back I've been promoted to my current position as label manufacturing director.
You must have enjoyed year round golf in Florida.

It's surprising because I expected to play golf in my free time, but really I ended up choosing to spend more time with my grandson. I've found that in Illinois I appreciate the good weather days more, where as in Florida everyday was a good day to play golf, so it ended up getting put off.
What are the biggest changes to the label industry you have seen?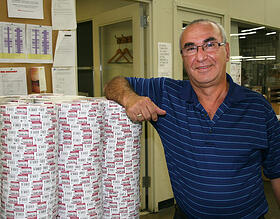 When I started at Weber, our focus was making labels for dot matrix printers. At the time we didn't do many multicolor labels. Then the industry moved toward thermal transfer printers and labels which was a huge change.
Now we print on Flexo label presses up to 10 colors as well as digital label presses.
The biggest recent change has been digital printing. Digital allows for low-quantity high-quality printed labels. In today's economy customers prefer to buy labels in smaller quantities instead of holding an inventory of labels that they might not use in the future.
And finally, what would you say is your biggest accomplishment at Weber?
My biggest accomplishment here was being able to take advantage of the opportunity to advance. Before coming to this country, I thought success here would be easy. I found out there is the potential for success, but you have to work hard to reach it. I am grateful to live in this country and work for a company that has helped me advance so much in my career.
Going forward, I'm hoping to make our operation more efficient which includes more training for our press operators and continuous improvement to our processes.
Thanks, Joe, for all your hard work and leadership!