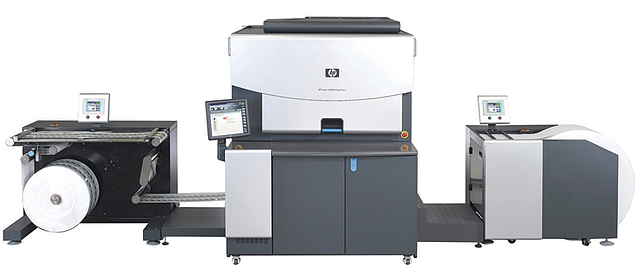 Digital printing is quickly becoming a popular choice for printing product labels and stickers. And there are plenty of good reasons for this including reduced cost, high-quality, quick turn-around and small batch capabilities.
At Weber Packaging, we have been using HP Indigo digital presses to produce stunning product labels for food packaging, lotion bottles, chemical warning labels and so much more. As you plan your new label designs, you should consider all the advantages of digitally printed pressure-sensitive labels.
What is digital printing?
Digital label printing takes a digital file of your design and prints the image directly on to a selected label material on press. Unlike flexographic printing, all colors and images are produced in one step. These presses run slower than flexographic presses so they are ideal for smaller order quantities. Because of the superior printing technology of the HP Indigo press, colorful product packaging labels are produced beautifully.
Common Features of a Digital Label Project
Decorative or Prime Label Printing
Digital printing is ideal for labels that require at least 4 colors. If you want your label to help sell your product and speak for your brand, the print quality is key. Color consistency, image registration and color vibrancy are all addressed with digital labels. Most of the labels we print on our HP Indigo presses are the primary product label. For instance, beverage labels, food pouch labels, and private label brands are frequently running in our digital room. If your label will be used for branding then chances are it'll be a good fit for digital.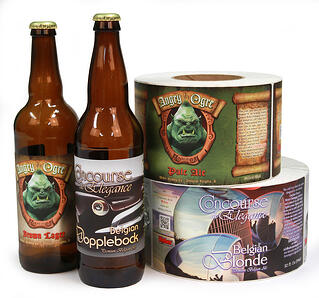 Short Run Orders
Digital printing allows for a much lower minimum than flexographic printing. If you'll need 500-25,000 colorful labels per product then there's a good chance digital labels are a good fit for your product. With short runs you won't need to hold on to inventory you don't need.
Variable Print On Press
Variable data printing is a form of digital printing, including on-demand printing, in which elements such as text, graphics and images may be changed from one printed to piece to the next without stopping or slowing down the printing process. VDP uses information from a database or external file.
Flexo printing requires plates for each unique image and color so variable printing on on a flexographic press is impossible. Digital presses can print consecutive numbers, variable data and almost any other label-to-label difference.
Other Benefits of Digital Label Printing
Label Cost
When your labels are printed on a flexo label press, a new label die (which trims the label into a shape) may be required for unique shapes or sizes. These can cost hundreds of dollars. Flexographic presses also use metal plates, just like regular printing presses, to create the images for each color of the design. A 6-color label will need six plates.
Digital label orders from Weber do not require a charge for a die to cut the labels and, because there are no plates, you'll only be paying for one thing– your labels.
Packaging Sustainability
There can be a lot of material waste associated with flexographic label printing because, during the set up process, the press operator has to dial in the color and align the plates to make the label perfect.
But with digital label printing, the waste is minimal. There is basically no set-up needed which keeps your cost down. And you can order the exact number of labels that you need, in quantities as low as 500. Often times we have customers telling us that they had to order thousands of labels to be cost efficient, but ended up throwing away hundreds of old inventory that they never needed in the first place.
Flexibility
One of the best features of digital label printing is artwork flexibility. As your product line develops you might want to make updates to your label. Even the smallest change on flexo (change a letter, add a color) could cost you at least $100 in a new plate charge.
Because plates aren't required with digital, you can easily modify your design and send in revised artwork and get it printed with no additional plate charges. This is great for start up brands or series runs that have several SKUs.
Digital printing is not right for every product. Most medical device labels, two color labels or complicated coupon labels would not work well with digital printing. But if you use low volumes of labels for craft beer, spirits, wineries and other beverages manufacturing, food packaging of any kind, and most household products and personal care products, digital may be a way for you to save both time and money.
If you have questions about digital labels or want a quote for your product labels, contact Weber.