Big changes are coming for regulated chemical labels.
The Occupational Safety and Health Administration (OSHA) officially adopted a ruling that changes its Hazard Communication Standard (HCS) to match the guidelines of the Globally Harmonized System (GHS).
This new labeling system sets out to reduce confusion, create a standard process and educate users.
Current Compliant Labels

In 1994, OSHA mandated that containers with hazardous chemicals must be labeled w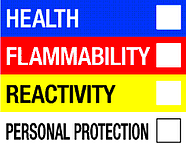 ith a product identifier and hazard statements appropriate for each hazardous chemical.
For years Weber customers were able to use blank thermal-transfer labels or direct-thermal labels to print this product and hazard information.
Other companies ordered pre-printed color labels using the Hazardous Materials Identification System (HMIS) boxes and then imprinted specific safety information on-site. They were able to variably-imprint their individual products' Health, Flammability, Reactivity and Personal Protection ratings.
But starting in 2015, those elements alone will no longer be compliant with OSHA. Manufacturers will be able to continue to use the HMIS information on their labels, but they also will be required to include more specific elements that are in the GHS guidelines.
The New GHS Compliant Labels

The new labels must include six parts:
Product Identifier
Signal Word
Hazard Statements
Precautionary Statements
Supplier Identification
Pictograms
Depending on the hazard severity of the chemical, each label will include at least one of these nine pictogram symbol: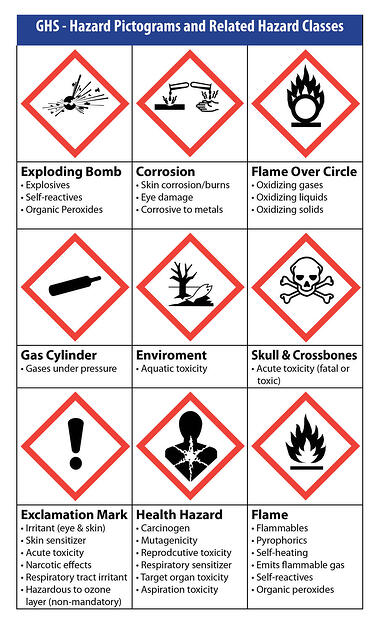 This change will not only promote a safer work environment but also make American companies globally competitive since other countries around the world already require GHS labeling.
What will be difficult for chemical manufacturers and users is the fact that they may not be able to use just one template to use for multiple products. Every pictogram needs to have a red border, and each one needs to be filled in with only one of the nine designated symbols.
For example, they cannot use a preprinted label with nine empty red diamonds and then imprint only the symbols on-site or even "cross out" the ones that do not apply. Those who are used to printing variable information in black may now need a color printer to handle those changes.
The GHS Label Breakdown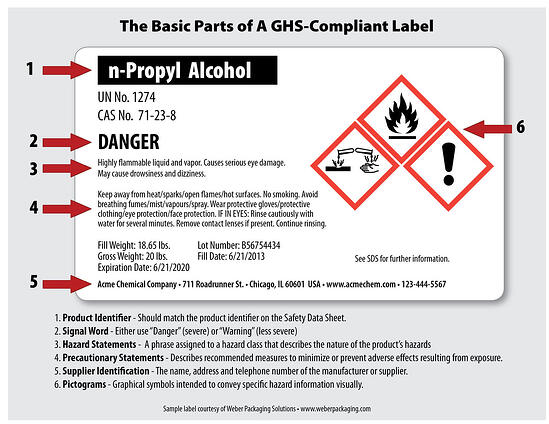 When Does This Go Into Effect?
The Weber Solution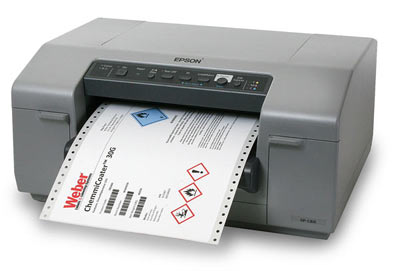 To make the transition easier, we recommend the Epson ColorWorks GP-C831 wide-web color inkjet label printer and Weber's Flextuff IJ 435 material. Both are now available on Go-Label.com! With this printer you can easily print your GHS chemical labels in-house.
This full-color printer will not only allow you to print the variable information, but also will permit the user to print the red & black GHS pictograms as well as the colorful HMIS chart, NFPA diamonds, and transportation pictograms.
The Flextuff IJ 435 material utilizes a durable poly facesheet. When combined with the pigmented inks of the GP -C831, the result is an abrasion and chemical-resistant image, ideal for demanding petrochemical applications. Flextuff IJ 435 is currently pending BS:5609 certification.
You can find more details about this printer at Weber Packaging's website.

Contact our Vertical Markets manager, Paul Johnson, if you have any questions about GHS chemical labeling or would like more information on the Epson ColorWorks GP-C831 or Flextuff IJ 435.