Whether you're having a label manufacturer print your labels or you're printing them yourself in-house with an Epson or QuadraColor label printer, you'll need a good label design.
In the first part of this series we covered typical font mistakes in food label designs. In part two we're focusing on the layout and colors of the design. Our label example for what not to do is a bit far fetched, but we have actually seen some pretty bad label designs that would surprise you.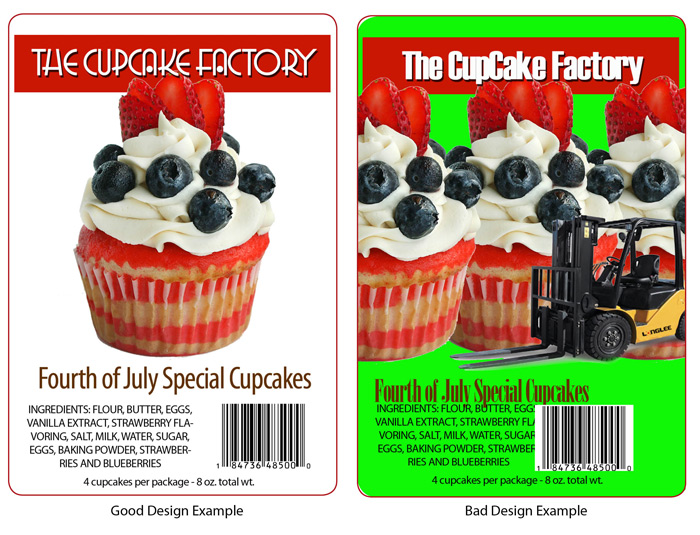 Part II: Layout and Color
Clashing Colors
There is a difference between having an out-standing label and a label that just stands out (usually not in a good way).
When designing a label, it's important to pick colors that complement each other and don't distract from the message your label is trying to show. In this example, the bright green color clashes with the 4th of July cupcake theme, making it hard to read the text and giving the viewer an uncomfortable feeling when looking at the label. It also makes the cupcakes look unappetizing.
Crowded Images
Too many images on your label will make it hard to focus on what you're trying to sell. In this label example there are multiple cupcakes that keep you from seeing a clean, clear vision of what the product looks like. The text is crammed together, making both the headline and the title above the ingredients hard to read. Finally the UPC bar code doesn't have enough clear white area around it to ensure a good "read" at the checkout.
Mixed Messaging
When you are selling food, you want your label message to be delicious, healthy, and clean. It literally has to look good enough to eat. The forklift in the example above is a totally unnecessary pun that doesn't work with the company name. Plus a greasy forklift might be the last thing you want to see related to a cupcake.
These are just some best-practices for designing a typical food label. A label for your product may have different requirements. Just remember that just about all labels need to have a clean, clear design so they are readable from a distance, convey your message, and look professional. Your label is your brand and a reflection of your company.