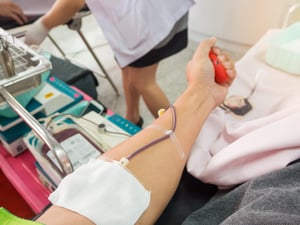 In North America, 250 million blood bag labels are used on average every year, and demand is expected to continue to grow significantly. Giving blood is a simple, straightforward process and donating a pint of blood typically takes less than 12 minutes.
Now transporting blood and components to the end user is a much more complex process. Blood processing and transportation require the use of specialized labels that can withstand both the rigorous lifecycle of a blood bag and communicate critical information about its origin and contents.
Robust product performance and extensive adhesive safety testing are key for specialty healthcare applications like blood bag and IV-bag labeling. Primary and secondary labels must withstand extreme temperatures common to blood processing protocols. Labels must be reliable to meet the stringent tracking and identification requirements for each bag stored in blood banks, healthcare facilities, hospitals and laboratories. Blood banks and collection centers require robust labels to reliably track blood from the donor to the final recipient; these labels need to survive multiple processing, testing, and storage steps through challenging environmental conditions.
The majority of blood bags contain one to two labels, and some may have three and four labels. These labels ensure that these blood products are correctly identified and reach their destination safely and securely. There are two types of labels that must be applied to the blood bag at different stages of the supply chain.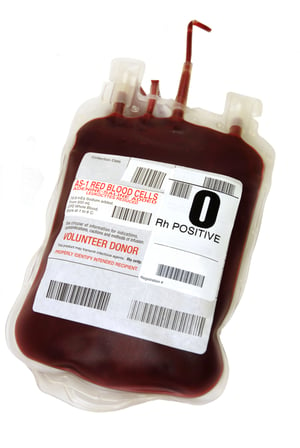 These labels are:
1. Primary Labels: The primary label, or also referred to as the base label, is applied to the blood bag by the manufacturer during production. Primary labels provide identifying information such as the manufacturer's name and address, reference and batch numbers, and codes for traceability. After label application, the bags are filled with anticoagulant and sterilized with steam heat at high temperatures before they are shipped to hospitals and blood centers.
2. Secondary Labels: Once blood is collected from donors, the processing facility will typically centrifuge the blood to separate the plasma, platelets, and red blood cells. The plasma and red blood cells are placed in separate bags or containers, and a secondary label is applied to each of those. Secondary labels provide donor information such as donor identification number, blood type, product code, expiration information and the matrix tracking barcode.
Once labeled, filled blood bags will be temporarily stored in a refrigerator and filled plasma bags are stored in a freezer while lab tests are conducted to determine their suitability for transfusion. Additional secondary labels may need to be applied to the filled blood bags, including the donor's lab results.
Blood bags are in high-demand, and they contain high-value products that move through a very fast-paced supply chain.
To minimize the risk of mis-transfusion or inventory loss, it's critical to utilize labels that withstand the rigorous lifecycle of a blood bag and take the following into consideration:
Compliance: First, compliance Regulations Governing Blood Bag Packaging, Labels must be DIN ISO 3826 compliant. The Food and Drug Administration and the ISEGA also have criteria to ensure label materials such as adhesives don't migrate through the plastic blood bags and bottles and contaminate blood components.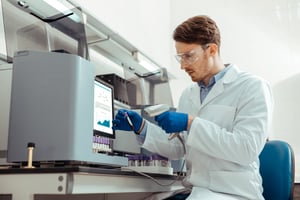 Primary blood and IV labels must undergo rigorous evaluation for acceptability, including testing in accordance with the FDA's guidelines for the Uniform Labeling of Blood and Blood Components. In addition, products must undergo biological reactivity and hemolytic testing to further establish suitability for use in blood bag and IV bag labeling.
Security: From a security standpoint, labels are also the source of traceability and include tracking components. With printed barcodes, companies and healthcare personnel use the label to monitor the blood bag as it travels from one site to another, ensuring that it finally reaches the right facility and patient.
Survival: Additionally, blood bag labels must be able to survive extreme storage environments and the demanding protocols used in blood processing. From collection to processing to storage, primary and secondary labels may endure a wide range of conditions, demanding performance properties such as:

• Hot and cold temperature resistance
• High adhesion to multiple types of plastics
• Low adhesive migration
• Conformability (blood bags tend to not be rigid)
• Durable, long-lasting print
Labels must stay on the bag and in good form through everything from cryogenic freezing to artificial warming to refrigeration—not to mention handle being immersed in a water bath to heat platelets for use. Today's label technology includes specialized adhesives and face stock that can ensure this bond does remain throughout all these challenges.
Weber can deliver proven solutions to meet performance requirements of these criteria in demanding, real-world applications. We can guide in the selection of the right label materials to ensure that inks and coatings provide good printability, performance and compliance.
To inquire about our blood bag labeling products, please contact us at info@weberpackaging.com or call us today at 1-800-843-4242. We look forward to helping your organization preserve the integrity of blood samples.