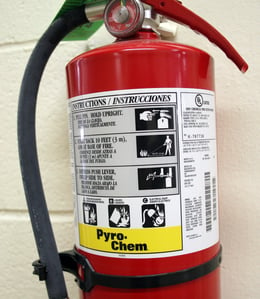 What do automotive parts, power tools, fire extinguishers, electronic components and chemical containers have in common?
Surprisingly, they all have one thing in common: they use durable labels somewhere on the product to share important information such as serial numbers, warnings, instructions and more.
---
A durable label is synthetic carrier of important information/data with an adhesive layer, which is typically affixed to a product or component. Industrial durable labels are designed to resist harsh elements such as solvents, extreme temperatures, and moisture.
A durable label is intended to remain with a durable good throughout the product's life, which can be years, and must withstand possible hostile environments such as exposures to chemicals, extreme temperatures, or UV light. Labels need to last a long time so they keep providing end users with vital messaging through scorching sun, bitter cold, harsh chemical environments and more. Additionally, the label often must be recognized by UL as being a component itself of the durable good.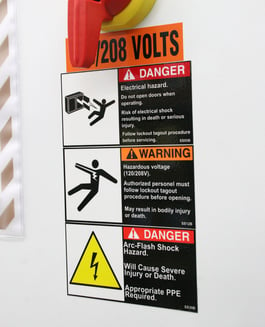 When it comes to durable goods, labels are for life. These labels can include words, pictures, or both, whatever is necessary to identify the contents and their importance. Labels help customers use and maintain their cars, power tools and appliances. And by delivering directions and critical warnings, labels keep people safe.

Durable products, such as tools, automotive parts, warning signs, consumer electronics, industrial machinery and more need labels that will withstand years of repeated use, abuse and harsh weather.
By definition, a "durable" label is designed to withstand environmental conditions that would normally degrade the printed image and/or jeopardize the integrity of the label construction. In other words, durable labels are meant to be long-lasting and permanent.
Digiflex White BOPP

, a UL-recognized economical polyproplyene material perfect for printing decorative graphics on sporting goods, warning labels, medical device labels, instruction labels and more..

Digiweb White Vinyl

, a UL-recognized material with excellent conformability to curved surfaces. Works well for graphic display POP decals, warehouse shelf bin labels, and more.

Digiplate PET

, a UL-recognized polyester film material (available in white, silver or chrome) that is suitable for flat industrial surfaces. Best suited for warning labels, instruction labels, medical device labels, sporting equipment labels and more.

And all labels are given a clear laminate for additional protection.
Durable labels must endure heat, chemicals, solvents, water, mechanical strain and challenging outdoor conditions. Our solvent free label materials are resistant to many conditions, making them a more sustainable and dependable choice for all durable applications. Several of our durable labeling products have been tested and recognized by Underwriters Laboratories Inc. who are an independent product safety testing and certification organization.
Ultimately, a hardy product label is important because it will ensure you meet government regulations, enhance or improve your brand, and will clearly communicate important guidance to avoid misuse of your product.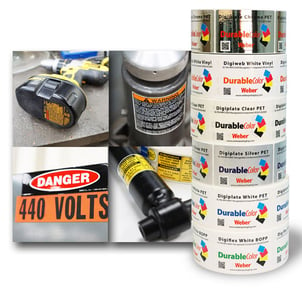 What are some typical applications where I would need durable labels?
Some typical durable labeling applications include:
Asset management tags

Pharmaceutical applications

Electronic components

U/L and Military Standard conformance

Parts manufacturing involving high heat and/or solvents.

Power tools

Safety equipment like fire extinguishers

Automotive products and replacement parts

Aircraft products and parts

Medical devices and testing equipment

Some of the requirements of durable labels and their uses:
Lasts the life of the product – usually > 3 years.

Survives rough handling & tough environments like o

utdoor environments, UV, humidity, salt, moisture

Handles exposure to chemicals, solvents, heat abrasion

Mostly hand-applied

Wide range of substrates available: High, medium and low surface energy

Applied to contoured, textured, painted, smooth surfaces

Complies with industry standards and regulatory specifications (not all durables applications fall under these regulations)

UL, CSA, Automotive, OEM Specific Testing Standards
Check out Weber's unique line of durable labels.
We can print low volumes of just 500 labels when using digital printing and our durable digital materials. Our materials are all UL/CSA approved.
Weber's account representatives are label experts who can help you choose the right materials and design for your label project, then make sure you get the pricing that fits your budget.

Call us at 1.800.843.4242 to talk to your local Weber Account Manager.