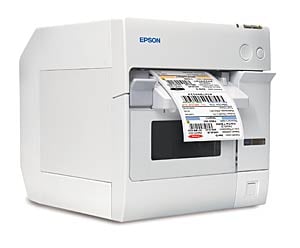 Not long ago we introduced the Epson SecurColor™ printer, a compact, on-demand unit that provides high-quality, color inkjet printing on a wide variety of pressure-sensitive labels and tags.
It's the first color printer we've ever offered – and it's a nice little unit. It handles labels up to 4.4" wide and operates at selectable print resolutions of 180, 360 and 720 dpi. And it zips along at up to 3.7" per second.
It's really simple to format your labels on a PC, then print them from a PDF or JPEG file. And the color images come out really great.
Here's a video demo that explains everything. You can even purchase the Epson SecurColor™ directly on our Go-Label website.
If you're looking to print color labels to comply with GHS requirements, download our Guide to GHS Labeling ebook and learn about other EPSON label printers and materials that work best for this specific type of chemical labeling.