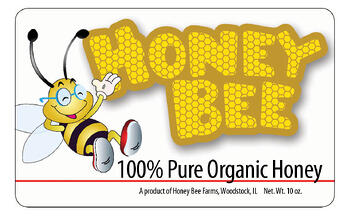 It's Farmers Market season! Each weekend in my neighborhood local artisans and farmers come to the park to sell baked goods, cheeses, jams, sauces and so much more. For many of these small businesses this is the first step in their retail journey, with the ultimate goal of selling their product in gourmet shops or grocery stores.
Because of cost, packaging is usually just for protection and not marketing. And while the packaging at a Farmers Market might not be as important as a traditional store, it still can make a big impact.
Many people use small address labels from the local Office Max that are either hand-printed or run through a cheap home printer. That doesn't do much for your product. A simple way to upgrade your brand is to add a colorful label applied to the plain packaging. your label can include contact information, nutrition facts, and a fun colorful logo to draw in customers.
A big reason that some small food brands steer away from using color labels is the cost. If you only need a few hundred labels a season or need to make changes frequently to the label, getting your labels pre-printed might be a challenge. But there is hope.
If you're looking for really low quantities but want good looking color labels, we recommend an on-demand printer like the Epson Colorworks C3500. You can print the labels as you need them so if you want to test a new product or need to make changes to the label quickly you can do that with little investment in time and money.
This printer is perfect for food labels like cupcakes, breads, hot sauce bottle labels or artisan soaps.
Take a tour of the Epson ColorWorks C3500 with our Vertical Markets Manager, Paul Johnson, and see how compact and easy it is to use.