Our featured label this month is the series of deli food labels we printed for a local food importer, R&F Imports. These labels were designed by our Graphics manager, Joe Lozano, and printed on a WS6000 HP Indigo digital printing press.
The Label's Story
The deli counter is a highly competitive area of any grocery store, so if you're a small brand competing for consumer attention, then you need to maximize your packaging with brand storytelling. This is a challenge we often talk about with craft beer labels and other products at small businesses. You have a limited budget, a small shelf space to promote your brand and you're lacking name recognition with consumers.
R&F Imports needed help and decided to rebrand their label with the help of our Graphics manager and marketing team. A beautiful rustic farm scene was designed and printed on a metalized silver label material. To enhance certain parts of the design, Joe Lozano used a matte laminate to soften areas of the design and while allowing other areas to shine. It also gave the overall texture and a soft, high-end feel.
Weber's Digital Edge Solution
Initially R&F was looking for an in-house label printing solution. However, the limitations in print quality and material would make for an undesirable finished product. To create the quality labels R&F wanted and at the quantity they needed, they decided to have Weber print these labels using our HP Indigo digital press.
The labels that were printed were for a variety of deli meats and each required a low volume of printed labels (under 10,000). Not only is the digital press able to produce crisp vibrant images but it also doesn't require printing plates, so producing a series of labels with different images is quick and easy. It also means R&F has the flexibility to change their artwork and print new labels without investing in new plates or dies for different shapes and colors.
Gold Ink Award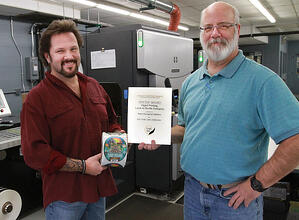 Needless to say, the R&F Imports labels were a big hit. We're proud to announce that this series of labels was recognized with a Gold Ink Award in the Commercial Printing category under "Digital Printing, Labels & Flexible Packaging." The label was judged based on the quality and technical difficulty in printing the label.
In its 28th year, the Gold Ink Awards from Printing Impressions magazine is a celebration of the best in printed products. They receive thousands of entries each year from printers around the world who are looking to be recognized by their customers, prospects and industry peers for their superior craftsmanship.

Congrats to our Marketing, Graphics and Manufacturing teams for putting together a great product. Pictured above (l to r) is Graphics manager Joe Lozano and Label Production manager Todd Peterson.



Want to see them shine in person? Request metalized label samples from Weber.