Labels are the perfect medium for informing consumers about the nutrition and ingredients in packaged food but they can also be the best place to share your story and connect with a consumer.
Here are a couple of ways that you can share your story with consumers, from the farmer's market to grocery store shelves: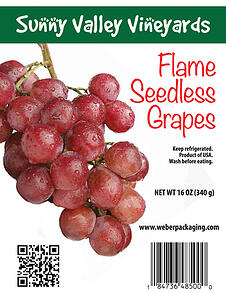 Reach out with QR Codes
QR codes work well on labels because consumers can connect with your brand at the store or even later after the purchase.
Scanning the code can direct the consumer to your company's website or a social media page where they can continue to connect with your brand by getting more information, coupons, special deals or other content that helps build a relationship.
Share your biography
Include a short story or summary on your prime label about the growers or producers of the food. Including a picture of the farmer or the farm also adds a personalized touch to the product's label.
In the example below, not only does the label include a picture of the farmer, but they also included a biography about their brand. This jar label will definitely sticks out at the farmer's market or the shelves of the grocery store.


United Fresh 2013
We're excited to share our produce labels and labeling solutions at the United Fresh trade show in San Diego from May 14th to May 16th.
Our booth (1524) will be the spot at the show to learn about labels for produce packaging and the equipment to print and apply them.
On hand we will have preprinted prime label samples that are perfect for clamshell packaging or bags of fruit, herbs, vegetables and nuts. Weber also provides solutions for barcode labeling, nutritional labeling and produce shipping labels.
Here is a preview of our United Fresh booth:
Labeling for reusable plastic containers (RPC) used in the produce harvesting process
Labels for Produce Traceability Initiative
Eye-catching labels printed at Weber Packaging Solutions headquarters
The QuadraColor ink jet label printer that can be used to print labels with variable data and full color images
The Zebra ZT230 label printer will be used to demo RPC labeling
We will also have information and video demos about our label applicator systems
Follow our Tweets @WeberPackaging for info from the show or the show's official Twitter @UnitedFresh.
Hope to see you at booth 1524!