One of our favorite label materials for prime packaging is film. The material is either clear or translucent and is available on paper or film liners. It's very popular in the personal care, spirits, and food & beverage markets because of its durability, flexibility and design capabilities. This material type also can be used to achieve the "no-label look" for your packaging.


Reasons to Love Film Labels

Modern Packaging

Film label packaging is a modern way to label your bottle, box or bag.

Using a clear film like, Weber's FlexClear Gloss, expands design possibilities because you are not limited to a die-cut shape. The Eden wine label to the right shows this beautifully. In order to achieve this design with a paper label you would need to use a very complicated die or color match to the bottle. The dramatic pop of the white tree also would be lost.

Film materials that aren't clear, like our FlexLyte, are a great choice for opaque bottles like lotions and cleaning products. The design stands out and the material is durable enough to handle the harsh environments of those products.

Durable and Flexible


Film materials by nature are durable and flexible. They outperform paper label materials when it comes to curved or squeezable containers because of their plastic make up. They are also moisture resistant so the label artwork is protected during refrigeration or in wet environments like showers and bathrooms.


Fresh Look for Food & Beverage

Clear labels are popular with food and beverage packaging. If you want to convey fresh food, you want the consumer to be able to see the product as much as possible. For example, if you're selling strawberries in a clamshell container, adding a clear film label allows for more of the product to be seen and at the same time uses the bright red of the fruit to be a part of the packaging design.

It also works great for plastic or glass juice bottles. The colorful juice becomes the focus of the consumer.

Be sure to look into to the world of film labels for your next labeling project. Whether clear or opaque, film labels are a durable way of showcasing your product with an eye-catching label that will set you out from the crowd.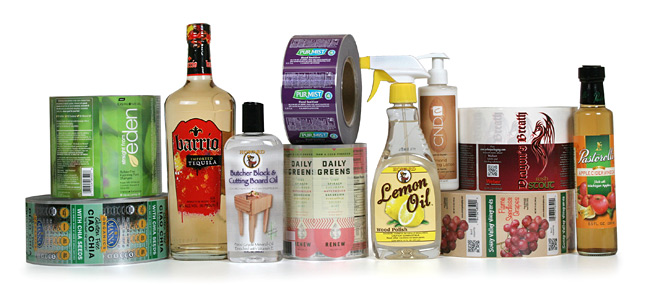 Want samples of film pressure-sensitive labels? Contact us below!