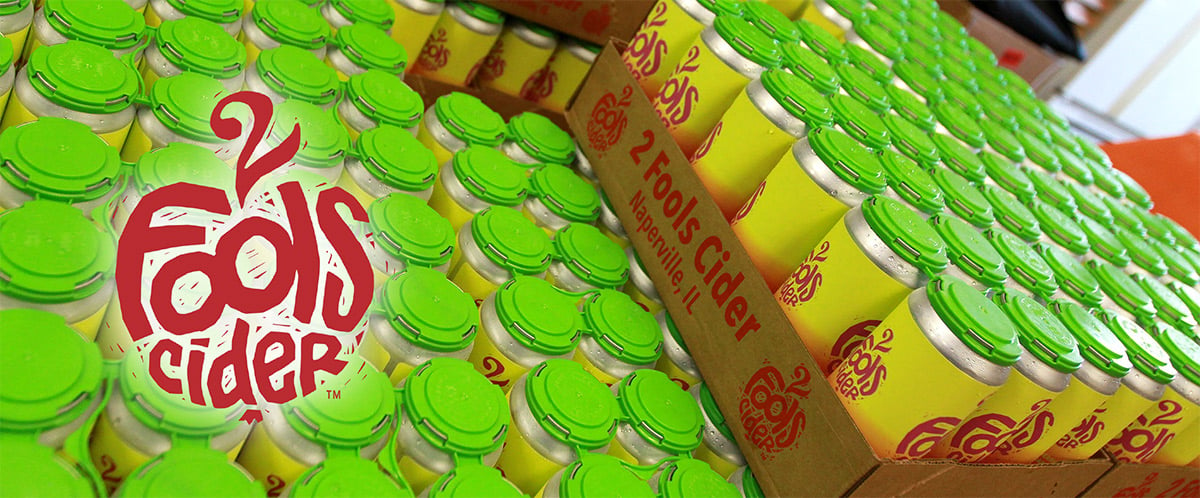 It all started when Monte Summers and his business partner tried to decide between brewing beer or making cider. After working both ends of the question for a while with their brew club, they decided to make cider. And it was so good that friends encouraged them to start a business selling it.
2 Fools Cider was born.
Located in Naperville, Illinois, 2 Fools is a small but mighty craft cider company that has been pleasing the Northern Illinois area since 2016. Monte studied the science of cider making at the Oregon State University and created recipes that don't taste like mass-produced cider. Rather, he goes for a subtle sweetness and crisp, balanced flavor in his beverages. Their taproom/cidery is a fun destination that has been growing in popularity, even with the challenges of the Covid pandemic.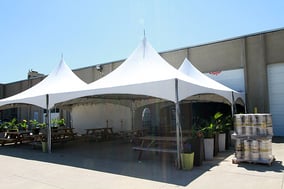 One of the things they did in the early days of the pandemic was to pivot quickly and get an outdoor tent set up so they could remain open. Their outdoor space allowed them to keep serving customers when inside service closed up again in the late Summer of 2020. 2 Fools was lucky to enjoy a lot of local support with both their outdoor taproom and local deliveries of packaged cider that helped them actually grow their business during hard times.
"People really supported us. I had people ordering every week, cases at a time, dropping them off on their stairs and porches. It was great." said Monte.
Inspiration Every Day
"First and foremost, I have two-year old twins that get me up every morning," said Monte when asked what motivates him. "But I really enjoy growing businesses," he said, "and it's fun for me to see how this business has grown through the years."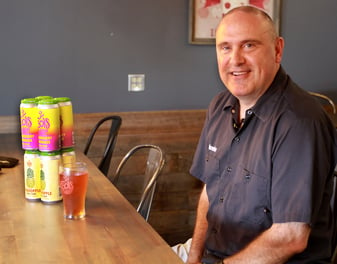 He likes having the ability to come up with new flavors and seeing people enjoying his products. 2 Fools started with about five or six flavors, including dry English-style cider, a tart cherry cider, a dry-hopped cider, and a sweet cider that wasn't too sweet and eventually morphed into their very popular Rosé cider.
The Rosé actually started as a blueberry cider that he considers one of his biggest mistakes. He had some blueberry concentrate and decided to try making a blueberry cider. As he was formulating the first batch, he would add more blueberries, take a sample to the taproom to have people test it, then return to tweak it some more. After adding a lot more blueberries, everyone said to stop! That's it!
So he put it on tap the next day, but people said though it tasted great, it didn't taste much like blueberries. So he took some home and filled a glass to ponder the issue. His wife commented that it looked like magenta or rosé (which is a color, not really a flavor). So they changed the name to Rosé and it has become their biggest seller.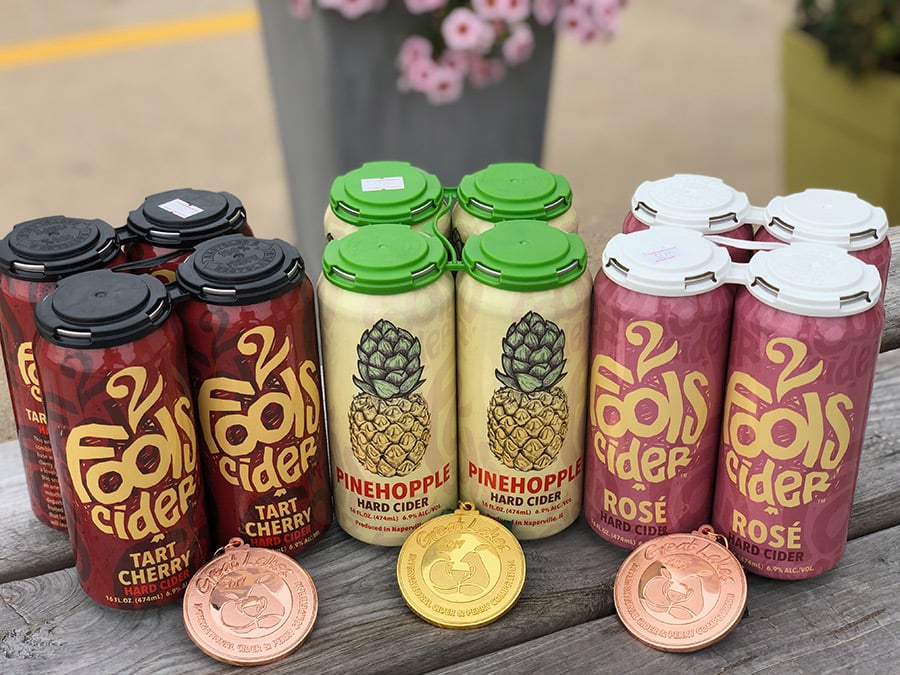 2 Fools is constantly creating new flavors and crowd-pleasing seasonals to go along with their other popular flavors. The main stays include Tart Cherry and Pinehopple (a hopped pineapple and blood orange cider) which actually won a Gold Medal at the Great Lakes International Cider and Perry Competition. Other seasonals include a refreshing Strawberry Lemonade, Salted Carmel Apple, Cranberry Orange Sangria, Pumpkin Spiced, Apple Sauced (10% ABV that tastes like apple sauce), and Short Stack (a Rosé with extra blueberry and topped with maple syrup).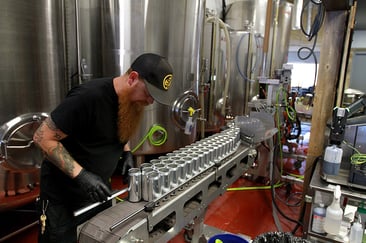 Being one of the only cideries in Illinois, 2 Fools has grown exponentially over the past few years, even with the problems from the Covid pandemic. Almost all of the local breweries have included kegs of their cider for their customers who want a change to a gluten-free option.
The company is trying to stretch out regionally to Michigan, Wisconsin and Indiana with interstate distribution. You can already find 2 Fools at most liquor stores across northern Illinois. Their plan is to move to a bigger better facility soon to enable them to grow and innovate.
One of Monte's friends at nearby Solemn Oath Brewery shared some advice during the early days of their business. He told him to invest in people and steel, meaning you had to hire great team of cider-makers and take care of them. And you had to constantly update your equipment to make better products and more of them. 2 Fools is looking to expand to keep pace with their ever-growing popularity and they need to work more efficiently to save time and expenses.
One of the items on Monte's list for expansion was to move from shrink-sleeve to labeling for their canning line. Their distribution of packaged cider to stores had grown a lot over the last few years and it was time to comparison shop.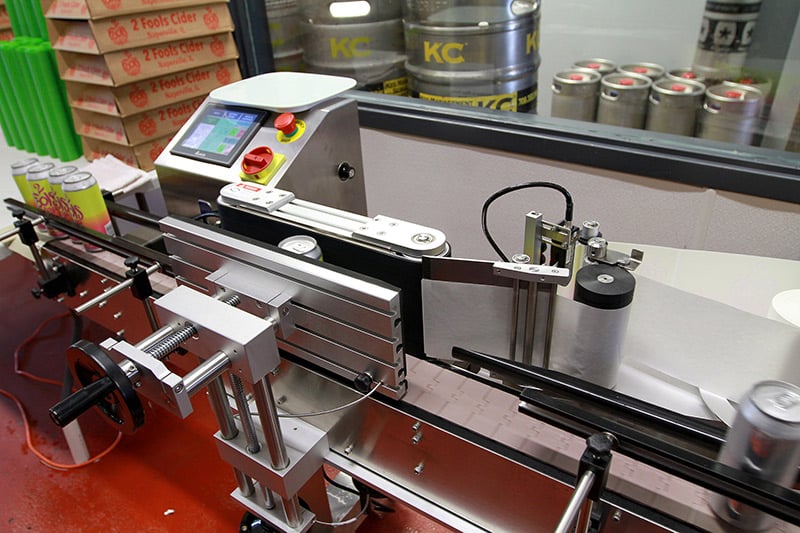 Monte contacted Weber Packaging Solutions because they are one of the largest Pack Leader distributors in the USA. He was looking for a Model PL-501 inline wrap-around labeler that could handle his canning speed.
Weber's rep, Brian Haugh, met with Monte and helped him get not only the PL-501, but also showed him the advantages of getting his pressure-sensitive labels from Weber. 2 Fools could order the correct amount of labels for each of their seasonal runs and not have to worry about excessive left-over labels.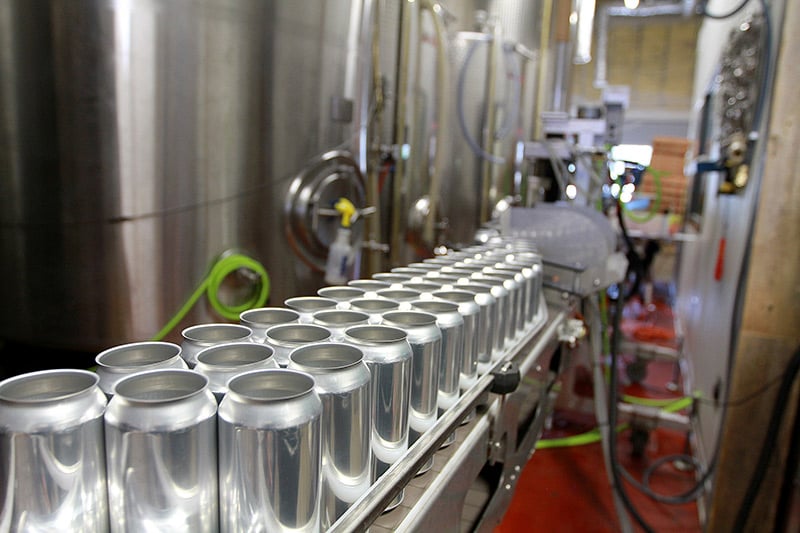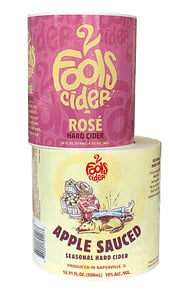 "We switched to pressure-sensitive labels for a couple of reasons." said Monte. "Bars & restaurants were closing down because of Covid, but retail was going crazy. Buying shrink-sleeve cans is the most expensive package you can buy to make your cider in. I can buy bright cans cheaper and can control it better. If I only need 3000 labels for a seasonal release, I can do that easily without large minimums. I can move a lot quicker and label the cans myself. It's basically time and convenience."
"I'm saving about six cents per can by labeling instead of using shrink. A pallet of 100 cases saves me $600 per pallet. Times 10-20 pallets a month, that pays my rent!" he said.
"Everything was great. So far, so good. Weber has really helped out a lot. It's been a great relationship," said Monte.
2 Fools is now doing more fun seasonals with labels for taproom and distribution sales. They recently announced that they are expanding again, moving to a new larger facility. They plan on adding another labeling system and their goal is to become the largest cider company in the Midwest.
Constant innovation, along with a stellar team (and a lot more steel), has set them apart from the competition. Keep an eye out for 2 Fools cider!
Watch a video version of this conversation here.