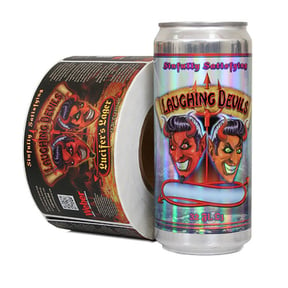 You know what matters most about a craft beer is the tasty content inside the packaging.
But with ever increasing competition, it might get tough to rely on just the product to sell itself. Sometimes taste alone is not enough to get your craft beer noticed and moving off the shelves. Branding and packaging play a major role in the growth of your brewery and your brand.

With more craft breweries selling thousands of brands at retail, the beer choices for consumers are seemingly endless. New beer varieties are constantly entering the marketplace and shelf space is at a premium. Breweries are relying on package differentiation to grab consumers' attention at the retail point of sale.

The importance of designing your custom beverage labels to tell your brand's story is key, and the label design can have a big impact on shelf presence. We are going to cover the pressure-sensitive label material choices you have and why it has a bigger impact than you might think. Getting a perfect-looking label on a can or bottle requires some planning.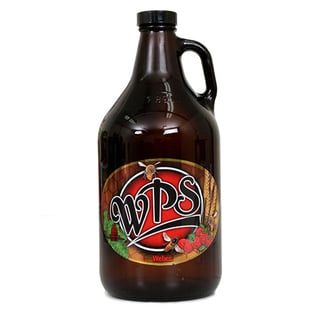 Today's craft brewers have many container options for their beers, including:
12 oz. bottles and cans
22 oz. glass bombers
32 oz. crowlers
64 oz. growlers
While the 12 and 22 oz. bottles and cans are common for distribution through retail outlets, crowlers and growlers are key members of the brew pub scene, allowing customers to take home fresh beverages right from the tap.

The crowler (top photo) is a large, non-reclosable can that is filled and sealed at the brew pub. Labels are usually added and the beer information is written on the label with a grease pen or sharpie.
The larger growlers (right) are amber-color glass bottles that are reclosable. They are most often screen-printed with the brewery info and the beer details are again written on a space provided. The latest trend is to use colorful labels in place of the bland labels or screenprinting to add some color to their branding.

Go-Label.com is now offering custom printed craft beer labels online. We have made the process simple and easy for small breweries to order minimum quantities of labels for their products. It's often difficult and expensive for brewers to get great-looking beverage labels on quality materials at a decent price for their small batch runs and seasonal offerings. Go-label has come up with an answer.

Ordering Custom Craft Beer Labels Online

Go to the go-label.com craft beer label page and check out the style of labels available. A few simple steps can get you on your way to ordering digitally printed custom labels printed on our HP Indigo label presses. And while ordering the minimum amount of labels (1 roll of 500) can be expensive per label, the price discounts increase DRAMATICALLY for 2 or more rolls .

So go through the steps below and see how easy it is to get custom craft beer labels for your brew.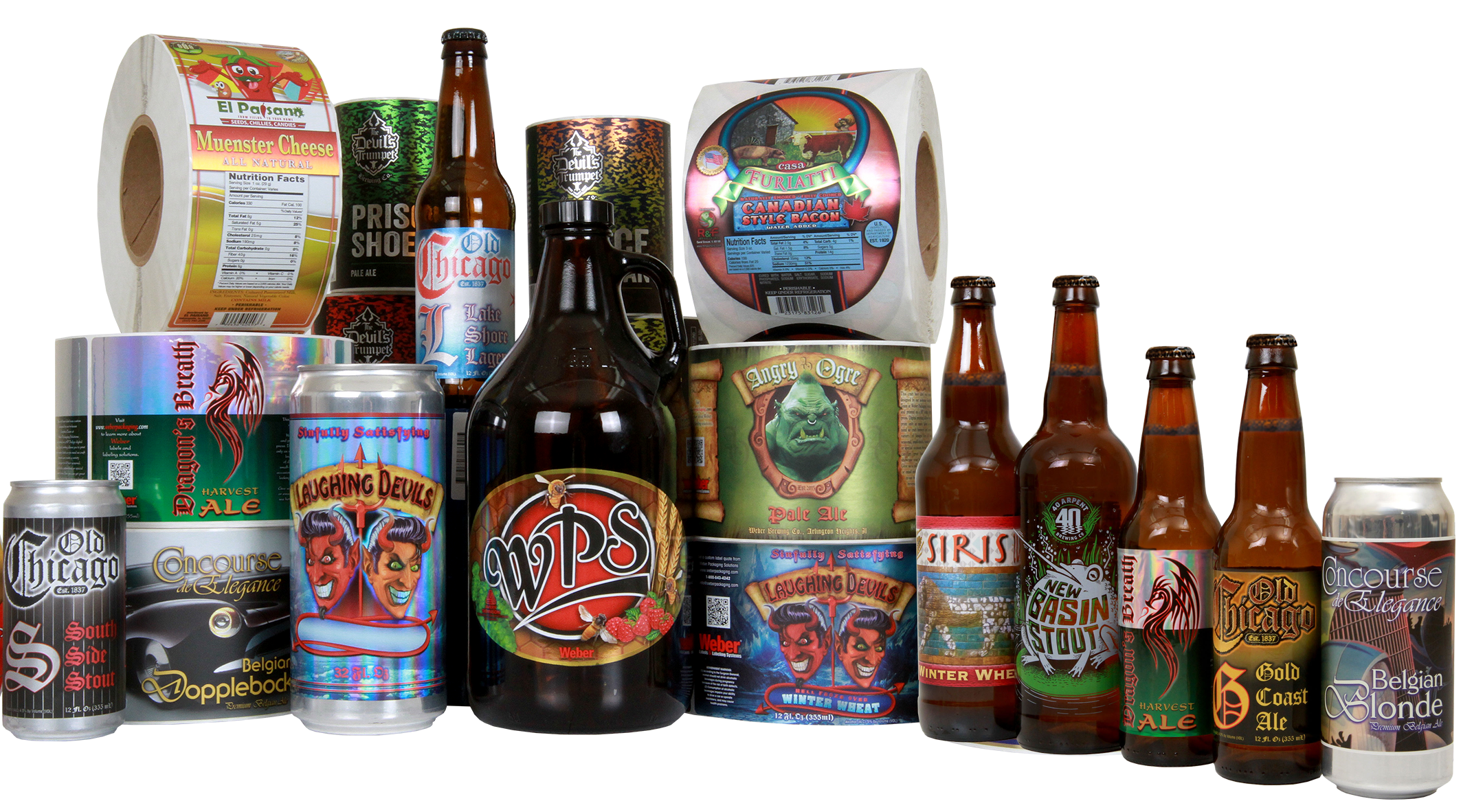 STEP 1 - Selecting a base label material.

Go-Label.com features three high-quality label materials for their online craft beer labels.

White Paper: White Semigloss paper material is ideal for cold beverage labeling. The optimized opacity and brightness of a white paper face sheet makes a great canvas for the label design. However, it does not hold up well in ice buckets or overly damp storage. The white semigloss is the most economical material, so it might be a good option for breweries just starting out.

White Film: White Flexlyte film material offers more durability in performance. The material offers great opacity with a bright white canvas for design and performs well in a cold fridge environment. The film label stock delivers improved abrasion resistance and ultimate moisture resistance. The white film material allows for a "no-label look" design as long as you color match to the bottle. This material works great on bottles and cans.

Metallized Silver Paper: Metallized Silver paper material is our premium option. A good label design and printing technique using this metallized paper can create a reflective effect to specific areas of the label to make them "pop and shine" while other areas of the design are matted. The material is a higher end choice for breweries looking to make a big impact on the shelf.
STEP 2 - Select a label finish, either UV varnish OR film overlaminate.
The finish selected for a beer labeling is essential to the success of the label's performance and visual appearance of the product on the retail shelf. A label's printed graphics must be protected from such things as production line rub abrasion, filling spillage, in transit shipment handling and wet use environment just to name a few of the challenges it faces.
Gloss Clear UV Varnish: Gloss UV varnish provides a protective coating with a shiny appearance.
Matte UV Varnish: Matte UV varnish provides a protective coating with a dull and flat appearance without a shine.
Gloss Clear Overlam: Gloss clear film overlam is a secondary material on top of the base label material and provides a glossy appearance for added protection and durability to moisture.
Matte Overlam: Matte film overlam is a secondary material on top of the base label material and provides a dull and flat appearance without a shine for added protection and durability to moisture.
STEP 3 – Deciding on the overall look of the label.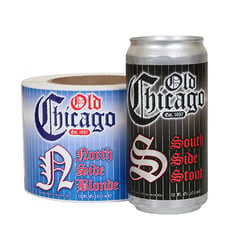 Pressure-sensitive labels provide greater design options with fewer limits on the label shape and size. Your designs look great and get to market faster. Now you'll need to decide on the base label material and determine the label finish that you want to achieve for the overall appearance of your craft beer brand. A variety of white paper, white film, or metallized silver paper can accommodate your most innovative craft beer packaging ideas.
With the go-label.com craft beer label service, you can upload your artwork when you place your order. We will look it over and make sure it will print correctly; if there are issues, we will contact you. If you don't have artwork and need some design help, Weber has a staff of graphic designers ready to give you a hand. Either way, we can help you get your design onto a label and onto your beverage.
Get the premium look your craft beer deserves and the look that drives differentiation, recall and brand preference. And remember, the beer's package/label design is extremely important to get consumers to notice it on the shelf and give your brew a try. With a high percentage of consumers deciding on what beer to buy at the point-of-sale, your beer has got to stick out. The outside is just as important as the product inside of the package!
Read more about craft beer labels:
> 4 reasons pressure sensitive labels are best for craft beer labeling
> The benefits of using labels for craft beer cans
> 3 ways to maximize craft beer labeling productivity