I was walking through our Digital Label Printing area the other day, and was struck by all the beautiful labels we have been printing lately. We keep a special rack of label sample rolls from jobs we've completed as examples of unique materials and fantastic designs.
And it should be no surprise that many of the awesome looking labels were from our craft beer customers. I thought I would share my top 11 picks along with some info about the breweries in case you happen to be in their neighborhood with a thirst.
1. Able Seedhouse and Brewery - Minneapolis, MN
One of our favorite breweries in the Minneapolis area, Able Seedhouse + Brewery is a well-known community-active brewery in Northeast Minneapolis. They have a habit of obscure yet creative names for their brews, like references to Seinfeld or song lyrics. And the beer we're showing here is awesome.
This is an amazing label with a fantastic design. Able Brewery created their Grim Arcana beer, a double brown ale (7.9% ABV), with Able rye malt smoked by their in-house BBQ food truck Animales and packaged it in 9 oz. cans.
The label design is highly detailed with layered colors including a gold metallic that creates the outlines on the geometric designs and the calavera skulls. A matte lamination seals the label giving it a soft non-sheen look except where the metallic colors show through. Great contrast.
And one of the unique features of this label is the addition of a Spotify code on the side of the label. This code links to a playlist developed by the brewers to enhance the drinking experience when listened to during consumption. A really cool extra touch, especially if you listen to this one!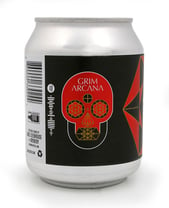 Founded in 2015, Able Seedhouse + Brewery is a community of creative, hard-working and thoughtful people dedicated to building locally-inspired and ultra-fresh beer.
Every concept, piece of art, package, design, and beer poured at Able are the result of a very curious group of people and the community supporting them.
ABLE is located in the Arts District of Northeast Minneapolis at 1121 Quincy St NE. Check out their taproom, active event schedule and an evolving beer menu. ABLE is also home to Animales Barbeque Company
2. 903 Brewers - Sherman, TX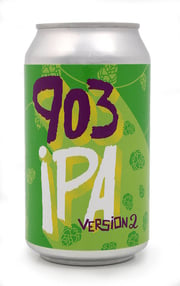 Deeply rooted in originality, high quality, and community, 903 Brewers prides itself on solely offering its best to its customers.
Their labels are in-your-face designs that get noticed right away. Bold colors and striking colors are their trademark. The 903 IPA is a fruity treat with notes of grapefruit, pear, stone fruit and mild spice. They say it pairs well with hot wings, curry and tom foolery.
Acting on their dream of sharing their love of creating great beer with folks who mean the most, 903 Brewers is the product of the perfectionism and persistence of founders Jeremy (also head brew boss) and Natalie Roberts.
Their award-winning beers include the Sasquatch Imperial Chocolate Milk Stout which took home the silver in the 2015 Great American Beer Festival aged beer category. Their Scotch Ale, Kilt Switch, took home a bronze in 2018.Cultivating its craft since 2013, 903 beer is noticeably crafted with impeccable care. 903 Brewers first made a name for itself with the beloved The Chosen One Coconut Ale and Roo's Red Ale. Now, with an array of year-round, seasonal, and special release beers, craft beer enthusiasts are sure to find their flavor.
3. Billy Beer Inc - Walstonburg, NC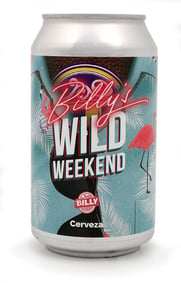 Established in 2018, Billy Beer, Inc is a craft brewery located in Walstonburg, a small farm town in Eastern North Carolina.

Changing the recipe and updating the branding, they brought back the vintage brand created in July 1977 by Billy Carter, President Jimmy Carter's brother.
Billy's Wild Weekend is a sessional Mexican-style lager. They say it is a perfect summertime companion inspired by the rad 80's, tan lines, and full mustaches. We like the label because it brings back that 80's weekend-at-the-beach vibe complete with glowing neon, bright colors and flamingos.
Since opening up in September 2018, they have made a name for themselves, specializing in producing light, craft beers. You can find all of their beers in the taproom at their sister brewery, Uptown Brewing Company in Greenville, NC or in cans at your local Eastern, NC grocer.
The goal at Billy Beer is to create crushable, craft beers and have fun while they're doing it.
4. Brazos Valley Brewing - Brenham, TX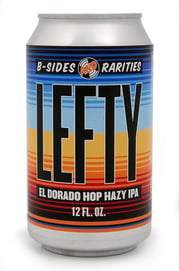 They say they're just a group of family and friends who love good beer, good music, and the people that they bring together. Following this simple passion Brazos Valley Brewing created a family business – an independent craft brewery located in historic downtown Brenham Texas.

They brew what they love, name it after the songs that they love and the results are outstanding.
Brazos brews a series called B-Sides and Rarities. The series features a monthly-released IPA, each using a different unique hop. They've used Simcoe for their End of the Line; Chilean hops in For What It's Worth; Vic Secret hops in High Noon; Ella hops in All My Rowdy Friends; and El Dorado hops in the Lefty IPA shown here.
We liked this label for its bright graphic colors that remind us of a wide open Texas prairie. We're guessing it's named after "Pancho and Lefty" by Willie Nelson & Merle Haggard. Gotta love that.
5. Mountain Fork Brewery - Broken Bow, OK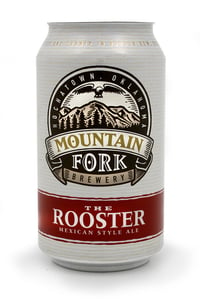 Established in 2015, Mountain Fork Brewery is located in the southeastern corner of Oklahoma. The water for their beer comes from the pristine Mountain Fork River. They believe that from a good source, comes a good beer. And their goal is to produce easy drinking, creatively crafted beer with you in mind.

Mountain Fork came to Weber a few years ago looking for labels. They had preprinted cans with a pinstripe pattern that they wanted to cover with a label.
Weber took a look at their cool preprinted cans and suggested using a clear film label so that their pattern would show through. Each beer type label could then use a different color to show the various flavors.
As you can see, the results are stunning. The design is outstanding and, by using clear film, the labels are almost three dimensional.
The beer shown here is their Mexican Saison called The Rooster. It's a Belgian session with light corn sweetness and a crisp finish.
6. Wild Onion Brewery - Barrington, IL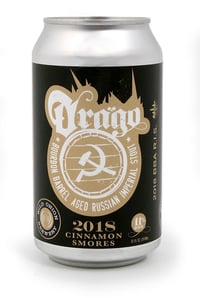 The Kainz family is proud to be one of Chicagoland's first craft breweries, firing up their first batch of Paddy Pale Ale back in 1996.The name Wild Onion is a reference to the origins of Chicago's name, Che-cau-gua, which the original Potawatami inhabitants of the area called the wetlands on Lake Michigan that became the Toddlin' Town.
They seem to be in a perpetual state of expansion and recently finished the crown jewel of their production facility with a new 50 barrel brew house, stored in a 5,000 square foot addition.
Their new Imperial Stout series, named for Rocky Balboa's ultimate nemesis in the movies, is brewed with boatloads of roasted malt and ingredients like cinnamon, graham cracker and marshmallow flavors to create the Cinnamon Smores.
We like the design, one of a series of Drago labels, mainly for the strong logo, use of color, and typography that pushes the Imperial Russian ale connection to new levels.
Wild Onion Brewery is dedicated to sustainable processes and has helped with the restoration of wetlands near their hop farm. They have worked to restore native plants to the area and maintain open space preservation. A true global partner and an awesome brewer!
7. Southern Craft Brewing - Baton Rouge, LA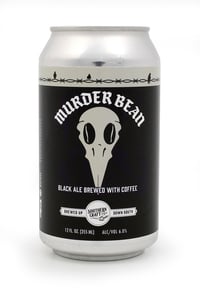 Southern represents who they are, what they believe in and most importantly where their ingredients are harvested. With brews containing ingredients ranging from Louisiana honey to Carolina malt, we raise a glass to the true Southerner's beer.
Southern Craft Brewing Co. started as a hobby for Wes Hedges and Joe Picou, two friends who were engineers by day, homebrewers by night. They turned their home-brew success at competitions into a microbrewery. By following their dreams, they have built it into one of the best Southern-infused craft breweries around.
This label for their Murder Bean Black Ale brewed with coffee is just a cool-looking label. (I like the coffee bean eyes!) Made with locally-sourced coffee, the label says, "May it awaken your senses and darken your mind". Whoa!
As with most breweries now, they keep up a constant stream of seasonal and limited release beers. Getting labels printed digitally can help by allowing minimum label runs at a reasonable price. And you can get a wide range of materials and finishing options.
8. Engrained Brewery - Springfield, IL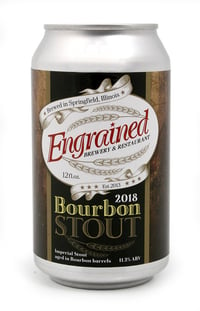 Brent Schwoerer, owner and brewmaster at Engrained, grew up on a small family farm where he learned the importance of taking care of the land and our resources. At Engrained, they believe in leaving the earth better than they found it.
By supporting local farmers who use sustainable practices, offering high quality food and beverages to their guests, and welcoming their community with fun and hospitality, they hope to make their corner of the world a better place every day.
One of their seasonal brews from 2018 was their Imperial Bourbon Stout. Yep, aged in bourbon barrels with a 11.2% ABV. Sounds awesome!
We liked this label because of the realistic wood barrel background that curves around the can. The design is classic and clean, but lends an air of an older, more sophisticated brew.
Even though they are a smaller brew pub/micro, they take pride in their brand as shown by their labels. They believe an energy efficient, sustainable, locally-sourced brewery is how a business should be conducted. Springfield should be proud to have Engrained as a local business.
9. Northern Maine Brewing - Caribou, ME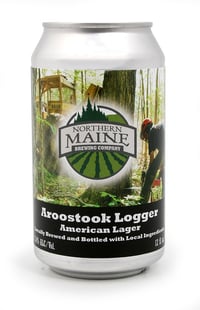 Their story is simple. Northern Maine Brewing is a group of guys that like to drink beer. They also wanted to grow their local economy using local ingredients like the water 300 feet beneath where they lived, along with local malt grown at near-by Buck Farms, and hops grown locally in Aroostook County.
As they often say, most of their ingredients are grown less than an hour from the brewery.
While off the beaten path, their pub and restaurant has stellar reviews. It's a real destination in rural Maine.
This label gives you the look and feel of Maine logging. And you have to love the name, Aroostook Logger. Plus how many people make a Logger Lager? The green carries the logging theme as does the photo of the loggers in action. I would guess the really strikes a chord with the local audience.
One of the things we have found common with most breweries we work with is their strong community ties and support for local sourcing and causes. Northern Maine is a prime example of that philosophy.

10. Iron Fist Brewing - Vista, CA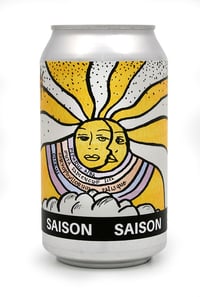 Iron Fist Brewing Company started as a family passion for the best hand crafted beer in the world. Born and still residing in San Diego Country, they have a style steeped in tradition with a healthy thirst for experimentation that finds them collaborating and concocting limited brews alongside our main line up.
Their vision is to push their brewing forward using traditional methods (and a little madness) to create new all time classics that will rule your taste for years to come.
Iron Fist has had some killer labels lately including their upside down "bird" and their Renegade Blonde. But we particularly liked this Saison Celeste label for the cool, eye-catching design and colors. The subtle pastel colors in the upside down rainbow add a classic touch.
We were intrigued by the Latin(?) words under the sun and to the best of our Googling it describes the flavors involved in this beer including cloves, banana and citrus. Sounds delicious.

11. Weber Brewing - Arlington Heights, IL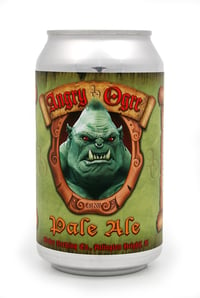 Okay, this isn't a real beer and Weber is a label company, not a brewery. This is just a cool demo label we made a while ago. Thought we would share it with you.
Every time we take this label to a trade show, people grab samples of it and ask where they can buy the beer. Maybe we should start brewing...?
Our Graphics Manager, Joe Lozano, designed this to help illustrate the potential of some of our favorite label techniques.
The label is printed on a metallic facesheet which is overprinted with the label design on our HP Indigo digital label press. The inks are more transparent or masked in certain areas like the eyes and nose ring to allow the metallic shine to come out.
The green has a metallic sheen and the eyes look like they are following you. A matte laminate was applied to dull down the skin and background for the words. This creates a three-dimensional effect that is very eye-catching.
So there you have it. These are just a few of the labels we have been printing on our digital HP Indigo label presses lately. As you can see, label design swings from one end of the spectrum to the other; classic photos to bizarre wildness. Breweries create their own look and tend to roll with a theme. But we love seeing and printing these amazing labels. No other market has such a diverse and creative look to their artwork. That's one of the best features of the craft beer industry. Each can or bottle is a piece of art.