One of the coolest things about our Digital Label Department is our sample rack of labels siting in the corner. Nothing fancy. It just holds the end rolls of some of the amazing label runs that Weber prints every day.
I love to wander back to that department to check out the latest craft beer labels on that rack. Every brewery has adopted a style of artwork for their brand, and most of it is so interesting, I thought I would share some of my favorites with you.
2020, as a year, was pretty bad. I hope you all got through it safely and remain in good health. These labels are one of the true bright spots. Enjoy!

1. New River Brewing - West Jefferson, NC
Founded in 2016 by father Greg Hershner (a family doctor) and his son, Adam (an industrial engineer), New River Brewing started small but with a big goal: disrupt the local craft beer market by creating innovative beverages in Ashe County North Carolina.
Veteran home brewers turned pro, these two began slowly until 2018 when Adam won a NC Brewer's Cup Medal. That was a turning point for the brewers and they opened their current Taproom and Brewery in 2019. They are committed to bringing the best craft beers and pub food to their community.
One thing common to most taprooms is the ability to bring home some fresh-brewed goodness via a crowler or growler. Many breweries use plain labels and just write the name and date on it with a Sharpie marker.
New River knew they had an opportunity to showcase their brand with a great-looking label on their crowlers. The label material is our Digiflex Silver with a matte over laminate, giving it a reflective quality with a subdued reflection.
2. 903 Brewers - Sherman, TX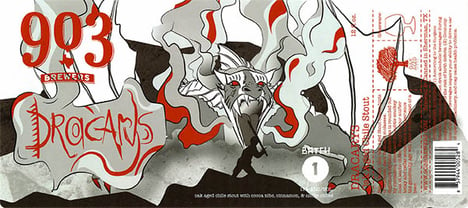 Deeply rooted in originality, high quality, and community, 903 Brewers prides itself on solely offering its best to its customers.
Their labels are in-your-face designs that get noticed right away. Bold colors and striking colors are their trademark. The 903 IPA is a fruity treat with notes of grapefruit, pear, stone fruit and mild spice. They say it pairs well with hot wings, curry and tom foolery.
Acting on their dream of sharing their love of creating great beer with folks who mean the most, 903 Brewers is the product of the perfectionism and persistence of founders Jeremy (also head brew boss) and Natalie Roberts.
Their award-winning beers include the Sasquatch Imperial Chocolate Milk Stout which took home the silver in the 2015 Great American Beer Festival aged beer category. Their Scotch Ale, Kilt Switch, took home a bronze in 2018.Cultivating its craft since 2013, 903 beer is noticeably crafted with impeccable care. 903 Brewers first made a name for itself with the beloved The Chosen One Coconut Ale and Roo's Red Ale. Now, with an array of year-round, seasonal, and special release beers, craft beer enthusiasts are sure to find their flavor.
This label is a Flexlyte white BOPP film with a clear gloss over laminate for protection.
3. Le Chien Brewing - Denham Springs, LA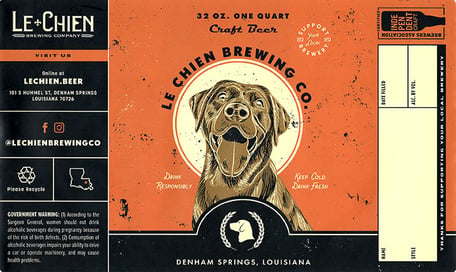 The Le Chien Brewing Company started out in 2016 and is a micro brewery in the antique downtown district of Denham Springs, Louisiana. They feature great handcrafted craft beers and sodas, along with custom food and live music.
And, as you can see from this crowler label, they are completely dog friendly! Check out their Facebook page for some great dog pics for visitors to their taproom and patio. The brewery is built in an old oil change shop. The pit that was used to get under the cars to change the oil was converted into a home for their fermenters and tanks. You can actually see them through grates on the floor!
The label we made for Le Chien is for their 32 oz. crowlers. Beautifully designed, with simple graphics and great colors, the label has areas for writing in the beer information contained in the crowler. The label used our Digiflex white BOPP film with a matte over laminate for a low sheen writable surface.
4. Tantrick Brewing - Allegan, MI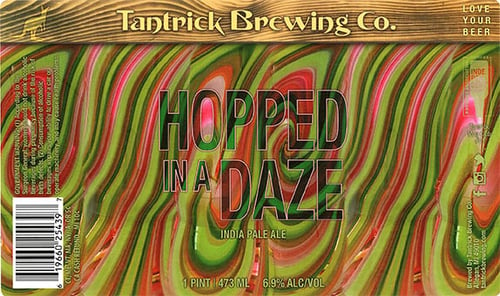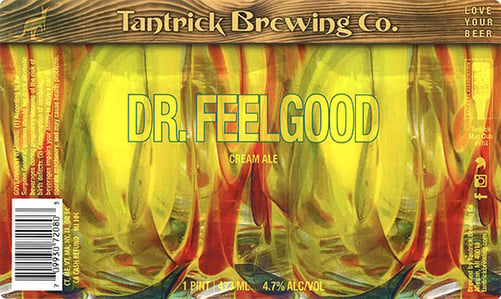 Tantrick Brewing is named after the two owners, Tanya and Patrick who opened their taps in 2018. They are dedicated to using the freshest ingredients to deliver outstanding beer to their customers around Allegan, Michigan. They recently started canning and found Weber as an alternative to hand labeling cans from sheets.
Their beer menu ranges from IPA's to Stouts, Irish Reds and even into a couple of refreshing ciders. And their labels are just beautiful! The design really stands out with it's trippy colors and mesmerizing patterns (see more info below). We printed these labels (above) on Digiflex white BOPP film with a matte over laminate. They are easy to spot on the shelf and a true pleasure to enjoy.
The Covid pandemic has upended most breweries around the country this past year, as so it did to Tantrick. They have a Mug Club and all mug club members get their own handmade glass mug, which are made by Avolio Glass Werks in Kalamazoo.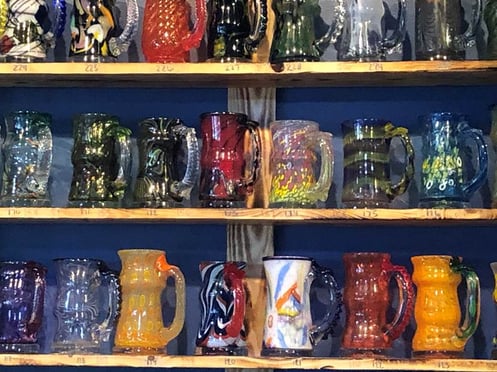 Earlier in 2020, local Covid regulations prohibited gathering indoors, but the move to outdoor seating was causing a lot of mugs to be damaged. So they decided to suspend the service, and give mug club members an option of buying 16 oz cans instead. They changed the art on their labels to reflect the unique designs of each mug. Most of the new label designs are a theme off of their Mug Club mugs. And the wood grain band across the top of the label reflects the scorched wood bar surface in the taproom. It is their way of bringing the best of the Tantrick Mug Club to their members and other customers while creating amazing label designs!
Currently, mug club members are also given a complimentary koozie to hold their prized beverages.
5. Mountain Fork Brewery - Broken Bow, OK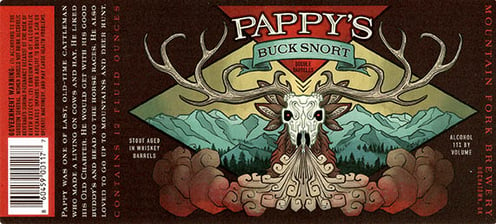 Established in 2015, Mountain Fork Brewery is located in the southeastern corner of Oklahoma. The water for their beer comes from the pristine Mountain Fork River. They believe that from a good source, comes a good beer. And their goal is to produce easy drinking, creatively crafted beer with you in mind.

Mountain Fork is located in a shopping center that also includes a coffee & ice cream shop, a winery and a distillery! Demand for their brews have increases so much over the years that they have increased their capacity with a 20 barrel system. With a winery, distillery and brewery located so close, they have the adult beverage market covered.
And it makes it easy to get access to used bourbon barrels from their neighbor at Hochatown Distilling next door. The whiskey goes out one day and it's filled with beer the next! The above label is an example of their Stout aged in whiskey barrels. It has an 11% alcohol by volume from aging it for 6 months.
This label was made with our Flexlyte clear film with a white underpainting and a clear gloss over laminate for protection. This is a beautiful label with outstanding colors that reflect the lake area of their location.
6. Wild Onion Brewery - Barrington, IL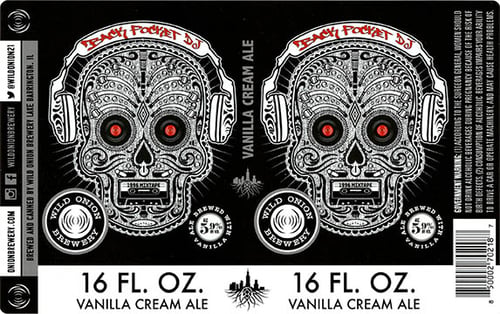 The Kainz family is proud to be one of Chicagoland's first craft breweries, firing up their first batch of Paddy Pale Ale back in 1996.The name Wild Onion is a reference to the origins of Chicago's name, Che-cau-gua, which the original Potawatami inhabitants of the area called the wetlands on Lake Michigan that became the Toddlin' Town.
They seem to be in a perpetual state of expansion and recently finished the crown jewel of their production facility with a new 50 barrel brew house, stored in a 5,000 square foot addition.
This label is from their Back Pocket DJ Cream Ale which is a smooth and creamy blend with boatloads of vanilla flavor. The artwork harkens back to the 80's when making the perfect mix tape was the most important thing in our lives!
This label is made from a Flexlyte white BOPP film with a clear gloss over laminate for protection. The bright red eyes make it easy to spot on the shelf.
Wild Onion Brewery is dedicated to sustainable processes and has helped with the restoration of wetlands near their hop farm. They have worked to restore native plants to the area and maintain open space preservation. A true global partner and an awesome brewer!
7. Valdez Brewing - Valdez, AK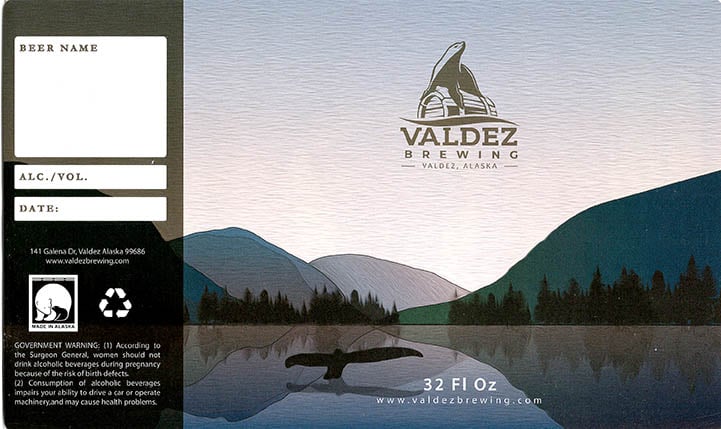 Valdez Brewing is located in, of course, Valdez, Alaska, tucked into the beautiful Church Mountains. This small-town local brewery is close to all the seasonal adventure areas nearby where people can ski, fish, hike or take other great day trips.They make a large variety of beers to match the wide range of local and visitors tastes. Their 2000 square-foot taproom is a great place to grab a cold one and/or grab some crowlers to go!
They have a custom-built oversized 7bbl system and three 7bbl fermenters along with a 14bbl to keep up with the steady demand for their variety of styles.
That's where this label comes in. Valdez wanted a crowler label that was durable and that fit their current branding. This 6.00" x 10.00" label is printed on Semi-Gloss 100 white gloss paper with a UV4 gloss varnish for added moisture protection. The blank areas are easily printable (usually with a Sharpie) with the beer's name, ABV and date.
They usually have up to 10 beers on tap and all of them are available to go in crowlers filled on the spot. This label makes it easy to identify your favorite beer when you get it home!
8. Wolf House Brewing - Cloverdale, CA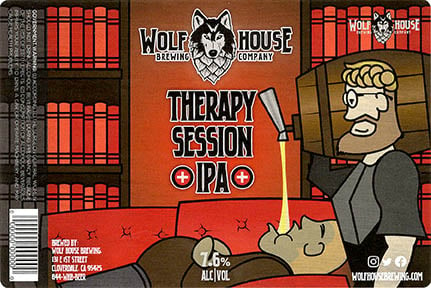 Wolf House Brewing is located in Cloverdale which is in midwestern California west of Sacramento. The brewery is a family affair, with master Brewer Kevin Lovett following his family's tradition of brewing while working at many of the areas local breweries to perfect his skills.
As the Master Brewer at Coverdale Ale Company, he jumped at the chance to buy the business and continued brewing. His beers are brewed with the water from the local Russian River and he produces a wide range of Pilsners, IPAs and more.
He teamed up with his brother-in-law who is a Master Chef and Wolf House was born, serving comfort food that pairs perfectly with the craft beer they make.
I would think this label is inspired by 2020 since it was a year where we could all use some therapy. Therapy Session IPA is their most aggressively hopped beer, giving it floral, earthy, piney, fruity and bitter notes. The label we made for them is for their can line and is a Semi-Gloss white paper with a UV matte varnish for added durability.
9. Whiner Brewing - Chicago, IL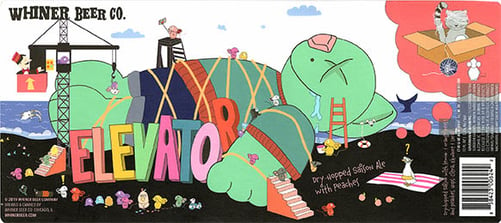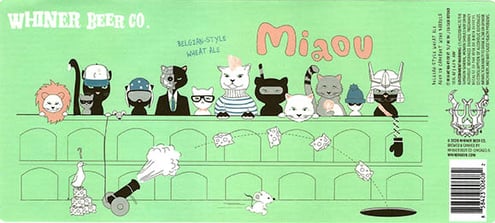 Whiner Beer Company focuses on barrel-aged beer, a common tradition in Belgium and France. Promoting their environmental responsibility, they are located in a net-zero energy business incubator in Chicago's Back of the Yards neighborhood. They play a big part in the operation of the plant's anaerobic digester that produces energy for the building as all their spent grain from brewing goes to fuel the digester.
Brian Taylor and Ria Neri, co-founders of the brewery, have years of experience in the beer industry, brewing and developing beer programs. Brian, who has a degree from Siebel Institute in Munich, worked across the country at Flying Dog, then Boulevard and finally Goose Island in Chicago. Ria is a certified Cicerone who studied at the Siebel Institute in Chicago for beer styles and sensory analysis.
As you might note from the label design, Brian is an aficionado of French comic books. Their labels reflect the 2-dimensional style of some popular comics and have repeating characters on all of them.
These 12 oz can labels were printed on our Flexlyte white BOPP film with a matte over laminate to give it a more classical look and protect the labels.
10. Burning Bush Brewery - Chicago, IL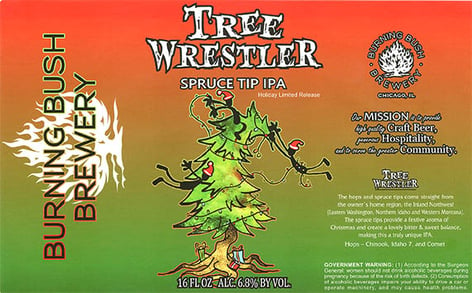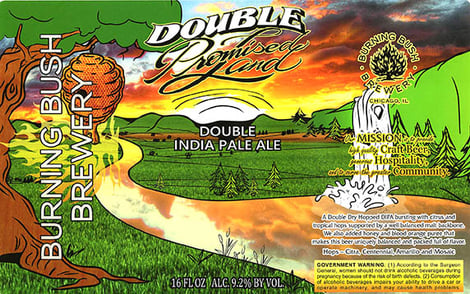 Burning Bush Brewery was founded by a former pastor who turned into a community-minded brewer. Their mission is to provide high-quality craft beer, generous hospitality and serve the greater community. They donate a portion of their proceeds to nonprofits, hold organizing community service activities and host fundraisers for nonprofits.
The labels mostly have a variety of Biblical references in their name and artwork, except the Tree Wrestler which was for the owner, Brent Raska. Some of their names play well with their beers, like Forbidden Fruit Apple Ale, St. Basil Amber Ale, Dew of Heaven Wet Hopped Pale Ale, Lion's Den Hazy IPA and Double Promised Land Double India Pale Ale. Each on the names refers to the ingredients in the beer and has a story behind it.
They have a great looking taproom and always have a wide selection of their beers available. During the pandemic you can order beer and pick it up from their location.
These 5.00" x 8.00" labels were printed on our Digiflex white BOPP film with a matte over laminate for protection. Fun label designs and a wonderful community brewer.
11. Elk River Brewing - Elkton, MD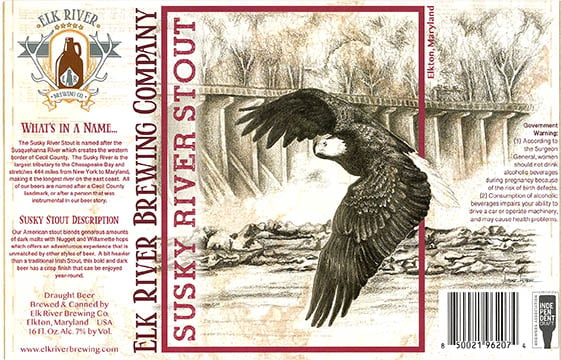 Jessica and Brad Carrillo loved visiting breweries and they loved their Cecil County Maryland area, so that decided to build Elk River Brewing Company, a nano-brewery right in Elkton. Their small but mighty business features a wide variety of beers including their light bodied C&D Kolsch, their ERBC Chocolate Cherry Sour, a Port Herman Hefeweizen, the Perry Point Pilsner, Susky River Stout (above) and many more.
They recently brewed their first cider, called Chessie's Cider which looks pretty good. Elk River has a really nice taproom that often features entertainment as well as their long list of beer on tap.
Their crowlers use 5.00" x 8.00" or 6.00" x 10.00" labels as we show here. All have Maryland nature themes and contain a lot of information about the beer and the reason for the name. The labels are printed on our Digiflex white BOPP film with a nice UV matte varnish to enhance the artwork while protecting it.
12. Asgard Brewing Company - Columbia, TN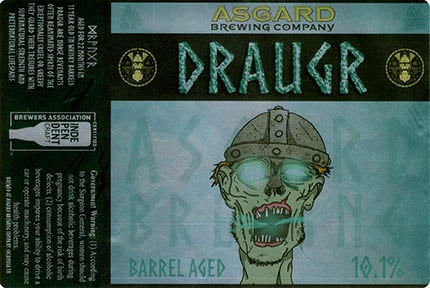 Asgard Brewing started as a dream to founding members John and Stephen Porter. When they met brewer Ryan Whitaker, the dream became reality. They started the brewery to bring high quality beer to the historic Columbia Tennessee area, and they are growing so fast that planned expansion will have them building a new taproom and brewery next year.
CEO Stephen Ported is actually a physician who started the company and named it to pay homage to his Nordic heritage. One of his plans for the expansion is a 1200 square-foot taproom reminiscent of a Viking long hall! With Stephen as the business man, Ryan as the brewer and John as the graphic designer, the partnership has grown tremendously. Their farm-to-barrel initiative has them working with a local hop farmer and they source their honey and fruits locally, too.
Their beer feature Nordic names, too, like Huginn Belgian Porter, Muninn Stout, Double Austri East Coast IPA, Myrkur Brown Porter and many more. The label above is for their Draugr Double Barrel Aged Stout and the above pic doesn't do it justice. The label is printed on a Flexlyte silver film to give it a base reflection and the matte over lamination softens the look and gives it a classic yet eerie feel. The artwork looks dimensional, with the eyes actually glowing if you catch the light just right!
This brewery has big plans and I hope they build that Viking taproom. I would love to see it!
So there you have it. These are just a few of the labels we have been printing on our digital HP Indigo label presses lately. As you can see, label design swings from one end of the spectrum to the other; classic photos to bizarre wildness. Breweries create their own look and tend to roll with a theme. But we love seeing and printing these amazing labels. No other market has such a diverse and creative look to their artwork. That's one of the best features of the craft beer industry.
Each can or bottle is a piece of art!