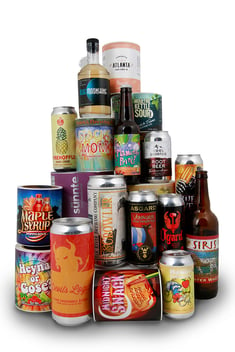 Once again I ventured back to visit our busy Digital Label Presses and did my year-end survey of all the cool labels that we printed in 2021. Weber has some amazing customers that trust us to take their incredible artwork and turn it into labels that will showcase their brand.
Digging through the sample rack of labels siting in the corner, I found that we had printed a lot of beautiful craft beer labels! But I also noticed that there was a wide range of other craft beverages mixed in with all these beer labels.
We are now printing lots of labels for craft soda, ciders, cold press beverages and even kombucha. And, wow, these are some great looking labels!
So this year I am mixing it up a bit and including other craft beverages so you can see craft beer isn't the only well dressed refreshment on the block. Enjoy!
And I hope you all got through 2021 safely and remain in good health. We sincerely care about all our customers and friends who read our blogs.

1. Benny Brewing Company - Wilkes-Barre, PA
Ben Schonfeld became enamored with craft beer after stopping at a brew pub when they finished a round of golf in Myrtle Beach years ago. He developed an appreciation for the time, thought and imagination it takes to brew a great craft beer.
After few years of developing recipes, testing ingredients and learning procedures on his 10 gallon brewing system, Ben opened the Benny Brewing Company on June 10th, 2010. His nano-brewery is brewing on a 30 gallon SABCO system and supplies many local establishments with his 4 core brands and a wide variety of seasonals.
His beers are inspired by a variety of ingredients, social and cultural trends along with fun food pairings. We especially liked this colorful label for his Heyna or Gose Tart Ale. It's described as a sour ale brewed with raspberries, lime, coriander and salt. Sounds awesome!
All of Benny's labels are colorful masterpieces of art, using bright colors and special effects to catch the customer's eye. They might be a small local brewery, but their products would be well-received by a larger audience.
His labels are printed on white BOPP film with a gloss laminate to enhance the color and protect the label from moisture and abrasion.
2. and 3. and 4.
Benny Brewing Company - Wilkes-Barre, PA
Okay I can't help it. These are some seriously cool-looking labels! I know my scans don't do them justice but our HP digital label presses sure do! All of these labels are bright illustrations that jump out at you. Our hats off to the designer who does these for Benny Brewing. Each of them makes me want to grab a six-pack of each just to see what they taste like.
I'm sure we will be seeing more great labels and craft beer flavors from this small but mighty brewery in the near future. Stay tuned!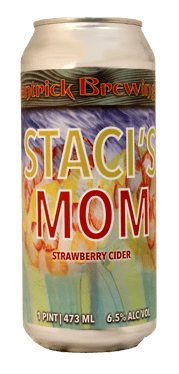 5
.
Tantrick Brewing - Allegan, MI
Tantrick Brewing is named after the two owners, Tanya and Patrick, who opened their taps in 2018. They are dedicated to using the freshest ingredients to deliver outstanding beer to their customers around Allegan, Michigan. They recently started canning and found Weber as an alternative to hand labeling cans from sheets.
Their beer menu ranges from IPA's to Stouts, Irish Reds and even into a couple of refreshing ciders. And their labels are just beautiful! The design really stands out with its trippy colors and mesmerizing patterns. We printed these labels (right) on Digiflex white BOPP film with a matte over laminate. They are easy to spot on the shelf and a true pleasure to enjoy.
As I was saying at the beginning, we are starting to see a lot of craft soda and cider labels coming through. This one, Staci's Mom, is another example of the creativity of Tantrick's label designs.
And I would imagine that, like the song, this cider has it going on. I couldn't find out much about this beverage as it was a seasonal but if you are lucky you might be able to catch it again upon a new release.
6. Wild Onion Brewery - Barrington, IL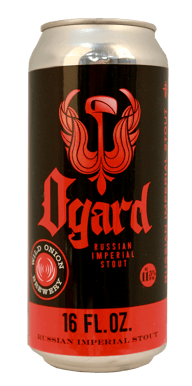 Once again we visit the famous Wild Onion Brewery! The Kainz family is proud to be one of Chicagoland's first craft breweries, firing up their first batch of Paddy Pale Ale back in 1996.The name Wild Onion is a reference to the origins of Chicago's name, Che-cau-gua, which the original Potawatami inhabitants of the area called the wetlands on Lake Michigan that became the Toddlin' Town.
They seem to be in a perpetual state of expansion and recently finished the crown jewel of their production facility with a new 50 barrel brew house, stored in a 5,000 square foot addition.
This label is from their Ogard Russian Imperial Stout which is a solid imperial with great nose and dark fruity vinous. Always gets great ratings. The artwork is simple and inline with all their brand's label designs that stand out on store shelves.
This label is made from a Flexlyte white BOPP film with a clear gloss over laminate for protection. The bright red snaps off the label!
Wild Onion Brewery is dedicated to sustainable processes and has helped with the restoration of wetlands near their hop farm. They have worked to restore native plants to the area and maintain open space preservation. A true global partner and an awesome brewer!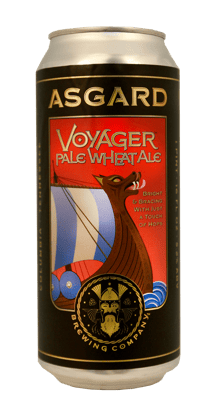 7.Asgard Brewing Company - Columbia, TN
Asgard Brewing started as a dream to founding members John and Stephen Porter. When they met brewer Ryan Whitaker, the dream became reality. They started the brewery to bring high quality beer to the historic Columbia Tennessee area, and they are growing so fast that planned expansion will have them building a new taproom and brewery next year.
CEO Stephen Ported is actually a physician who started the company and named it to pay homage to his Nordic heritage. One of his plans for the expansion is a 1200 square-foot taproom reminiscent of a Viking long hall! With Stephen as the business man, Ryan as the brewer and John as the graphic designer, the partnership has grown tremendously. Their farm-to-barrel initiative has them working with a local hop farmer and they source their honey and fruits locally, too.
This year we are featuring a really cool label: Voyager - a Pale Wheat Ale. The label is printed on a Flexlyte silver film to give it a base reflection and the matte over lamination softens the look but lets the gold lettering shine through.
This was Asgard's first beer created by their team. The success of this beer set the brewery in motion. Voyager is crafted with drinkability in mind. Brewed with Pale, Wheat, and Caramel malts, they add a large amount of Citra hops late in the brewing process to create its unique and delicate flavor. A neutral American yeast strain is used to allow the sweetness of the malt to shine through and complement the hops.
8. North 2 South Ciders Works - Lake City, GA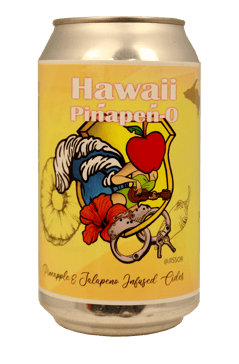 The brewers at North2South Cider Works had their humble beginnings in Michigan surrounded by apple trees in a small farming community. But life led them on a journey to Georgia where they found themselves in the middle of the best cider production in the south.
So they built a cidery complete with a tasting room and patio in the small town of Lake City, Georgia. They host private events when not open to the public.
North2South has a wide range of styles and flavors of cider that include nitrogenated coffee cider, cascade hop-infused cider, hibiscus and lime, Georgia peach, watermelon basil cider, pineapple infused with jalapeño peppers (pictured) and more.
And North2South does not limit themselves to just cider; they have started brewing their own Kombucha and flavored seltzers.
Their labels are printed on a bright white BOPP film and laminated with a gloss film for protection. Their unique artwork is a reflection of both the cider and their unique brand of flavoring.
9. Atlanta Hard Cider - Marietta, GA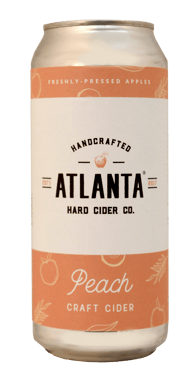 Founders Mark and Liz Demo were searching for an all-natural cider but couldn't find any locally. After much research, Mark decided to brew his own. He headed to Portland, Oregon, where he took the state's best practices course and learned from European and Pacific Northwestern masters. Atlanta Hard Cider was born.
A few years later they are brewing all natural ciders (just apples & champagne yeast) for the South. Their distillery in Marietta is a destination cider with 12+ ciders on tap in their beautiful taproom.
They had been using painted cans for their products but, as most brewers are finding, it is getting harder to meet the can ordering minimums. Plus the wait times for your pallets of cans is getting longer and longer.
It made sense to move to pressure-sensitive digitally-printed labels that lets them get the right amount of labels for each run, including short seasonal batches. Right now they have core brands that include Crisp Apple, Pomegranate, Honey Bee, Peach (pictured) and Rose. Fun Seasonals include Tiki Haze and Cherry Pie so far.
Their labels are printed on our digital HP Indigo label press using a bright white BOPP film with a matte lamination to give it a classic look and feel. The label design is simple and follows the all-natural branding of the Atlanta Hard Cider Company.
I bet they taste as good as they look!
10. 2 Fools Cider - Naperville, IL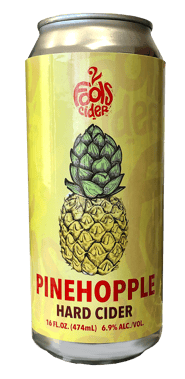 Having success is a good thing, and 2 Fools Cider is experiencing lots of good things. They just moved to their new location where they will have more room for brewing and their enlarged taproom. Distribution is expanding and people are coming from all over the midwest to get a taste of their wicked good cider.
2 Fools is constantly creating new flavors and crowd-pleasing seasonals to go along with their other popular flavors. The main stays include Tart Cherry and Pinehopple (a hopped pineapple and blood orange cider) which actually won a Gold Medal at the Great Lakes International Cider and Perry Competition. Other seasonals include a refreshing Strawberry Lemonade, Salted Carmel Apple, Cranberry Orange Sangria, Pumpkin Spiced, Apple Sauced (10% ABV that tastes like apple sauce), and Short Stack (a Rosé with extra blueberry and topped with maple syrup).
One of the items on owner Monte Summer's list for expansion was to move from shrink-sleeve to labeling for their canning line. Their distribution of packaged cider to stores had grown a lot over the last few years and it was time to comparison shop. It was getting harder and more expensive to use shrink-wrapped cans and he came to Weber for some help.
We helped 2 Fools get a Pack Leader PL-501 label applicator to attach to their canning line and pressure-sensitive labels to replace the shrink-sleeves. Monte realized he is saving up to $400 per pallet of product by using labels!
Their labels are a creative design that spreads across all the flavors the brand and they are printed on bright white BOPP vinyl with a gloss laminate for protection. Very distinctive and easy to find on the store shelves.
See their story here as told by Monte Summers -
And that is just a few of the the labels we have been printing on our digital HP Indigo label presses lately. As you can see, label design swings from one end of the spectrum to the other; classic simplicity to cartoon fantasy. Breweries are being joined by ciders and craft soda companies in printing labels that use their artwork to reflect their brand and create a visual representation of the containers contents.
Whether bottles or cans, 12 ounce or larger growlers, the labels continue to amaze us with a never-ending array or creativity and spark. We hope to see your labels up here next year!
Cheers!