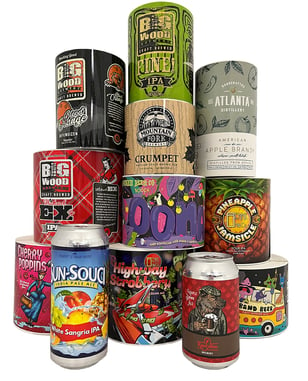 Our Digital Label Presses were really busy again this year cranking out some amazing-looking craft beer labels for our customers. I took a walk back to the Digital Press Room and gathered up 10 cool labels to share with all of you. Weber has some amazing customers that trust us to take their incredible artwork and turn it into labels that will showcase their brand.
It is really interesting to see what different breweries around the country think about both naming their beers and creating artwork for them. I am continuously amazed at the thought process and creativity often overlooked when enjoying one of these beverages. I view labels as a look into the soul of a brewery and a reflection of who they are and what they are like (Humorous? Serious? Artistic?)
We are now also printing lots of labels for craft soda, ciders, cold press beverages and even kombucha. And, wow, these are some great looking labels!
So here is a sample of some cool labels from a couple of my favorite crafters in 2022. Enjoy!
1. Benny Brewing Company - Wilkes-Barre, PA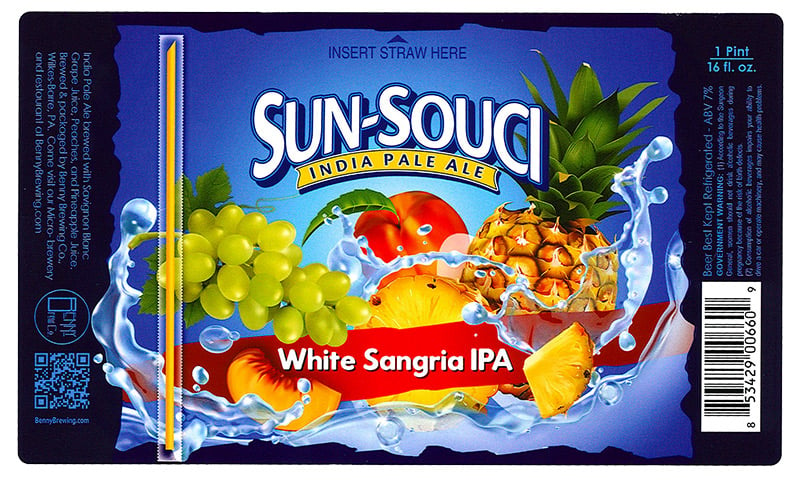 This one caught my eye right away. White Sangria IPA? And then the recreation of a Capri-Sun-like label looks amazing! Check out the "attached straw"! Benny Brewing has an incredible artist creating all their labels and each one is truly something to look at. Plus the puns never hurt, right?
Ben Schonfeld opened the Benny Brewing Company on June 10th, 2010. His nano-brewery is brewing on a 30 gallon SABCO system and supplies many local establishments with his 4 core brands and a wide variety of seasonals. A WIDE variety. His beers are inspired by a variety of ingredients, social and cultural trends along with fun food pairings.
All of Benny's labels are colorful masterpieces of art, using bright colors and special effects to catch the customer's eye. They might be a small local brewery, but their products would be well-received by a larger audience.
His labels are printed on white BOPP film with a gloss laminate to enhance the color and protect the label from moisture and abrasion.
And Again This Year - 2. and 3. and 4.
Benny Brewing Company - Wilkes-Barre, PA
I told you all their labels are cool. Check these out.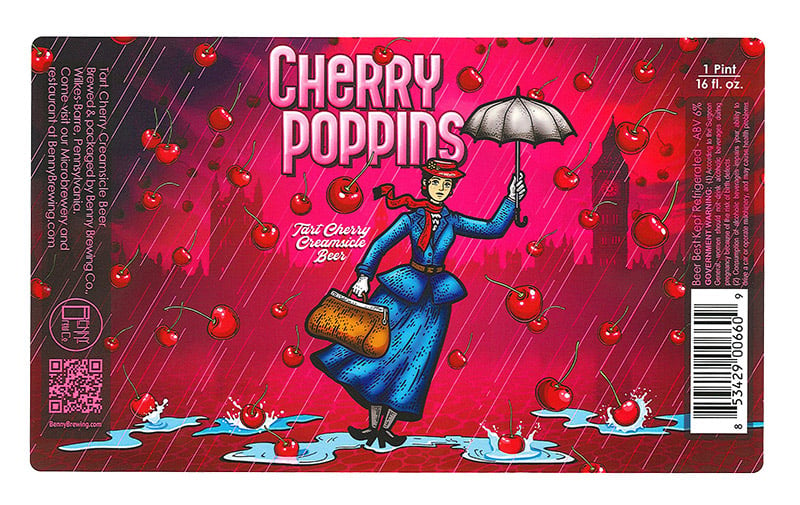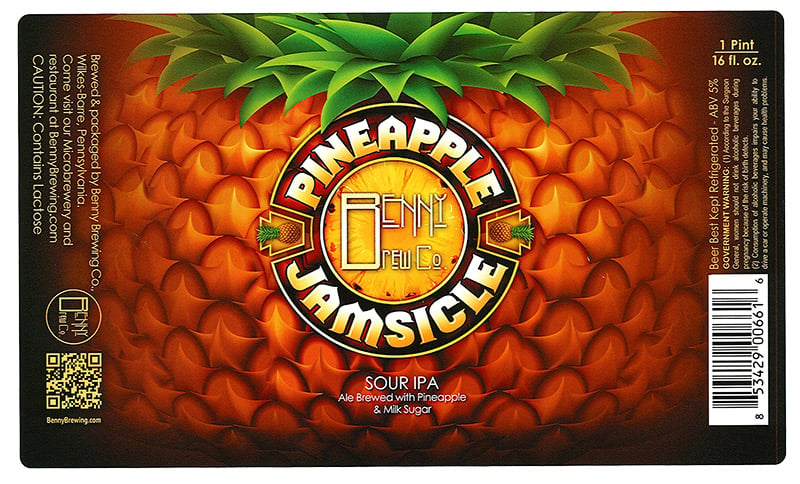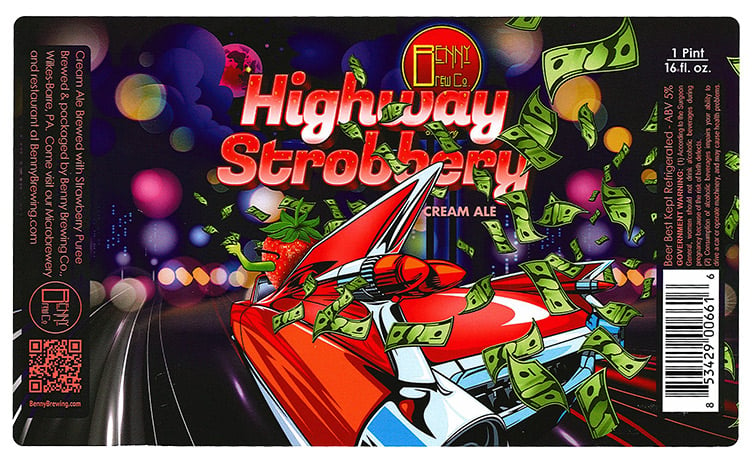 I know my scans don't do them justice but our HP digital label presses sure do! All of these labels are bright illustrations that jump out at you. Our hats off to the designer who does these for Benny Brewing. Each of them makes me want to grab a six-pack of each just to see what they taste like.
I'm sure we will be seeing more great labels and craft beer flavors from this small but mighty brewery in the near future. Stay tuned!
5
.
Big Wood Brewing - White Bear Lake, MN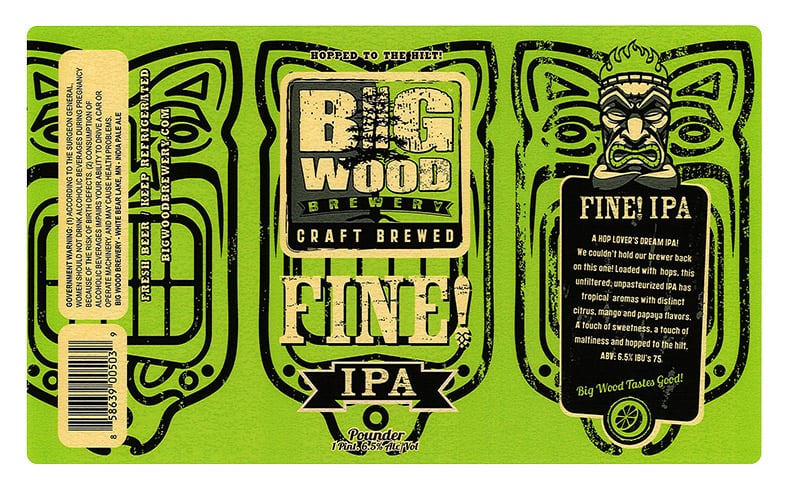 Big Wood Brewery has summed it up nicely on their web site: "The craft brewing movement was founded by dissidents. A group of like-minded rebels with a David vs. Goliath mentality. They were tired of the same old, same old from the big beer companies. They wanted something different. Better."
In 2009 they launched the brewery and created our first award-winning craft beer, Morning Wood Coffee Stout. Since that day, they have been committed to crafting quality beer their way. They respect the laws and traditions of the industry, but they don't feel the need to follow trends. Deviating from the norm is their norm — they consider ourselves the original hipsters (or shall we say "hopster") due to their lack of interest in conforming.
One of the things that caught me about this label was the weight. No ounces, just POUNDER. Nice. 16 oz. of poundable beer? This big colorful label is like their other label - big in-your-face colors and graphics that are unique and eye-catching. And I always like when a beer has a description on the flavor profile to help me make my selection. Well-done.
6. Bull Falls Brewery - Wausau, WI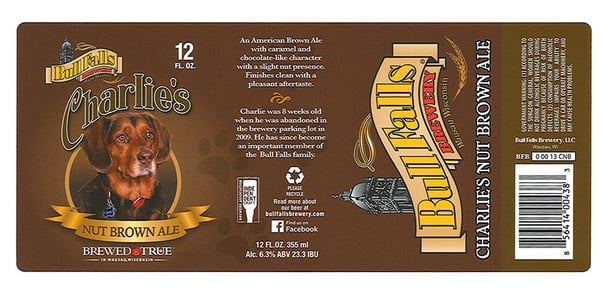 Being a dog-guy, I saw this label and had to find out more about the brewery and what is going on with the dog on the label. The label states, "Charlie was 8 weeks old when he was abandoned in the brewery parking lot in 2009. He has since become an important member of the Bull Falls family. Okay, that's pretty cool.
Bull Falls Brewery was started by chance by two software engineers in 1998. Mike and Don Zamzow developed and implemented software for lots of County Service Agencies in Wisconsin.Then, at Christmas in 1998, an apparently insignificant event happened which ultimately became a life changer for both partners and their families. Mike received a beer home brew kit from his wife, Mary.
Mike joined the local Bull Falls Home Brew club to learn how to improve his beer brewing skills. Things continued on as normal for some time, with the exception that at family and friends gatherings no one was having Miller MGD or Leinie Red, but rather one of Mike's new brews ranging from a variety of ales to a Dusseldorf Alt. After winning some prizes in brew competitions, Mike seriously began thinking about doing it professionally. He enrolled in an on-line brewing course with the Siebel Institute of Chicago.
The need for a brand or logo became apparent and one was developed based on the historical foundations of Wausau, Big Bull Falls. The logo was registered with the Patents and Trademarks office in 2002 and things were set to go. That is until the day before the challenge deadline when we were contacted by Red Bull legal staff from Austria informing us that they were challenging the logo because of potential confusion in the market place. After two years and a couple thousand dollars later, a compromise was reached and we were able to continue using the new logo with some constraints. The hunt for a building now began.
After investigating a number of existing buildings, they finally settled on a vacant building at 901 E Thomas St.
Having already determined that the 3-barrel system previously purchased wasn't large enough for commercial brewing, a larger 10– barrel brewery that Mike knew about was in Stevens Point, at the former Isadore St. Brewery. The smaller 3-barrel brewery was sold and the proceeds were used as collateral in acquiring the larger 10-Barrel brew system which was then installed and commissioned in the present 901 E Thomas St. location. Construction and renovation of the building proceeded from March through August of 2007. While not totally completed the brewery room was complete to brew beer.
And the rest is history. Most of their beers appear to be German-style with lagers, hefeweizen, stouts, ales and pils rounding out the beer menu. They look delicious.
But any company that puts a dog on their label is a winner to us! Be sure to check out Bull Falls Brewery when you are in the Wausau area!
7. Whiner Beer Company - Chicago, IL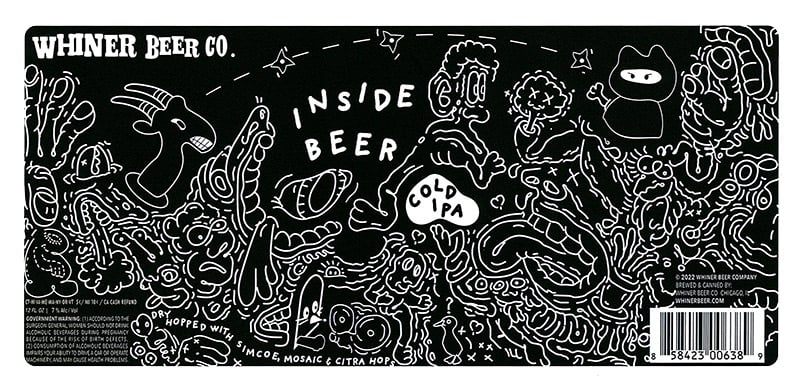 Whiner Beer Company focuses on barrel-aged beer, a common tradition in Belgium and France. Promoting their environmental responsibility, they are located in a net-zero energy business incubator in Chicago's Back of the Yards neighborhood. They play a big part in the operation of the plant's anaerobic digester that produces energy for the building as all their spent grain from brewing goes to fuel the digester.
Brian Taylor and Ria Neri, co-founders of the brewery, have years of experience in the beer industry, brewing and developing beer programs. Brian, who has a degree from Siebel Institute in Munich, worked across the country at Flying Dog, then Boulevard and finally Goose Island in Chicago. Ria is a certified Cicerone who studied at the Siebel Institute in Chicago for beer styles and sensory analysis.
As you might note from the label design, Brian is an aficionado of French comic books. Their labels reflect the 2-dimensional style of some popular comics and have repeating characters on all of them.
This label looks like some kind of fantasy doodle that has all kinds of cool images intertwined with just a classic black and white look. The 12 oz can labels were printed on our Flexlyte white BOPP film with a matte over laminate to give it a more classical look and protect the labels.
8. McHoppers Brew Co. - Fernley, NV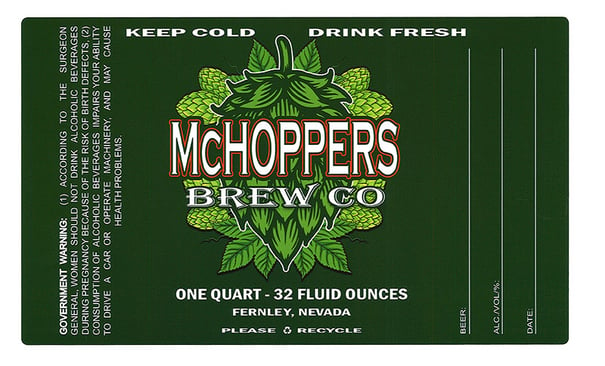 I liked this McHoppers Brew Co. label because it was clean and straight-forward with a cool design. And it sounds like that is a direct reflection of the company, as stated in their online web bio:
Dody always had a passion for craft beer and homebrewing. I, on the other hand, was a little behind the curve. When Dody started homebrewing I was a little skeptical of the results of beer fermented in a jug in the tub.
Who does that? Lo and behold, it was good beer! It wasn't long after thatmy interest peaked and started assisting in Dody's mad science. Well that's pretty much all it took.
The next thing you know we had a brewery set up in my basement and we were brewing every week. What had started as a hobby, to fill in for racing, had now become a passion. The mechanics of brewing seemed to come natural to us and with the help of local brew shops and lots and lots of reading and research we managed to hone our skills.
Eventually we entered and won several homebrewing awards throughout the United States including competitions in Denver, Chicago and Las Vegas against some of the nations best. While on vacation with our wives in early 2020 (before the pandemic) we were sitting in a brewery in New Zealand of all places and commented on how cool it would be to open our own brewery. Our wives agreed that would be nice but we did tend to be big talkers especially after a couple cold ones. Just another McHopper idea (McMordie/Hopper in case you didn't know).
As the days went on with several miles of driving we went further down the rabbit hole and by the time we got home had planted the seed. July of that year we were on a plane to Illinois to pick up our brew house. We are often asked "Why Fernley?".
The simple answer, is that, it is our home. Fernley has a lot of great people and not many places to hang out for a population over 20,000.
We wanted to create a place with not only great beer, but a place of gathering. This is why you will not find gambling machines and overpowering audio.
You will find a bright comfortable setting where you can easily converse with those around you. We will always greet you like a friend and are more than happy to lend our expertise in choosing a brew that's a fit for you!
McHoppers Brew Co., located just down the road from Reno, uses this as their to-go crowler label, writing the beer info on the lines provided when sold. The label is printed on a white BOPP which helps the labels colors pop out.
9. Fenwick Farms Brewing Co. - Rensselaer, IN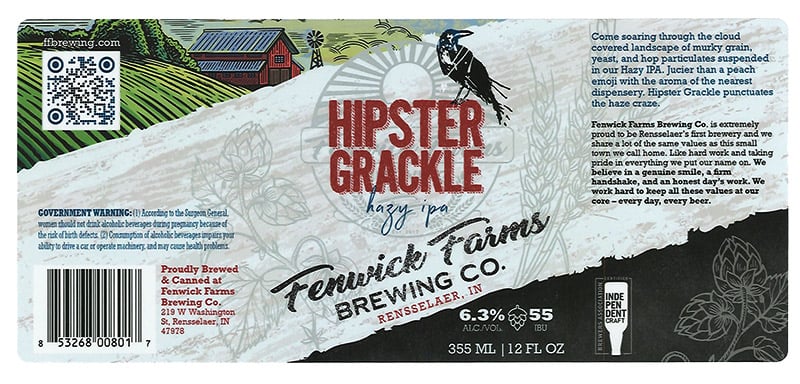 Fenwick Farms Brewing Co. is a nano brewery located in Rensselaer IN, celebrating their 3 year anniversary. It's in a midwestern town of about 5,000 people and they are extremely proud to be Rensselaer's first brewery. They know they share a lot of the same values as this small town that they call home.
Owners Ron Fenwick, Sam Yacko, and Kenny VanHouten come from various backgrounds but are all united in the goal of making great beer. Fenwick Farms also includes a distillery and Public House Restaurant. They believe in hard work and taking pride in everything they put our name on. The owners believe in a genuine smile, a firm handshake, and an honest day's work. They work hard to keep all these values at our core – every day, every plate we serve, every beer we pour. Now that is a work ethic!
This label is a reflection of the quality and pride they take in their products. Printed on a metallic BOPP, the middle background color has negative spaces that create the hop and wheat design in a reflective eye-catching manner. This hazy IPA label gives off a down-home farm vibe but in a classy elegant way with the metallic paper making the label inks shine and create dimension.
A very articulate description states, "Jucier than a peach emoji with the aroma of the nearest dispensary." Hits the hipster nail on the head.
10. Rapscallion Brewery - Concord, MA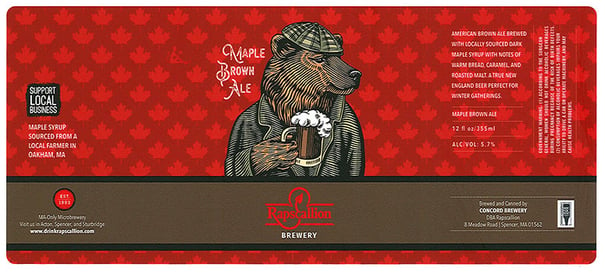 You can find a cool Bio of Rapscallion Brewery that we recently wrote here. Tells you some great back ground on the good folks and what they do.
This growing brewery, located in New England, also includes a bar and restaurant and they operate with a hyper focus on hospitality. It is a family-owned business that is an integral part of the community. As they say on their website, "Our kitchens are scratch, our beer hand-brewed, and our smiles genuine. We've always cheered for the underdog, the self-made person, and the Robin Hoods of the world, because we believe in living with humility, working hard, and giving back. To this day, the name Rapscallion holds true as a moniker of a model that puts consistency of quality and hospitality above all else, honoring the craft, the Rapscallion customer, and the communities we call home."
Their beer menu features a wide range of flavors from IPAs and stouts to lagers and even a Belgian Blonde. A lot of these beers appear to reflect the near-Canadian styles and local flavors that include honey, birch bark and maple syrup. Sounds awesome!
I like this label because it is simple but the elegant bear on a field of maple leaves is crisply detailed with a look that simply looks like a Maple Brown Ale label should. The labels are printed on a matte white BOPP for a smooth non-reflective look. Sounds like a vacation destination brewery to me.
So that includes just a few of the the labels we have been printing on our digital HP Indigo label presses lately. As you can see, label design swings from one end of the spectrum to the other; classic simplicity to cartoon fantasy. Breweries are being joined by ciders and craft soda companies in printing labels that use their artwork to reflect their brand and create a visual representation of the containers contents.
Whether bottles or cans, 12 ounce or larger growlers, the labels continue to amaze us with a never-ending array or creativity and spark. We hope to see your labels up here next year!
Cheers!