---
Why Does Labeling Speed Matter for My Business?

Actually, labeling speed and accuracy is essential because if you don't match your labeling process to your production, well, things can get messy and expensive.
I've created a quick overview chart of the various types of labeling systems used today. They range from slapping a label on by hand to fully automated, high-speed monsters that can handle different sized packages. This is just a quick look, but for labeling beginners, it might help them set up their production correctly the first time. Check it out and read more below.

As you can see, the simplest way to label a product is by hand. Cheap and requires no electricity! Works well if you are labeling the occasional package. But if production ramps up, you could run into a lot of issues that create a bottleneck. And that's not even considering if the label goes on straight or even right side up.
But there are ways to speed things up. Hand-held label applicators like the Towa APN Series allow you to pre-load a roll of labels and literally wipe them onto your products. A bit faster and, if you have a good eye, you can get them on consistently. Until your arm falls asleep. But for limited production or carton labeling, it works well.
Another way to label products semi-automatically is to use a electro-mechanical device which will label an inserted product. For the beverage industry, a simple solution is to use a Bottle-Matic label applicator. This is a machine that you pre-load your labels into and, once set up, will label your round craft beer or wine bottles one at a time. Just lay your bottle on the rollers, hit the button, and a label is dispensed perfectly onto the bottle. Many start-up breweries use these for the first few years of production.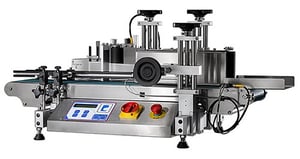 But as they grow, they can step up to a more automated labeling systems that will blend right into their bottling line. A label applicator like Pack Leader USA ELF-50 bottle-wrap system can label bottles as they proceed down a conveyor at up to about 30 bottles per minute.
This labeling system can be moved easily, so you can set up exactly where you'd like. It can be positioned on a tabletop or bench, or moved in-line for automatic or semi-automatic applications – a convenience not found with heavier, more elaborate labeling machines.
For package labeling other than bottles, you would step up to an automatic label applicator like the Weber Alpha Compact. This system connects to your production line and can dispense and apply labels at up to 164 feet per minute. These applicators can be configured in multiple ways so that you can label the top, bottom or sides of products.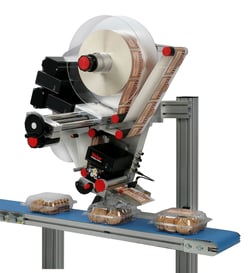 For higher speed applications, Weber's Alpha HSM label application system is the best. These label applicators use a servo-controlled system that keeps the labeling in sync with the production speeds. It even allows starts and stops without label jams or skips. Product sensors on the conveyor line trigger the label application as they pass by, allowing an extremely accurate label placement of ±0.01 inches.
Every packaging line is different, so Weber engineered the modular Alpha HSM so that it can be ordered in ten different versions to fit just about any labeling application. Available in right- or left-hand versions, the Alpha HSM has 5.3" (135mm), 7.8" (200mm), 9.8" (250mm) and 12.6" (320mm) label width versions. The HSM can keep up with line speeds up to 500 feet/minute.
The next progression for speed and complexity would be a system for people who need to print AND apply their labels automatically. Label printer-applicators, like the Weber Model 5300, can print black and white thermal-transfer or direct thermal labels and apply them to passing products on a production line. These print-apply systems use Zebra or SATO print engines that are basically the same as the tabletop label printers you use for single labels.
Label printer-applicators are more sophisticated than regular label applicators in that they can store various repeated labeling jobs, can be accessed remotely via wireless Internet, and can be configured in a wide variety of applications.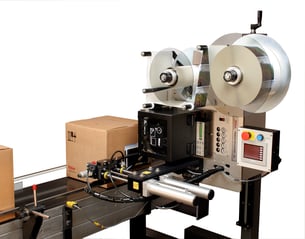 The standard tamp-blow print apply system has a tamp applicator that grabs the printed label from the print engine and holds it until the sensor tells it to apply the label. Then the applicator lowers to within 1/4-inch of the product and blows the label onto the surface. This can be done on top or any combination of sides of the package.
Another popular label printer applicator configuration is a two-sided labeling system like Weber's Model 5300 Twin-Tamp. Based on a regular 5300 Tamp-Blow machine, it has a special arm that allows it to print and apply a label to the front and side of a carton as it travels by on a conveyor. This helps meet certain labeling requirements from large corporations that need identification labels on all four sides of a carton.
Another way to handle multi-sided labeling requirements is with a corner-wrap labeling system like Weber's Model 5300 Corner-Wrap. This one uses a longer label (basically two of the same sets of label information on one long label) and after printing the label, wraps it continuously around the corner of a carton. Two of the systems can label all for sides of cartons that go by.
As you get more sophisticated with your labeling requirements, you'll find there are systems that can handle just about anything: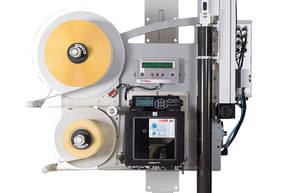 And when you have to print and apply labels, like shipping labels, at high speeds onto packages of varying heights, you would need something like Weber's Model L-A 6000 Variable-Height Label Printer Applicator.
Distribution centers, like Amazon, UPS, FedEx and more, process millions of items a day that come in all sizes. You can print and apply address labels quickly with the L-A 6000 because it has built-in sensors that determine the height of the package and stop the applicator 1/4-inch away. It blows on the label and retracts for the next item. It is so fast that it can print and apply up to 40 labels per minute thanks to it's carbon-fiber applicator construction. Accurate and reliable.
---

CONCLUSION:
That's it for our journey from hand application to high-speed automation. There are many more systems out there that might apply to your specific product or process. Your production speeds should tell you which of these types of systems will work best for you. Take into consideration future growth, multiple shifts, downtime and maintenance for a complete picture.
If you need more information or have any questions about labeling systems, drop us a line. We can help guide you along the way and avoid paper cuts!
---