There are many instances where a label application requires a more durable material beyond that of a typical product label. These durable labels are used when a product requires UL recognized labels or the product will be stored in a harsher environment with a long shelf life.
For example, think about some of the electric tools in your garage (cordless drill, sander, table saw, etc.) or your furnace and central air conditioner. These products last for years and need important information about the product to be readable for the life of the item. If you look at them closely, you will see warning labels, instructions, rating plates, wiring diagrams, UL recognized labels or other company information.
We're happy to announce that there is finally a reliable solution for low-volume durable labeling. With the introduction of our Durable Digital material line, you can now order as few of 500 labels printed on our HP digital presses.
The new materials are designed to be resistant to high temperatures, moisture, chemicals and UV exposure. This makes them perfect for warning decals, instruction labels, toy decoration, sporting equipment, tools and more.
Our new Durable Digital label material is designed to be used for printing labels on our HP Indigo WS4500 and WS6000 printing presses. Printing labels digitally means you can get high-resolution, full-color process printed durable labels at low quantities.
Plus, unlike Flexo printing, the HP Indigo digital press can print variable information on your labels. This is a great solution for labels that will have changing serial numbers or even colorful symbols.
Let's take a look at Weber's new Durable Digital Label materials.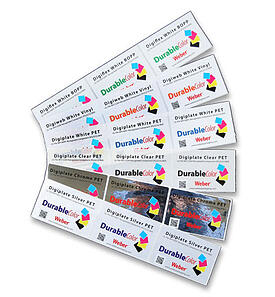 Digiplate PET
This material is ideal for indoor and outdoor use. It's resistant to high temperatures, UV exposure and chemicals. Digiplate PET is available in white, clear, silver and chrome.
Digiweb White VINYL
This durable vinyl material is suitable for both indoor and outdoor use. It's a great for applications such as bin warehouse labeling, bottles and other curved surfaces.
Digiflex White BOPP
This BOPP label material specializes in clarity and durability and is more flexible than Digiplate PET.
All three material types feature a strong laminate called Digilam Clear PET that maximizes durability and provides excellent clarity and protection.