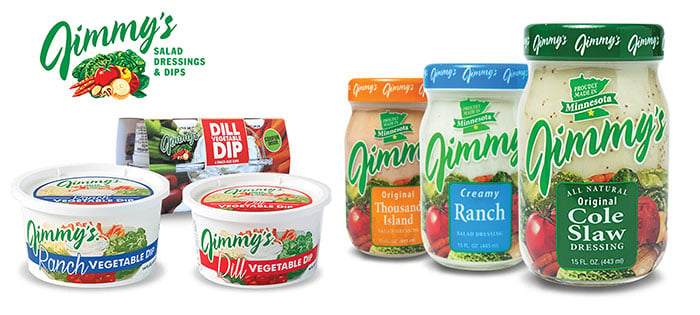 The rural town of Stewartville, Minnesota, holds one of the best kept secrets when it comes to salad dressings. But that secret is getting out through sales at Walmart and other major area retailers.
The small but mighty Jimmy's Salad Dressing & Dips (www.jimmysdressing.com) has built up a strong following and continues to grow their distribution each year. We recently visited Operations Manager, Sam Slightam, and SQF Practitioner & Office Coordinator, Abby Rager, to get the full story on the production and packaging of these tasty treats.
Jimmy's is best known for their salad dressings which include Thousand Island, Blue Cheese, Ranch, Sweet & Sour, Coleslaw and more. They also make Ranch Vegetable, Dill Vegetable, Spinach, Taco and HolySmoke! dips along with Tartar Sauce and Caramel Dips. These products can be found in the refrigerated sections of the produce aisle at Walmarts and other grocery stores throughout the Midwest primarily in Minnesota, Iowa and Wisconsin.
Their story all began back in 1958 when Sam's grandfather, Jimmy, and his wife, Ella, opened a restaurant called the Fish House in Stewartville, MN. Over time, Jimmy grew tired of the available salad dressing on the market and decided to make his own. He came up with a fresh, flavorful, creamy dressing that was a hit. The local patrons loved the handmade dressings and wanted to buy some to take home with them. Jimmy started hand-packing his "Fish House" salad dressing for home use and the legend grew. Soon local grocers wanted to carry the Fish House salad dressing in their stores.
Then, in 1990, Jimmy's son Tom purchased the salad dressing business, officially naming it "Jimmy's Salad Dressing & Dips" as a tribute to his father. Watch a video about Jimmy's.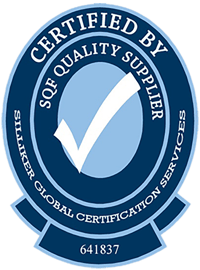 With the tag line, "Homemade Taste. Hometown Goodness.", Jimmy's has always been dedicated to producing the highest quality dressings and dips. And it's very apparent when you see their production facility in Stewartville, MN. The best fresh ingredients are used to create original recipes. Products are sourced locally to support the community and to maintain consistent quality. The products are made in small batches, one flavor per day, to maximize freshness and stringent food quality guidelines.
One of the most important steps taken on the road to their success has been getting SQF certified. The SQF (Safe Quality Food) Program is recognized by the Global Food Safety Initiative (GFSI) and links primary production certification to food manufacturing, distribution and agent/broker management certification. Administered by the Food Marketing Institute (FMI), SQF benefits from continual retailer feedback about consumer concerns. This allows your customers to have confidence in your food safety program and know that you have a rigorous food safety system in place.
Jimmy's continued success had created a need to automate their production and packaging line to keep up with demand. In the past, up to 1000 cartons a day had to be hand-labeled before production could begin. For a small company, this is a very labor-intensive and time consuming job.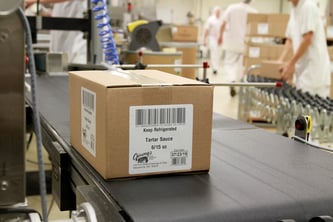 Their production line recently added automated labeling equipment to help speed things up and adhere to the requirements of Walmart's PTI (Product Traceability Initiative) GS1 regulations. Jimmy's needed to add a GS1-128 bar code label to adjacent sides of every carton of salad dressing. Walmart needs this for tracking store inventory, food safety and recall, effective quality control, faster receiving , and to measure supplier performance.
Working through Viking Plastic Packaging, they chose a Weber Model 5300 Twin-Tamp label printer-applicator that prints and applies labels to the front and side panels of each cartons passing on the conveyor.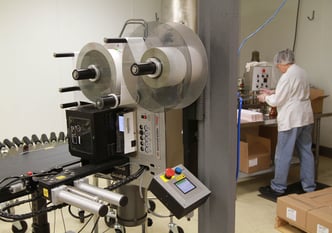 The label formats for each product were created by Abby Rager using Weber's Legitronic Labeling Software and are stored in a database where they can be easily retrieved and sent to the label printer-applicator for each run. It was important to make sure the label formats conformed to the FDA requirements. These 4" x 4" labels also include the lot code, expiration date, product information, and Jimmy's logo. The use of GTIN-128 barcode labels allow the end user to track shipments and usage with easily-read bar code labels.
"Our SQF certification has allowed our customers to have confidence in Jimmy's knowing we will provide them with a safe, quality products that have been produced in a facility that meets the SQF standards," said Abby.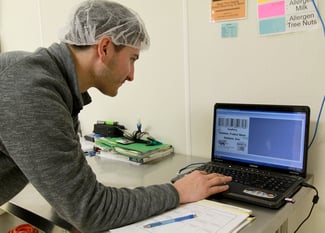 "The Weber labeler has created an additional tool to utilize within our day-to-day operation of our SQF Program which has led to increased productivity," she added.
Jimmy's will be using Weber's 4" x 4" Transprint 425 All Temperature labels to ensure adherence in cold, damp refrigerated conditions in their warehouse and in reefer trucks during shipment. The combination of Weber's labels, ribbons and 5300 twin-tamp conform 100% to the ISO 15416 quality regulations.
During production, the jars are topped-off at the filler and sealed securely. Shrink-sleeve labels are put in place and the jars go through a heat tunnel to fit the sleeves tightly. The jars are then hand-loaded into cartons that are fed into a taper to close them. The cartons proceed down the line to the label print-apply system that labels the carton on two sides with the current batch information.
Cartons are stacked on pallets and finally moved to the refrigerated warehouse for storage until shipping to distribution centers. The new automation system reduces production time and allows Jimmy's to meet Walmart's GS1 labeling requirements.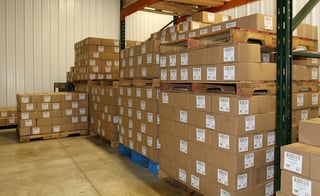 "Right now we have 4 items in Walmart stores that are shipped out via three regional distribution centers. We are looking to add a fourth DC in the near future," said Sam.
Jimmy's planned growth has been steady and they have kept their local homegrown roots by producing high-quality salad dressing and dips for their customers in the upper Midwest.
In addition, Tom and Sue Slightam, owners of Jimmy's Salad Dressings & Dips, have established the Low Water Bridge Foundation to give back to the community by helping new entrepreneurs in the startup phase of their business with a monetary gift. The Low Water Bridge Foundation gift recipients use this monetary gift to endure the turbulent waters of a new startup business and find long term success and the ability to someday pay it forward themselves.
It is the long term vision of the Slightams to see more successful new startup businesses in the Stewartville area and to see both the business and community thrive. They have been the recipients themselves of the support and generosity of the Stewartville area and want to build on that spirit of community.
Visit Jimmy's Dressings & Dips at www.jimmysdressing.com.
---