---
Meet the Weber LA-6000 Variable-Height Labeling System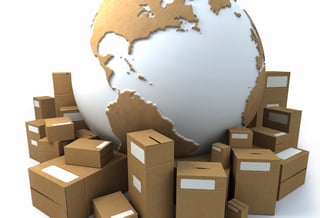 Everyone loves to shop online. Great deals. Usually free shipping. Sales tax - maybe. And the number of shoppers is growing at an ever-increasing rate.
But someone has to ship all those products. And if you are a company that sells a wide range of packages, you can run into a bottleneck when trying to apply shipping labels to cartons as they fly down the conveyor of your distribution center. You need label printer-applicators that ccan keep up with demand yet be flexible enough to handle variable-height labeling.
Answering the demand for newer, faster and more versatile labeling systems, Weber has created the LA-6000 Label Printer Applicator to meet the requirements of distribution centers to label variable-sized cartons at ever increasing line speeds with accurate shipping information. This reliable and cost-effective printer applicator uses the tamp-blow method to print and apply up to 40 labels per minute to products that vary in height up to 19.68" (500mm).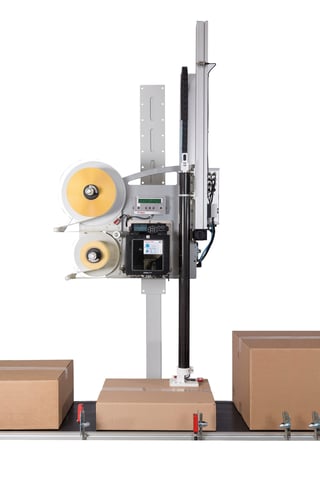 A sensor on the tamp arm initially determines the height of the approaching product for labeling and then the applicator moves to the correct position at high speed. This reduces the travelling distance for the label application, allowing the LA-6000 to simultaneously label more accurately and up to 50 percent faster than a label printer-applicator with a pneumatically driven cylinder.

The newly redesigned microprocessor controller is compact and facilitates easy integration into existing operating environments. And the system's modular construction allows easy access to components for servicing and or maintenance, enabling convenient changing of labels and ribbons as well as easy cleaning of the print module's thermal print head.
Interchangeable dispensing heads allow the use of different size labels. Using print engines from Zebra or SATO, the LA-6000 can print labels as thermal-transfer or direct thermal.
Peak high-speed labeling performance is achieved using a light-weight servo-driven motor applicator of carbon fiber construction. The LA-6000 also has an ergonomically adjustable reel holder that handles label rolls up to 13.7" (350mm) in diameter for reduced label changeover downtime.
---

CONCLUSION:
Whether you are a large online e-commerce reseller or a shipping distribution center that runs 24/7, you can help eliminate problems printing and applying your shipping labels by checking out the Weber LA-6000 variable-height label printer applcator.
It can reliably handle the line speeds you need to run your company efficiently with a minimum of downtime. Watch this video about the LA-6000 variable-height label printer applicator.
---