We're excited to be exhibiting at BrewExpo America during the 2016 Craft Brewers Conference in just a few short weeks! The conference takes place May 3 - 6 and you can visit our booth (961) during the trade show from May 4 - 6 in the Philadelphia Convention Center. Brewers will have the chance to meet with over 800 vendors who specialize in everything you could need for your brewery from tax resources to large brewing equipment.
For the last few of years we have enjoyed helping small breweries grow their brands with labels, labeling equipment and ink jet coders.
Here's a quick preview of the packaging solutions we're bringing to BrewExpo: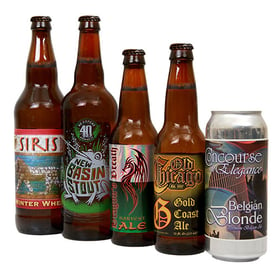 Labels for Craft Beer Bottles and Cans
Weber's booth will have beautiful examples of beautiful pressure-sensitive beer labels that are suitable for bottles and some that can even be applied to beer cans.
In addition to seeing the labels on rolls and applied to the products, we'll be giving away samples of our top beer label materials so you can take them back to your brewery and test them with your product.
There are many different types of label materials now available including white films, clear films, metalized films, Estate papers and and even wood! Get inspired with these designs from local breweries and our in-house Graphics Team.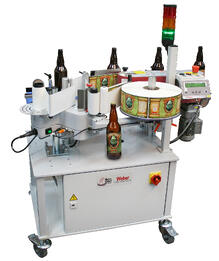 Labeling Applicators for Beer
We've talked about our three options for craft beer labeling equipment for bottles and cans and now you'll be able to see one of those systems live in our booth!
In our BrewExpo booth #961 we'll be demoing our Model 121 Wrap-Around Label Applicator. You'll notice this unit is compact and easy to use and is adjustable so you can apply labels to both cans and bottles.
This all-in-one labeling system is on wheels so you can roll it to your bottling or canning line, apply labels to your batch, then roll it out of the way.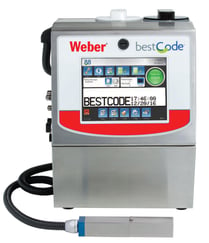 Ink Jet Coding for Craft Beer Cans
Our most popular craft beer product is our BestCode ink jet system. This printer is easy to use and cleanly applies the coding you need on your cans.
The ink jet printer can be a stand alone unit with its own stand or attached to the your packaging line. The system is easy to use, requires minimum maintenance, and carries a 2 year manufacturers warranty.
See a live demo of this ink jet printer coding bottles and cans, or request a Weber expert to visit your brewery and give you an on-site demo.
If you can't make it to this year's craft beer show, don't worry, we have you covered! Request a craft beer packet and we'll send you info on the labeling system, ink jet coder and lots of label samples printed here at Weber. Our craft beer packaging starter kit give you everything you'll need to know about craft beer packaging with Weber.