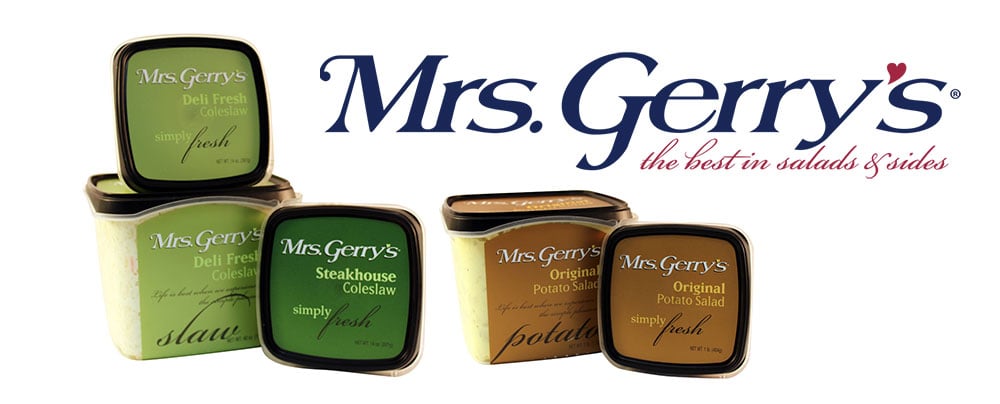 One of the biggest challenges for companies that manufacture and sell products to large supermarket and retail chains is meeting the mandated labeling requirements. If you are shipping your products to their giant distribution centers, you need to have all your product labeling in step or they might not accept your shipment.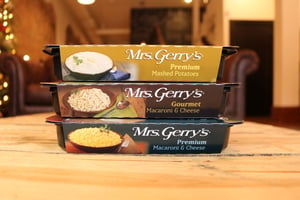 This was the case for one of Minnesota's largest salad and side dish purveyors, Mrs. Gerry's. They were requested to start applying adjacent corner labels to their cartons of prepared salads, side dishes, desserts, and coleslaws. These labels had to contain the GS1 information for the product including use by date, product information, and bar codes for tracking.
Steady growth has been the trademark for Mrs. Gerry's which had a humble start back in 1973 when Gerry and Jerry Vogt founded the company in support of Jerry's sales position selling meats to grocery stores. Jerry wanted to offer more food-related products so he could provide a full menu to his clients. They bought a small building of just 1,100 square feet in Albert Lea, Minnesota, adding two stoves, a sink, and a cooler, and they were in business.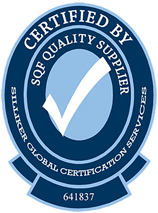 Gerry's family became the first employees and they used Mrs. Gerry's family recipe for potato salad as the first product. The company began to grow and, using fresh local ingredients, turned out 70,000 pounds of salad by hand in 1974. New recipes were added and building additions were added to accommodate the expanding product lines.
Fast forward to 2018 and Mrs. Gerry's now sells over 35 millions pounds of product a year in their 215,000 square-foot facility. The company sells over 120 different products including pasta salads, cole slaws, salad kits, desserts, Premium Mashed Potatoes and much more. Sourcing their ingredients locally as much as possible, about 90% of their potatoes are grown within 15 miles of the Albert Lea plant. They buy massive truckloads of potatoes which are off-loaded in seconds using a whole truck tilt unloading system.
As with most successful companies, food safety and traceability are foremost on Mrs. Gerry's list of priorities. The company is SQF Level 2 certified and they use the latest technologies to increase safety, efficiency, reduce employee injury and ensure every product has the highest quality, flavor and value.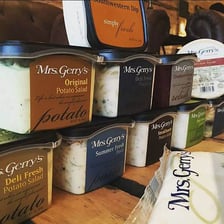 Mrs. Gerry's products are available coast to coast in retail grocery stores and are served in restaurants, universities, healthcare facilities, and more. Products are sold in a wide range of packages from individual retail grab & go offerings to larger commissary portions for larger dining audiences. They are constantly rolling out new products and recipes, building their popularity and culinary audience.
But when you start growing large enough, you have to improve your packaging efficiency to maintain production speeds and traceability. Mrs. Gerry's decided to start using a wrap-around label that would contain all the necessary information to fulfill SQF requirements as well as mandates from major retailers with automated warehousing.
Mrs. Gerry's takes food safety compliance very seriously and is a 3rd party audited facility under the Safe Quality Food Institute (SQFI) certification program at SQF Level 2. The Safe Quality Food (SQF) Certification is the only one of its type recognized by the Global Food Safety Initiative (GFSI) as having a quality module. SQF's goal is to utilize science-based, proven principles to consistently apply globally accepted standards of food safety. The SQF certification is recognized by all facets of the food-processing industry, is a measurement by which producers, suppliers, retailers, and consumers can be assured of safe, quality food products. The SQF Certification program virtually guarantees more trust and acceptance in the marketplace.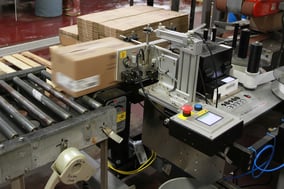 Mrs. Gerry recently updated their computer systems to connect up their label printing to the plant network and allow remote control and diagnostics. Stuart Ness, the IT Coordinator for Mrs. Gerry's, was responsible for introducing a new customized browser-based interface for the production operators. This allows the operators to enter a product number which then automatically selects the proper label format, adds dynamic elements as entered into the user interface, and connects with a database to add static information about the product onto the label.
They use Tharo EasyLabel XML Monitor label software to control the print & apply stations which eliminates labeling errors and ensures that the specified label format and data is used. They also changed their ERP Warehouse to accommodate single scan management by using the GS1 Datamatrix bar codes. When these are scanned, it allows complete control of inventory management and timely shipping of the product to the customers. This IT update has improved quality control and labeling operations.
Fresh ingredients have a short shelf life so production and packaging must be done quickly and efficiently. Mrs. Gerry's has a large number of SKUs and product transitions every day, so they would need to change or adjust their label system quickly. The system would have to be reliable, heavy duty, and fast enough to handle the pace of their manufacturing process.
Mrs. Gerry's worked with Steve Sylvander from Weber Packaging Solutions to purchase and install five Weber Model 5300 Corner-Wrap label printer applicators to meet their requirements. The corner-wrap labeling systems have a custom designed applicator that holds and then applies a 2" x 10" label around the corner of a carton.
The new labels contain product identification information, an ITF bar code, human-readable product expiration data, company information, and a GS1 Datamatrix bar code that contains the product's GTIN, best-if-used-by date and lot number. This GS1 Datamatrix bar code allows warehousing systems to gather pertinent information in a single scan. Line speeds of 20 cartons per minute are common on the packaging lines and the Weber 5300s can keep up. After a few minor design suggestions from Mrs. Gerry's, the systems were installed and are running smoothly.
On the production lines, the salads are filled into their containers and travel on a conveyor through a sanitary food partition to the packing station. There, a team member loads the containers into a carton and feeds it into a taper. After being securely closed, the carton immediately enters the print-apply system where a label is printed and wrapped around the lead corner. This choreographed production happens every 5 seconds when running at full speed!
.
Cartons are loaded off the end of the conveyor onto a waiting pallet which, when filled, is transported to the refrigerated warehouse to await transportation and delivery.
In another production area of the Mrs. Gerry's plant, a new line fills and packages trays of mac & cheese and pillows of their natural premium mashed potatoes. These products need to have the product and expiration information printed directly on the plastic covering of the individual packages. Mrs. Gerry's was using a continuous inkjet system that required the printhead to be extremely close to the passing product.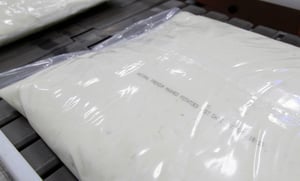 Collisions between the products and the printhead happened often enough that they replaced the CIJ systems with BestCode inkjet systems from Weber. Now the product-to-printhead clearance is sufficient to easily avoid nasty mashed potato accidents while providing superior print quality. The ink coding is permanent and drys instantly, allowing the products to be immediately placed in master cartons at the end of the line.
The company also creates many of its private package labels using round die-cut pre-printed labels that are imprinted with the variable information for each product. The labels fit on the top of the round tubs of salad and are machine applied. Using a group of new Zebra ZT610 thermal transfer label printers supplied by Weber, Rhonda, the private label coordinator, downloads formats from the new database and prints the just-in-time labels needed for quick-turn runs of salad products.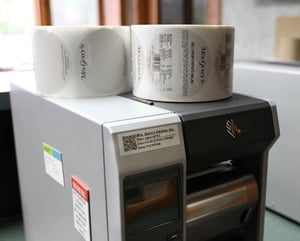 Mrs. Gerry's also uses Weber 's Go-Mark 100 thermal-transfer ribbons to print these labels. Every Go-Mark 100 ribbon has a built-in head cleaner that helps maintain the efficiency and print quality of their Zebra printers.
Being a prepared food manufacturer of this size is not easy and takes a lot of time and effort to manage food safety and organization. Mrs. Gerry's makes it look easy as they continue to grow and produce more well-loved products in the national marketplace while supporting locally sourced ingredients and talent. The company supports local food banks with high quality product charitable donations on a frequent basis and provides charitable funding to many local charities. This funding from Mrs. Gerry's has been increasing recently as the need has been greater.
Read their sustainability report to see other ways the company is being a socially responsible member of the community.