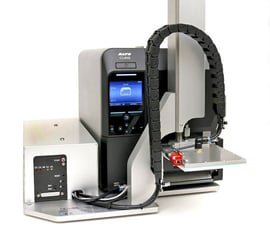 So you have a variety of box sizes to ship and are looking for a way to automatically print and apply labels without breaking the bank? Well, now there is a solution.
Weber's economical LA-2050 label printer-applicators offer maximum performance in a small compact footprint, using a highly-efficient low-energy tamp-blow applicator for contactless labeling. Label placement accuracy is ±0.05 inches.
The LA-2050 uses a Sato CLNX thermal-transfer label printer (203, 300 or 600 dpi) that can print thermal-transfer or direct thermal labels as small as 1.1" x 1.5" and up to 4.7" x 6.2" (ideal for 4"x 6" shipping labels).
The LA-2050 print apply systems handle larger label rolls than normal, with an outer diameter of 8.60", that allow you to apply an average of 20 percent more labels between roll change over. Likewise, the longer thermal transfer ribbon footage of 1,968' allows for continuous label printing over a longer timeframe. And when the ribbon or labels need to be changed, it can be accomplished quickly due to the design and ease of access to the printer mechanism.
Application rates of 25 labels per minute with a label format size of 3.15" X 2.36" are achievable without any problems. Depending on the label material, format, and application there is potential for higher speeds.
A unique feature of the LA-2050 printer-applicator is the variable stoke tamp and sensor. When a product comes down the conveyor line, a printed label is fed onto a tamp pad and held by vacuum. Then the tamp pad, attached to a servo-powered cylinder, extends to within .25 inch of the product, and the label is blown onto its surface to a placement accuracy of 0.05".

The LA-2050 is perfect for small e-commerce fullfillment companies shipping an array of box sizes or anyone needing to automate their labeling for the first time. You can add the LA-2050 to your current conveyor line or it can be used with a stand-alone jig fixture for one-at-a-time labeling. The printer-applicator is a low cost compact system that is easy to integrate and easy to operate.
The heart of the LA-2050 is a Sato CLNX thermal-transfer label printer. This state-of-the-art printer features a full color interactive LCD control interface with built-in videos that offer valuable information on printer operation. The menu is easy to use and operate. The Sato printers also handle ribbons wound coated side in or out and you can print on a wide variety of label stock types. The CLNX printers feature tool-free printer maintenance, a label tension damper system and multiple interface connection options. The printer works with many programming languages such as ZPL, DPL, IPL, and TPL without having to change any settings.
Read our blog about Sato CLNX Label Printers.