What is thermal-transfer printing?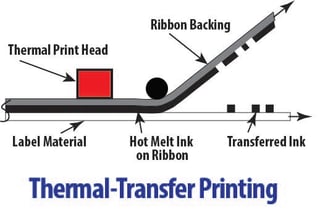 A thermal-transfer printer is a non-impact printer. With thermal-transfer printing, a thermal print head applies heat to a ribbon, which melts ink from the ribbon onto the label material to form the image. A typical thermal-transfer ribbon consists of three layers: the base material or ribbon backing, the hot melt ink, and the coating on the print side of the base material.
Thermal-transfer printers are everywhere – from desktop units & industrial tabletop units to automated print and apply labeling systems. Since different ribbons are made of various ink formulations, a thermal-transfer heat setting can be adjusted on the printer for the given ribbon/label stock combination. Zebra printers require ribbons wound with the ink side out referred to as coated side out (CSO). Datamax printers require ribbons wound with the ink side in referred to as coated side in (CSI). Sato printers can use either configuration.
How do you decide which ribbon type will produce optimal results and is best suited for your application? Label material and the application environment/requirements will play a major role in determining the proper ribbon. In thermal transfer printing, the printer, ribbon and substrate work together as a printing system.
Ribbon Types

Thermal transfer ribbons are available in a variety of formulations including wax, wax-resin, and resin that can meet the durability requirements of most labeling applications.
Wax Ribbons: This style of ribbon is designed for applications that use paper face stocks in environments with little to no exposure to chemicals and/or exposure to moderate abrasion. In other words, these are the best ribbons for light duty applications where the label will only be needed for a short time. Think UPS shipping label, short-term WIP labels, and general identification labels. Wax ribbons work well on coated and uncoated paper labels materials.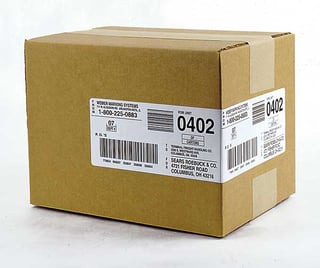 Applications: Shipping / Receiving - Compliance labels - Bin labels - Retail tags.
The popularity of wax ribbons stems from two things. First, they are clearly the most economical type of ribbon ink. Second, wax ribbons print well on coated and uncoated papers, and on low-end synthetics, all of which are the widely used for printing variable information on demand.
Wax ribbons are the perfect solution for basic applications. They can produce crisp black print quality at low heat settings on a good latitude of label stock from rough to smooth coated papers.
Weber's Go-Mark 100 Economy Wax Thermal-Transfer Ribbons will save you big money but allow you to retain the high-quality printing that you need for your labeling operation.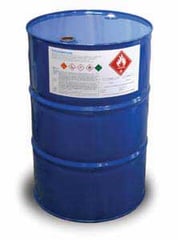 Wax/Resin Ribbons: Adding resin to a wax ribbon formulation adds durability into the ribbon printing. These ribbons are optimized for use with select paper and matte synthetic materials for environments with moderate to extreme chemical exposure and/or exposure to moderate abrasion. For BOPP materials (biaxially oriented polypropylene films) wax/resin ribbons are the right choice.
Applications: Shipping / Receiving - Pallets - Outdoor Labels - Lumber Tags - Steel - Carpet - Chemical Drums - Some Healthcare
Need abrasion resistance in your label application? Weber has the right solution! Weber's Fastmark Wax/Resin Thermal-Transfer Label Printer Ribbons offer enhanced abrasion resistance on most thermal-transfer paper and film label materials at a very economical cost. Fastmark is highly recommended for drum labeling and other durable label applications.

Resin Ribbons: Designed for use with synthetic label materials in environments with harsh to extreme chemical exposure and/or exposure to excessive abrasion, and/or where UL approval is required. Polyester label materials will require the most durable formulation of a full resin ribbon. Usually durable labels that are meant for tools, appliances and other long-term applications should use this type of ribbon for imprinting variable data on labels.
Applications: Automotive - Healthcare - Electronics - Appliances - Heating and Cooling
Recommended for use with film label materials, Weber's Ultraplate II Abrasion-Resistant Thermal-Transfer Label Printer Ribbon – recognized by Underwriters Laboratories – is ideal for electronic component labeling, outdoor or property/asset management labeling and other applications that require superior abrasion resistance.

Ultraplate II ribbon provides imprinted text and bar code labels that can endure many years of exposure to heat, abrasion and repeated scanning. This ribbon also comes with the unique Clean Start™ feature; Clean Start acts like a printer cleaning card to remove print head debris.
Remember, using the right ribbon for the right material/application is necessary for successful variable data imprinting with a thermal-transfer label printer. This will ensure you get all the advantages of thermal transfer printing, including:
Long life of printed image
Printed image does not fade in direct sunlight and is more heat tolerant
Wide selection of label materials available (compared to Direct Thermal printing)
Good chemical resistance with some materials
Using Thermal-transfer label printers is the industry standard for most label printing chores. Some of the common content printed on labels with these printers includes:
Barcodes
Price marking date and lot numbers
Prime labels
Serial Numbers
Routing info on shipping/carton labels
To reduce label inventory and guard against obsolescence, some companies choose to combine thermal transfer printing with other printing technologies. For example, a label is preprinted with the logo and company information, and the variable info is added on demand.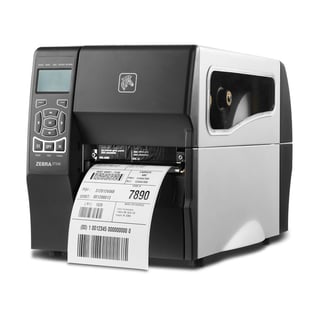 Making a thousand cans of yellow paint? No problem - just imprint the "Yellow Paint" information on one thousand of your preprinted labels and you are ready to go. Now making one hundred cans of red paint? Again, no problem. Use the same preprinted label but change the variable information to "Red Paint". One hundred labels are ready to go – and all with the same wondrous economy of scale.
The possibilities are nearly endless when it comes to thermal transfer printing in manufacturing and distribution settings. You can print labels as many labels as you need, on demand, for process tracking, parts marking, inventory management, picking orders, and placing products on shelves.
Go-Label has just about any kind of ribbon you may need for your label production including economical, high-performance, and extremely durable ribbons. Check out our complete line and find the right size for your printer. You'll find our prices are incredible and the ribbons are top quality. If you don't see what you need or have questions, please give us a call at 800-843-4242 and talk to one of our ribbon experts.
Not sure what thermal ribbon to use? Need some free ribbon samples to test with your label material? Give us a call today at 1.800.843.4242 or email us at go-label@weberpackaging.com
If you need more information or want to see pricing on thermal-transfer label printers, ribbons, and labels, check out www.go-label.com. They have great deals on all the things you need to get started or replace your aging label printer.
• Thermal-Transfer Label Printers