What do you do when you need a low-cost label printer, often at a remote location, able to print labels when you need them and maintain high quality?
Finding a reliable desktop label printer that has both the speed to get items printed fast and the cost that fits your budget isn't always easy. Thankfully, Zebra Technologies has several reliable printers that can do both.
Zebra's G Series printers are perfect for government, healthcare, retail, manufacturing, and transportation/logistics label printing, and come in three different models.
Our Go-Label.com site features many different types of printers, but today we'll focus on the Zebra G Series printers that use 1-inch core diameter labels These are desktop printers that have a range of features that could help your company depending on your industry. The printers can handle low- to medium-volume printing environments and use direct thermal and thermal transfer printing applications.
Zebra G Series GC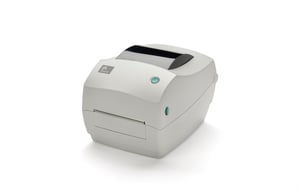 Zebra's GC Series of value line printers is composed of the GC420D and GC420T models. These printers can handle professional printing jobs for those without the budget to purchase higher-end Zebra printers. Both models are available with an optional dispenser. The GC420D is a direct thermal printer and the GC420T prints thermal transfer labels using a ribbon.
The GC Series printers are easy to use and work well for basic labeling applications. While the price point is lower than other Zebra printers, they are still reliably-built for lasting performance and durability. The exterior is made with dual-wall framed construction, and you won't have much downtime because of the all-metal printhead and replacement parts.
Each printer features a compact, space-saving design and a powerful 32-bit processor for fast label throughput. Other features include 8MB of flash memory for increased storage of fonts and graphics. The GC420 Series supports media widths up to 4.25 inches for standard desktop applications and will seamlessly integrate with other Zebra printers.
Some applications for the GC420 models include asset management, documents management, evidence tracking, laboratory specimen and blood bank labeling, price labeling and receipt printing, light industrial work-in-process, product and shipping labeling, boarding tickets, bag tags, and parking passes.
Zebra G Series GK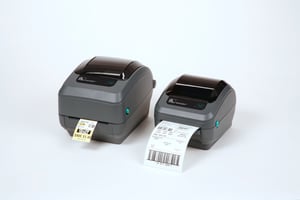 Go-Label.com also features the Zebra G Series GK desktop thermal label printers. The GK printers are affordable and the best value of all basic desktop printers. These high-quality printers have a space-saving design and conduct fast label printing because of their 32-bit processors. You can get the G Series GK printers for either direct thermal (GK420D) or thermal transfer (GK420T) printing, and options including a dispenser and Ethernet connectivity.
The GK Series is known for offering advanced features in a compact printer. For example, the GK420s are an excellent solution for businesses who have medium-volume printing needs and direct-printing applications. It's easy to load media with the clamshell design, and the standard-calibration feature will save you time and help you save on wasted media. The printers have three connectivity interfaces along with the optional Ethernet.
Some applications for the GK420 models include asset management, bag tags, document and records management, cross docking, inventory management, lab sample tracking, receiving and shipping, reverse logistics, and merchandise returns.
Zebra G Series GX
At the top of the G Series is the feature-rich GX model, which also comes in direct thermal (GX420) and thermal transfer (GX430) printing applications. Like the other printers in the G Series, the GX model has an optional dispenser and Ethernet connection. These printers have the fastest printing speeds and the most features of Zebra's desktops.
The GX420 has an optional LCD interface for easy operation, along with multiple connectivity options. The GX430 is an excellent printer if you need small-label text and graphics.
Each printer in this series offers easy media loading. Caring for the printers is not difficult thanks to tool-less printhead and platen replacement.
The GX model is a premium printer and can handle printing for a variety of industries. Its uses include asset management, bag tags, document and records management, cross docking, inventory management, lab sample tracking, receiving and shipping, reverse logistics, merchandise returns, and more.
Go Label has the Zebra printers to fit your needs and your budget. Check out our entire offering of great Zebra printers and give us a call today at 800-843-424.