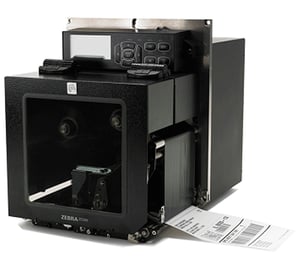 When you have packages to label and orders to fulfill, the last thing you want is a breakdown in your print-and-apply equipment or headaches when it comes to setting up, adjusting, and maintaining your system.
Fortunately, you can avoid these problems and upgrade your aging or underperforming systems by upgrading to Zebra's ZE500 Series print engines.
In this quick overview, we'll take a look at the ZE500 Series and five ways that it will help you improve your print-and-apply operations and keep them running smoothly.
Durable, Uninterrupted Performance
In packaging applications, it's all about high-volume printing and labeling, often in tough environments where debris, dust, and even water might be present. Thankfully, Zebra continues to set the bar for label printer durability with ZE500 Series print engines, which are engineered without the need for cooling fans and with an external cabinet that's impervious to debris, dust, and even washdowns with water.
ZE500 print engines also feature industrial all-metal constructions, so components can easily withstand the most demanding print requirements and environments.
Easy to Set Up and Use
Problems with print-and-apply systems often start with printers that are difficult to set up. Zebra's ZE500 print engines make things much easier with a large, graphical display and a simple five-button menu. The display can be rotated or remotely located up to two meters away with an optional kit, so it's easily accessible for even unusual mounting. The applicator IO is the same for 5V and 24V, so you can just simply switch jumpers to convert.
Hassle-Free Integration
With Zebra's Link-OS™ printer operating system, you get apps and developer tools that make it easy to integrate your printer with your other devices, networks, and systems. You can set up, manage, and troubleshoot your print engine from anywhere, using a centralized and remote browser-based interface
Simpler Servicing and Maintenance
Fast and easy maintenance and servicing are critical to keep print-and-apply equipment running flawlessly, and the ZE500 Series' mechanical design simplifies and shortens maintenance and consumable replacement time.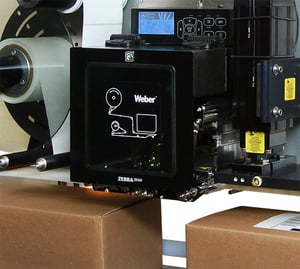 You can easily remove all three platen, pinch, and peel rollers in minutes from the front of the print engine, without needing to remove the engine from your print-and-apply system. Captured fasteners also eliminate lost hardware, and the pinch and peel rollers are now the same part to eliminate confusion and improper installation.
Additionally, you can quickly access internal components via a hinged caged system that swings open wide for fast, simple maintenance. An innovative, extended-life modular drive system is also easy to remove via only three screws and can be used as a spare module or rebuilt on a bench top.
Ultimately, you can change belts or alter resolution from 203 dpi to 300 dpi or vice versa in minutes. The end result is a dramatic reduction in downtime for routine servicing and maintenance, all without having to shut down your operations for simple changes or upkeep.
Ultra-Simple Print Quality Adjustment
Depending on your application needs, you may need to adjust your print quality, and the ZE500 Series makes it easy to maximize print and image quality with an outboard cam system. It adjusts the printhead to the platen roller on all three different axes, no matter what media you're using. In addition, two printhead toggles help maximize pressure dispensation across the printhead so you can dial in even further on print quality.
Want to learn more about Zebra's ZE500 Series print engines?
• Shop now for the right Zebra ZE500 print engine for your application.
• Contact our print-and-apply experts (click below) at Weber Packaging to get answers to your questions or request a quote.
---