ProMat 2019 is coming soon, April 8-11 at Chicago's McCormick place, and our team at Weber Packaging will be on hand at booth #S5227 to demonstrate a better way to automatically print and apply packaging and shipping labels.

Unfortunately, a lot of shippers have been struggling with underperforming print-and-apply labeling systems, breakdowns, and repeated headaches with having to set up, adjust and maintain their systems.
Fortunately, our partners at Zebra Technologies provide a great way to eliminate these issues and upgrade your print-and-apply solution with the ZE500 Series print engine.

Here are the 5 key ways that Zebra's ZE500 Series print engines get rid of the headaches and keep your labeling operations running smoothly:

1. Easy Set Up and Use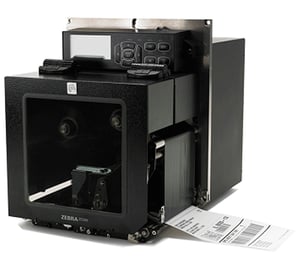 The first problem with many print-and-apply systems is that they're a pain to set up. Zebra completely simplifies the process by giving you a large, graphical display with a simple five-button menu that makes setup a cinch.
You can rotate the display or even locate it up to two meters away from the rest of your system with an optional kit, so it's still easily accessible, even if you're have unusual mounting needs.
The applicator I/O is the same for 5V or 24V too, so you can simply switch jumpers and convert.
2. Durable, Uninterrupted Performance
Print-and-apply is all about high-volume printing and labeling, usually in tough environments where debris, dust and water might be present. Many other systems fail or require repeated servicing and maintenance under demanding conditions, but Zebra sets the bar for durability with the ZE500.
It's an ultra-rugged print engine with no need for cooling fans, and its external cabinet is non-perforated and resistant to debris, dust and even water splashes. With industrial, all-metal construction, it's simply the toughest print-and-apply engine on the market.
3. Simpler Servicing and Maintenance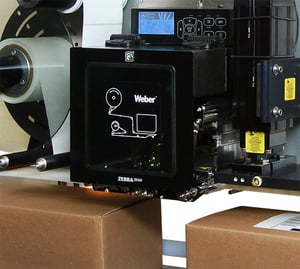 Zebra has made easier servicing and maintenance a top priority with the ZE500's mechanical design. It simplifies and shortens maintenance and consumable replacements by allowing you to remove all three platen, pinch and peel rollers in minutes, right from the front of the engine. There's no need to remove the engine from your print-and-apply system.
Captured fasteners also eliminate lost hardware, and the pinch and peel rollers are now the same part to eliminate confusion and incorrect installation.
Additionally, you can quickly access internal components through a hinged caged system that swings open wide. An innovative, extended-life modular drive system is also easy to remove via three screws and can be used as a spare module or rebuilt on a bench top.
You can also change belts or alter resolution from 203 dpi to 300 dpi or vice versa in minutes.
4. Ultra-Simple Print Quality Adjustment
The ZE500 Series makes print quality adjustments easy with an outboard cam system. It adjusts the printhead to the platen roller on all three different axes, no matter what media you're using. In addition, two printhead toggles help optimize pressure dispensation across the printhead so you can dial in even further on print quality.
5. Tools for Easy Print Application Development
Zebra's ZE500 print engine comes with ZebraLink, a suite of software tools that makes it easy to design, manage and adapt barcode printing applications tailored to your unique business needs.
You can also set up, manage and troubleshoot your print engine from anywhere, by using Zebra's centralized and browser-based interface.
Visit us at ProMat 2019 to see the ZE500 print engine in person and learn more. We will have the ZE500 in operation on our high-speed, variable-height LA-6000 print-apply system and our Model 5300 Twin-Tamp Dual Label Printer Applicator.
Come see us at booth #S5227 or contact us at Weber Packaging to get more information and request a quote.